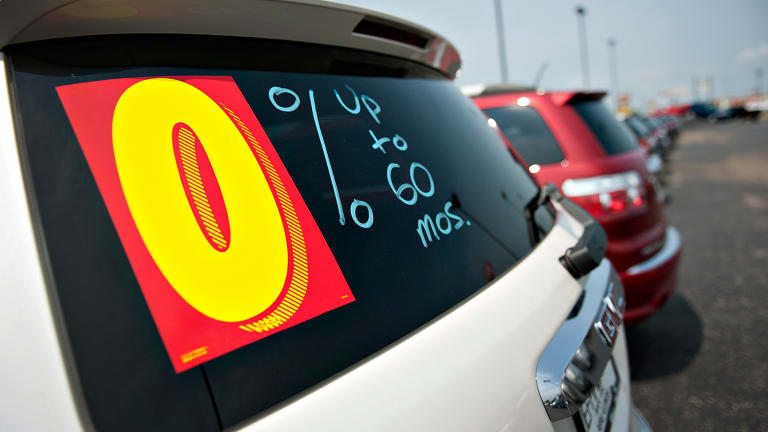 Publish date:
Debt Levels for Consumers Remain Low Even as Interest Rates Rise
The debt levels for consumers remain manageable even as the economy heads into a rising interest rate environment.
The debt levels for consumers remain manageable even as the economy heads into a rising interest rate environment.
Consumers who are saddled with credit card debt and mortgages are facing debt levels that are manageable for their monthly budgets as interest rates are expected to rise in 2018.
One positive sign is that consumers are able to make their mortgage payments on time as the level of delinquencies for mortgages steadily declined from 2.28% in the fourth quarter of 2016 to 1.83% in the same period of 2017. Experts expect delinquencies to fall to 1.65% in 2018, according to TransUnion, a Chicago-based credit agency. The increases in employment, personal income and GDP will outweigh negative factors such as rising interest rates, which could put a damper on the economy.
"Serious mortgage delinquency rates are expected to decline materially next year, reaching levels not seen since 2005 when TransUnion began tracking these metrics," said Matt Komos, vice president of research and consulting for TransUnion. "This will be driven primarily by strong employment and rising home prices."
Although the number of auto loan and credit card delinquency rates were projected to rise, these delinquencies were forecast by lenders, he said. Credit card delinquency rates are estimated to rise modestly to 1.96% in 2018 from 1.86% in the fourth quarter of 2017.
One troubling area is the trend of consumers opting for longer auto loans for both new and used cars, stretching them out as far as 69 months and the rise of higher monthly payments. A recent report by Experian, a Costa Mesa, Calif.-based credit agency, demonstrated that average loan amounts remain high.
The monthly payments for new and used car loans are reaching near record highs across all the credit scores, not just consumers with low incomes. People who are on a tight budget are likely to feel the pinch. The average payment for used cars now ranges from $337 to $393, according to Melinda Zabritski, a senior director of financial solutions for Experian.
"Nearly six years is a long time to be tied to an auto loan," said Bruce McClary, spokesman for the National Foundation for Credit Counseling, a Washington, D.C.-based non-profit organization.
The majority of consumers should not choose longer car loans since many people are feeling more pressure from having higher credit card balances as the number of overall delinquency rates are increasing, he said.
"We have been seeing recent increases in the number of financial counseling sessions conducted by NFCC member agencies," McClary said. "People are better off buying an affordable, well maintained used car with cash."
One factor which will help consumers saddled with credit card and student loan debt is that the prime rate remains well below historical norms, allowing consumers to be able to keep up with their monthly payments, said Komos.
"Coupled with expectations of a strong economy, the consumer credit market is projected to remain on a healthy trajectory," he said.
While the majority of drivers are facing longer loans, the increase in interest rates has been nominal, said Jonathan Smoke, chief economist of Atlanta-based Cox Automotive.
"The average interest rate on new vehicle loans has only increased by 20 basis points, resulting in only a $12 increase to the average monthly payment," he said. "For lower credit borrowers though the increase has been far more substantial, rising by nearly a full percentage over the last year."
The higher monthly payments has already had an impact as more consumers are buying used cars instead of new ones because of the lack of affordability.
"In 2017, it has meant sales of nearly new pre-owned vehicles increased dramatically at the expense of new vehicles as borrowers who would have qualified for a new loan or lease a few years ago are now more likely to buy used," Smoke said. "As rates go higher, we expect this trend to continue."
While higher interest rates are a boon for savers who have money socked away in CDs and savings account, they are an increasing burden for consumers who have outstanding variable rate loans, said Josh Wright, chief economist at iCIMS, a Matawan, New Jersey-based recruitment software provider.
"Anyone carrying debt should take a hard look at consolidating it into fixed rate loans," he said. "Consumers' monthly payments are headed up - not way up, but definitely up. This is your last call to refinance."
More of What's Trending on TheStreet: