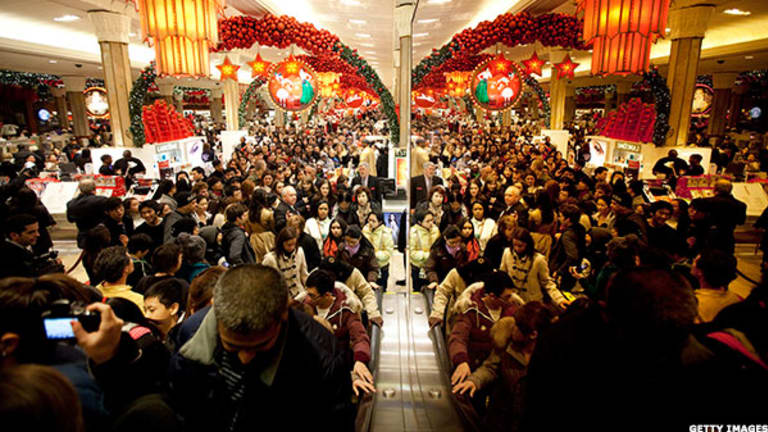 Black Friday 2014: The Best Deals from the Top Department Stores
MainStreet provides a guide to the best sales.
NEW YORK (MainStreet) — With each coming year, it seems that Black Friday sales begin earlier and earlier, and are no longer limited simply to Friday. This year, many stores have advertised openings as early as Thanksgiving morning. While many have decided to boycott the early shopping hours for this reason, those true-to-form Black Friday shoppers are printing their ads and preparing their lists. Check out the information below for the best Black Friday deals and steals.
Target. With its newly-released 38-page ad, Target is boasting sales on everything from iPhones to apparel. Both the iPhone 5s and 6 are in the running for big sales, at $20 cheaper than the usual ticketed price. Target also supplies shoppers with iTunes and Target gift cards to supplement their savings. Apparel for men, women and kids are all marked down by 40%, and various televisions will be marked down from their original prices by $200 or more. Check out the full ad here.
Best Buy. Every year, Best Buy attracts full parking lots of shoppers, all eager to cash in on the great bargains that Best Buy is known to offer on Black Friday. With its generous 50-page ad, one of the deals that sticks out among the rest is that the Samsung Galaxy S5 is being sold for only $1 with two-year activation. Among the other great deals are $100 off the iPad Air 2, $90 off Beats by Dr. Dre headphones (sale price $79.99) and $200 off MacBook Pro (sale price $899.99). Doors open Thursday at 5 pm, but be prepared to wait in line! Full ad available here.
Macy's. With its 56-page ad, Macy's is boasting sales in various departments. Also, in pairing with its early "doorbuster" policy, it is best to make Macy's one of the first stops in the shopping trip when looking to save an extra few bucks. In clothing, cashmere sweaters will be marked down from $139 to $39.99. The bedding department will be selling 600-count sheet sets normally priced at $140-$160 for only $29.99. In kitchen, various appliances like coffeemakers, blenders and sandwich presses will all be priced at $19.99. Macy's is also offering cash rebates on top of their already-low sale prices. Doors open Thursday at 6 pm and the sales continue through to Saturday until 1 p.m. (NB: Hours vary per store.) Check out the full ad here.
JCPenney. Another store boasting specific doorbuster sales, JCPenney will open their doors at 5 p.m. on Thursday and continue the special doorbuster sales until 1 p.m. on Friday. Luckily, the store also permits online shopping earlier than most stores, beginning on Thursday as well. JCPenney is also offering $20 bonus cash on purchases of $75 or more beginning Friday from 6 a.m. until 1 p.m., and $10 off purchases of $10 or more on Thursday and Friday only. Among the sales are $100 or more off original prices of gold and diamond jewelry; luggage sets marked down to over 60% off; and 60-70% off suit separates, sport coats and dress pants. All sales are outlined in their 72-page ad, which can be found here.
Kohl's. Kohl's doorbuster sales are sure to excite all of the Black Friday shoppers out there. With markdowns like 30-70% off kitchen items, such as the NutriBullet (sale price $79.99), 67-75% off bedding, and 50% off kids' toys, Kohl's is the kind of store that shoppers will go to when gift searching for the whole family. In the jewelry department, shoppers will find diamond solitaire earrings originally priced at $5,000 marked down to $1599.99. Also, various types of DiamondLuxe and marcasite jewelry normally priced at $100 will be reduced to a quarter of the price, at $24.99 each. In addition to the sales, Kohl's is offering their once-a-year deal of giving out $15 in Kohl's cash for every $50 spent. Doors open at 6 p.m. Thursday. For the full add, click here.
Kmart. Unlike most other stores, Kmart has outlined their sales in three sections: Thanksgiving morning sales, which run from 6 a.m. until 5 p.m. on Thursday; Thanksgiving night sales, which run from 7 p.m. Thursday until 3 a.m. Friday; and Black Friday morning sales, which run from 6 a.m. until 12 p.m. on Friday. Some of their bigger deals include the Samsung Galaxy Tab4 tablet marked down from $199.99 to $149.99, a 220-piece Craftsman mechanic's tool set marked down from $129.99 to only $89.99, and a buy-one-get-one-for-$1 footwear sale for the whole family. Kmart is also offering layaway all weekend long. For the full ad, click here.
--Written by Ciara Larkin for MainStreet