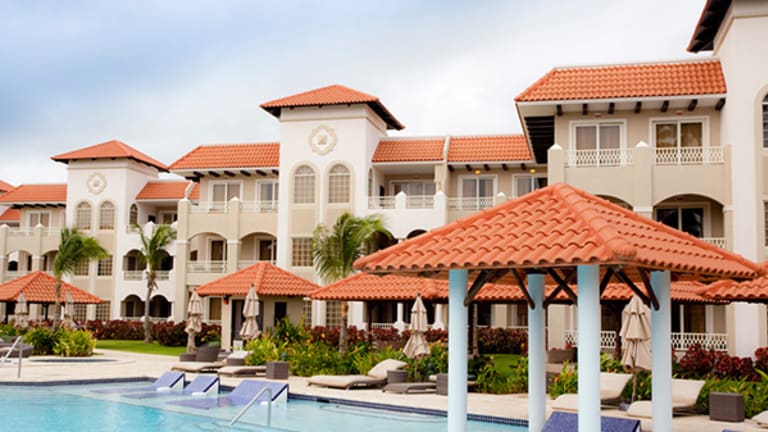 Are Time Share Vacations Worth It? Scams or Great Vacation Deals?
Timeshares, aka "fractionals," promise travelers convenient recurring trips, but in the age of the sharing economy's hospitality segment and cheap short-term rentals available, the arrangement makes less sense
NEW YORK (MainStreet) — Timeshares, aka "fractionals," promise travelers convenient recurring trips, but in the age of the sharing economy's hospitality segment and cheap short-term rentals available, the arrangement makes less sense if exorbitant cost are involved. That's why the savvy traveler needs to be a negotiator to make timeshares work.
Timeshares have historically had appeal. "Enjoy affordable dream vacations for a lifetime," advertises the Marriott Vacation Club website, for example. When you cannot afford to buy a vacation home in Hawaii, just maybe you can afford to buy a week. To boot, nowadays most of the big timeshare operations allow owners to break out of their vacation ruts and swap that Hawaii week for one in, say, Puerto Rico.
Just one thing about the Marriott site: there is no talk of cost. None. There is a button: Request Information.
The Marriott site is not alone. Large timeshare sellers are reluctant to be upfront about cost.
The American Resort Development Association (ARDA), a trade group for timeshare companies, said in 2012 that the average cost of a timeshare is around $19,000, with an annual maintenance fee of $660.
Understand this: there are ways to make timeshares work.
But one way that does not work is paying full retail price from a mainline developer.
Read those ARDA numbers again. You are paying almost $100 per night in maintenance for a week's stay and you already paid $20,000 for that week.
That is a lot of money. That is also why Nina B. Ries, a Los Angeles lawyer, flatly said: "As a real estate attorney, I encounter countless savvy real estate investors with a keen eye for business. None of them have purchased interests in timeshares."
Chris Rither, who owns the OneMeanDream website, is as blunt: "A timeshare is a sucker's bet, because it preys on the emotional feelings people have for their favorite vacation spot. The problem is that we go on vacation to get away from our responsibilities, and now we've turned our favorite vacation spot into another financial liability. And what fun is there in that?"
Developers of course love timeshares, because they get to sell the same unit 52 times, and they collect the maintenance fee whether the owner comes or not. That profit potential is why timeshares - which date back to the mid-1970s in the United States - continue to thrive. The hefty profits fuel well-oiled sales teams, and they also buy lots of ads to keep new owners coming. Timeshares are not going away.
And for that, you just might applaud. That is because there is an easy way to make a timeshare work for you.
Timeshare veteran Isaac Gabriel, founder of ezresortvacations.com - he's a veteran of four purchases - spelled the insider's secret: buy used.
He elaborated: "Timeshares are great especially if you purchase a resale. I have personally purchased the first one from the developer, and the other three I purchased directly from other owners, thus, realizing substantial discounts."
He urged buyers to buy in resorts run by well-known operators - he pointed to Marriott and Starwood - but do not buy directly from them. Buy instead from current owners, tens of thousands of whom are anxious to sell, and many will honestly take pennies on the dollar.
Why? They are fed up with the annual fees - especially in years they don't use the timeshare - and often they are tired of the resort. Sure, the well-run programs allow destination swaps, but many folks, especially nowadays, just cannot take a resort vacation every year.
So they turn to websites that specialize in selling timeshares, such as Redweek, and eBay too runs a busy timeshare bazaar. Look for knockdown bargains. A search on eBay found a week at the swank Westin Kierland in Scottsdale - high bid was $920, with no reserve. (It may sell for more.) Annual maintenance is $1,484. This is a two bedroom unit.
There are many similar deals, with timeshares selling for a small fraction of the original cost.
New Hampshire businessman Louis Altman offers another route to buying smart. He actually bought from the developer, he said the price on his Mexico timeshare started at $169,000.
He paid $7,250.
"Somewhere I have the lined yellow paper with the decreasing prices," Altman said. "Then they throw in the 'this just came in on the fax' special deal (Really? Just now?). And we got that as well, two free weeks at Mazatlán."
Call him a patient negotiator. He waited and waited until he got the deal he wanted.
He's owned his timeshare ten years, and he's used it every year. The annual fee now is $385, but, said Altman, "Even when you account for the purchase price split over ten years, we're at $1,100 annually, still less or competitive with a hotel room for a week, and each year the annualized cost goes down."
Never forget that: if you are paying more for a timeshare than what you'd spend on a comparable hotel room, you lost. Spend less and you win.
It's that simple.
--Written by Robert McGarvey for MainStreet