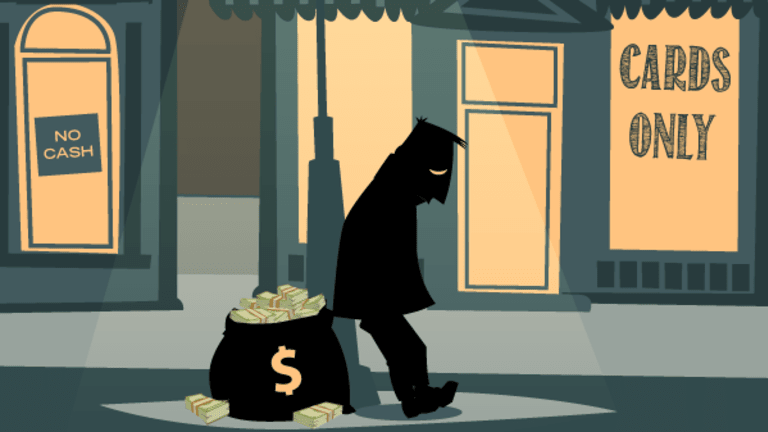 A Cashless Future: How Visa Is Enticing Small Businesses to Ditch Cash All Together
What are the benefits for consumers and businesses?
The future of consumer spending? Visa Inc. (V) is betting on cashless.
And to further its vision and aid in the transition to a system that it thinks can generate almost $7 billion in New York City alone and save more than almost 200 million hours in labor, the company is giving incentives to businesses that are willing to ditch the greenback altogether.
The credit card company announced on Wednesday the Visa Cashless Challenge, a program in which the company will give $10,000 to each of 50 small U.S. food service owners who will commit to go cashless.
As a market leader in the U.S. card payments market, Visa is continuing to innovate. As a part of its cashless quest, sporting events have been the arena of choice thus far. Visa announced that the 2020 Olympics in Tokyo, Japan, for which Visa is both the exclusive payment card and the official payment system, will be totally cashless.
Meet Jim Cramer at an exclusive reception at his Bar San Miguel in Brooklyn, N.Y., on Tuesday, July 25, from 6:30 p.m. to 9 p.m. Participants will watch a screening of Jim's CNBC show Mad Money and get a chance to mingle. Tickets include dinner, drinks and an autographed copy of Jim's book "Get Rich Carefully." Click here for more information or to buy tickets.
"We haven't finalized our exact plans for activating at the upcoming games, but we are exploring the implementation of less-cash technology to create a seamless payment experience for fan and athlete alike at the Games," Forestell said. "At all of our sponsorship activations we look for opportunities to enhance the fan experience by giving fans more time to experience the action and less time in line waiting to pay."
As the official service partner of FIFA, Visa upgraded the FIFA Confederations Cup 2017 to support cashless payments.
"We understand that fans are there for the action on the field and that they value a simple payment experience that gets them back to their seats quickly so they can focus on the match," said Ekaterina Petelina, country manager, Visa Russia, in a statement.
Even though Visa has been a proponent of this payment method, it is not alone. For example, American Express Co. (AXP) has Expresspay, which uses a credit card but works to make transactions quicker. Expresspay customers look for the contactless symbol in stores and can pay by tapping their card on the terminal.
"Cashless payments combine and harness current and new technologies to make the most convenient, secure and easy experience for customers, be that with a debit or credit card, mobile phone, wearable connected device, connected car and more. Cashless gives customers freedom - from carrying cash, from fraud and from cumbersome payment experiences," said Jack Forestell, head of global merchant solutions at Visa Inc.
What are the benefits for consumers and businesses? Transactions are more secure because they do not involve physical money that can be lost or stolen. Cash helps fuel street crime due to its liquidity and transactional anonymity, according to academic researchers in a study "Less Cash, Less Crime: Evidence from the Electronic Benefit Transfer Program." As more customers use cashless payments, providers are expecting fewer lines and shorter wait times to pay. Also, electronic receipts and transaction histories are easier to access.
For businesses, cashless payments can save time and money. In New York City, businesses could generate an additional $6.8 billion in revenue and save more than 186 million hours in labor by using digital payments, according to a study from Visa, which will be published in a report later this year.
Editors' pick: Originally published July 15.
"The very reasons that consumers love cashless -reduced lineups, faster transaction times, easy top-ups, etc. - are the same reasons that businesses do; those reasons lead to substantially increased revenue for businesses negating any costs," said Milan Malivuk, director of growth and acquisition marketing at Intellitix, a company that creates technology for cashless payments.
What are the risks of going cashless? With technological advancements, consumers worry about possible security breaches. Cashless payment providers are confident they can keep transactions secure, but no one knows for sure.
What events have successfully used cashless payments?
Large-scale music festivals such as the Governors Ball Music Festival on Roosevelt Island in New York City or the Coachella Valley Music and Arts Festival in Indio, California, as well as food festivals like the Taste of Toronto are using cashless payment systems. The version used at the Governors Ball had festival-goers load money onto their festival wrist band to pay. It worked in conjunction with the credit card that was loaded onto it so it had the same security features and protection. Additionally, each user set a pin at registration so if a wristband was lost or stolen, the money could not be accessed, according to the festival's website.
The Coachella Valley Music and Arts Festival has been accepting cashless payment for several years.
"Using the cashless system is pretty similar to using a debit card or Apple pay," said Justin Wu, a 2017 Coachella attendee. "I do think it's a good and smart alternative to cash and credit cards because you can just leave your money safe at home."
This article was written by Haley Velasco, a reporter and masters in journalism student at the Northwestern University Medill School of Journalism in Washington D.C.