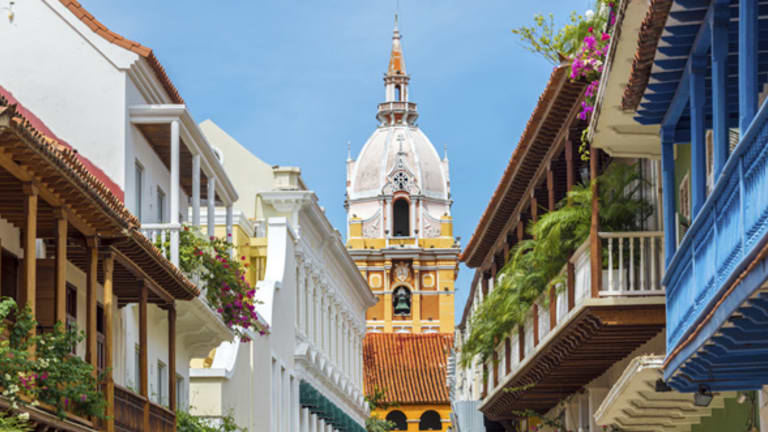 7 Totally Unexpected - and Affordable - Places You Will Want to See in 2015
New locations around the globe tempt today's travelers, from Colombia to Taiwan.
NEW YORK (MainStreet) — An improving economy, ever better air connections, and, suddenly, foreign destinations that seemed unattainable are looming large for some travelers in 2015. Don't think about Vietnam, Cuba, Morocco, India, China, Russia: been there, done it, even sent the postcard. Besides, where's the value? Ditto Nepal, Bhutan, Burma and the other esoteric destinations. They may intrigue but at what price? Today's savvy travelers want a mix of great value, they want the road less traveled, they want bragging rights, but they also want a terrific place to visit.
Like where?
Leipzig
Everybody goes to Berlin, almost as often as many head to Dresden, but Leipzig - also in eastern Germany - now is winning notice as "the new Berlin," because Germany's capital already is overrun with international hipsters. Leipzig -- not so much. But this ancient city - it dates back around 1,000 years - is alive with startups, culture, history. Eat in Auerbach's Cellar, where a young Goethe ate (and where so does his Faust). Visit St. Thomas Church where J.S. Bach worked for a quarter century. And do it all on the cheap, because Leipzig remains off the main tourist charts. A night at the Westin Leipzig in January runs around $95. A similar night in Berlin is $231, according to travel booking site Kayak.com.

Lisbon

One number jumps out: according to Kayak.com, the average price for a night in a five-star hotel in Lisbon is $180. In London it's $513. In Paris it's $490. The capital and largest city in Portugal, Lisbon (population 550,000) is one of the world's oldest cities, much older than London or Paris, for instance. Some historians date it back to 1200 B.C. Everywhere there is history, great and affordable wine and plentiful seafood. Everybody goes to Barcelona, and who hasn't been to Madrid? But Lisbon just may be the place on the Iberian Peninsula in 2015.
Tokyo
Isn't it too expensive? The operative reality is past tense. It was too expensive. But years of a stagnant domestic economy, the bad rep that followed the horrific nuclear disaster at Fukushima and a lingering bad rep as a place priced out of the league of Western travelers have devastated the Tokyo hotel business. MyTravelCost.com says the price of a three-star hotel room in Tokyo is $153 - $165. Chicago, by contrast, is $201 to $217. Los Angeles is $171 to $185. What to do? Sushi. Sightseeing on the bustling streets. Just being someplace that is utterly different from anywhere in the United States, proudly so. And you don't know a soul who has been here on holiday. Not one.
Medellin, Colombia
You read that right. A country that a couple decades ago was the poster child for lawlessness, murder and cocaine fortunes has now begun to lure travelers who want to be the first in their set to say, "Just back from Medellin. Pablo Escobar died 20 years ago. It's a great, great town." Eco-tourism, history (the city dates back to around 1600), and a fantastic food scene (Anthony Bourdain was there before you - he visited a few years back) are what is bringing today's travelers. The Medellin Royal Hotel - one of the city's top rated on TripAdvisor - runs around $120 per night in January.
Taipei
Fulltime traveler and blogger Dave Dean explained the lure of this city: "My pick for an unexpected 2015 travel destination is Taiwan. I've just spent 2.5 weeks there, and to be honest, it blew me away. It has a quite remarkable street food scene in Taipei, some gorgeous beaches in the south and east of the country, fantastic hiking (and scooter-riding!) in Taroko Gorge and extremely friendly people everywhere. I honestly don't know why it doesn't get more attention from Western travelers - I saw very few during my time there." The four-star Howard Plaza Hotel - very near the city center - is $135 per night in January at Hotels.com.

Croatia
If you like "Game of Thrones," this one is for you. Many episodes from multiple years were filmed here, with the creators attracted to the Adriatic location along with the well preserved medieval walled city that is Dubrovnik. It doubles as Kings Landing, where much of the show occurred. It is impossible to overstate how quaintly charming the coastal towns of Croatia are and, now, it is primed for a rebirth of tourism. Even if you have never watched "Game of Thrones," the setting, the food, the history in Croatia will wow you. The five star Rixos Libertas Dubrovnik - right on the water - is under $100 per night in January.

Newfoundland
Call this really far eastern Canada. Almost kissing Ireland. Veronica James, co-author of Going Gypsy: One Couple's Adventure from Empty Nest to No Nest at All, summed up the appeal of this large Canadian province: "Icebergs, whales, adventure and the nicest people you will ever meet! And you can drive there! We put an RV on the ferry and spent three glorious weeks making our way across Newfoundland - we kayaked with icebergs and whales in Twillingate, ziplined over a waterfall, stood on the Earth's mantle at Gros Morne National Park and boated through the fjords. Once-in-a-lifetime experiences that are so close to home!" The Delta St. John's Hotel and Conference Center is around $160 per night in January.
--Written by Robert McGarvey for MainStreet