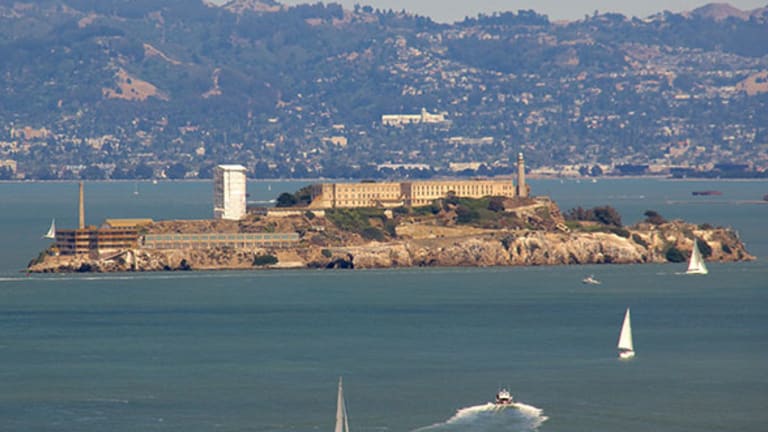 Publish date:
7 Spookiest Places Places to Visit Nationwide for Halloween
Go here to get in the spirit of spookiness.
Go here to get in the spirit of spookiness.
NEW YORK (MainStreet) — As Halloween approaches and travelers get in the spirit of spookiness, MainStreet has rounded up a list of the seven scariest places in the U.S. that you can visit to get the fright of your life.

WATCH: More personal finance videos on TheStreet TV | More videos from Ross Kenneth Urken
View Today's Highest Savings Account Rates
1. Fort Monroe

A Union-held bastion in Virginia during the Civil War, Fort Monroe helped shelter thousands of slave refugees and became known as Freedom's Fortress. Perhaps it is one of the little refugees who has been reported to be calling for her cat. Others have reported seeing a gray cat disappear right in front of their eyes. More famous spirits, including Jefferson Davis, who was imprisoned there, as well as President Abraham Lincoln, are said to haunt the grounds. The creepiest story might be that of Edgar Allen Poe's ghost, who is thought to have never left the Chamberlain Hotel, where he read his poems to a young woman about a month before he died. No ghost tours, but this is part of our national park system, so it is free and open to the public to explore on your own.
2. Virginia City, Nev.

This is a nineteenth-century mining town and offers plenty of opportunities to scare yourself. Developed in the 1860s on the side of Mount Davidson after silver was discovered nearby, Virginia City still sports classic Victorian-style buildings and old wooden boardwalks reminiscent of a classic horror movie. TV show Ghost Adventures got its start filming a documentary there in 2004, and paranormal enthusiasts have been visiting the place ever since. Hot spots are the Washoe Club, open for tours and overnight ghost investigations, and the Mackay Mansion, home of silver mine owner John Mackay. Ghost tours of the town are conducted regularly by Bats in the Belfry Ghost Tours.
3. The Crescent Hotel and Spa

Nestled in the Ozark Mountains in Eureka Springs, Ark., the spook factor is a 10, given the history of the building as being a former cancer hospital where a fake doctor claimed he could cure cancer in the 1930s. Every night of the year, dozens of people wind their way down the hallways and open, serpentine staircases of the five-story 1886 Crescent Hotel & Spa. Final destination: the hotel's morgue, where countless victims of the fake doctor were hidden until they were rumored to be buried on the grounds so no one knew the true mortality rate at the "hospital." The number of ghost sightings are too numerous to tell, but the hotel offers a photo album that contains guest-submitted photos of unexplained mist, balls of light and apparitions.
4. The Villisca Ax Murder House
¿
On June 10, 1912, a murderer - or murderers, the case has never been solved - bludgeoned to death the entire Josiah Moore family that included the two parents and four children, plus two overnight guests who were also children. This little Iowa town never saw anything like it before or since. Many people have visited to determine if the place is haunted, including The Travel Channel's Ghost Adventures. The house has been dubbed the most haunted place in the country. Daytime tours are available, but the hardcore ghost seekers stay overnight. Book early; this one sells out fast.
5. United States Capitol Building:

At this point in history, nothing seems scarier than our elected representatives in Congress, who have an all-time low approval rating, but for years rumors have swirled that spirits can and do get things done after-hours, including moving objects and making statues come to life. You would have to have a high up contact to get in after hours, but you can take a day tour of the building during the day.
6. Gettysburg National Park

The site in Pennsylvania is possibly the most famous historical site of the Civil War, thanks to a certain speech taught about in every history class in America, but it is also a site rumored to have found no peace. The battlefield is home to the war's bloodiest battle, and daytime and nighttime visitors to the area have reported hearing voices shouting commands, horse hooves and bugles. Some have even claimed to have seen and photographed apparitions. There are many sites to see and haunted tours.
7. Alcatraz Prison

This former prison, from which not one person was confirmed to have escaped and survived, is eerie from afar, but once you get onto the island, there is an unmistakable sensation that you are being watched from the empty buildings. Inside, visitors and park employees alike have reported hearing voices, clanging and other strange sounds when they are supposedly alone. At least one ghost hunting team has reportedly caught a disembodied voice on a recorder.
--Written by Kerri Fivecoat-Campbell for MainStreet