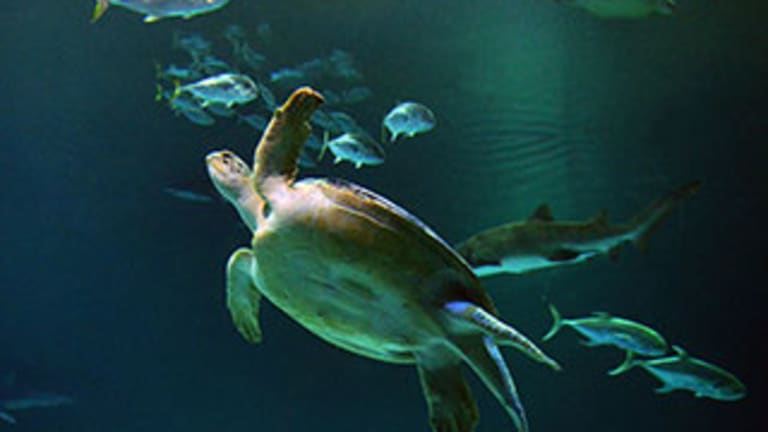 Publish date:
10 Places to See Sea Turtles
Channel a little turtle power on your next vacation.
Channel a little turtle power on your next vacation.
NEW YORK (MainStreet) — Sea turtles have become so popular in the mind of travelers that there is a whole eco-tourism industry that has sprung up so vacationers can see the creatures and sometimes participate in helping them survive.
Experts say the best time to participate in sea turtle eco-tourism is mid summer through mid fall, but there are also places where you can take part if you want a winter to early spring vacation in February and March.
According to the site, Seeturtles.org, six of the seven species of sea turtles are threatened or endangered at the hand of human beings.
Here are some of the spots where you can see sea turtles and sometimes participate in their release:
1. CasaMagna Resort and Spa Puerto Vallarta, Mexico: Conservation efforts have paid off through the 11 years of CasaMagna Puerto Vallarta's "Sea Turtle Rescue" protection program, part of the resort's "Secretos de la Familia" culture immersion. The oceanfront resort receives about 30% of the turtles that nest in Puerto Vallarta and invites guests to take part in the rescue effort by combing the beach for turtle eggs. When the eggs are ready to hatch, guests may choose a baby turtle to name, wish it luck and send it on its way back to its natural habitat in the ocean. In 2012 alone, 538 nests were collected with 44,631 sea turtles released back into the sea.
2. Wyndham Grand Rio Mar Beach Resort and Spa, Puerto Rico: For the first time, the Wyndham Grand Rio Mar Beach Resort and Spa is inviting guests to bear witness to the sea turtle nesting ritual that takes place on its sandy shores from March to November. Partnering with the Department of Natural Resources, guests can watch resident Hawksbill, Leather, and Green Sea Turtles lay their eggs, or witness the hatching of these tiny creatures. Guests can register at the front desk to take part in this remarkable process.
3. Palm Beach Marriott Singer Island Beach Resort & Spa, Florida: Singer Island is one of the largest nesting areas for Loggerhead turtles in the state and Palm Beach Marriott Singer Island Beach Resort & Spa has partnered with the Loggerhead Marinelife Center to offer tours of the nesting area as well as access to release ceremonies with their guests during nighttime walks in June and July. The resort's Loggerhead Package includes One day access for up to four people to visit Loggerhead Marine Life Center during feeding time or a guided tour of the facility.
4. Morgan's Rock, Nicaragua: Giant sea turtles have found a prime nesting ground where at night turtles returning to where they were born lay up to 120 eggs that hatch 50 or so days later. Human guests can observe both the spawning and hatching and then the scurrying back to sea of baby sea turtles year-round at Morgan's Rock with more predictable activity during the late summer and fall months. Resort staff members who have been trained for these duties label nests and provide 24-hour protection against the turtle's greatest predator, human beings.
5. The St. Regis Bahia Beach Resort, Puerto Rico: This resort is located at the foot of El Yunque National Rainforest embracing 483 acres of nature reserve repurposed from a former coconut plantation. Most popular among guests is the chance to "guardian" the Leatherback Turtles nesting on the property's shore. Guests who opt to take part in this experience can alert the staff to be called (at any time of day) to protect the vulnerable turtles as they hatch on Bahia Beach. This experience depends on the season (typically occurring from February through August) when the Leatherback Turtles typically nest.
6. One&Only Palmilla, Mexico: Guests between July and October have a chance to participate in the baby sea turtle release. Each summer, sea turtles return to One&Only Palmilla's aptly-named Turtle Beach to lay their eggs, and 45 days later, the baby turtles break free from their shells. "Young biologists" have the opportunity to learn about the turtles and their yearly return to Los Cabos, name the turtles and receive a certificate acknowledging their sea-turtle release participation.
7. Bald Head Island, North Carolina: Behold a boat accessible, car-free second home and vacation destination located just off the coast of southeastern North Carolina that has long been known as a popular nesting location for Loggerhead turtles. Unlike some locations that don't allow visitors to engage with the turtle population, on Bald Head, residents and visitors have the unique opportunity to get up close and personal with these incredible creatures through the Bald Head Island Conservancy's turtle walk program. Turtle Walks take place every evening during the nesting season (June through mid-August) and are led by Conservancy naturalists and interns.
8. Rosalie Bay Resort, Dominica: During sea turtle season, guests of the eco-resort and visitors to the island are able to participate in the resort's conservation efforts such as helping patrol the beach to protect nesting turtles, aid researchers in collecting data or relocating nests that are too close to the ocean to the turtle hatchery, or being "on call" for when baby sea turtles emerge and make their way out to sea.
9. Park Hyatt Abu Dhabi, United Arab Emirates: Park Hyatt Abu Dhabi seeks to peacefully co-exist with the Hawksbill turtles that find their way to the hotel's beach every season. The hotel installed an elevated boardwalk to transport guests to the beach and clearly marked nesting spots to ensure the nests remain undisturbed. The turtles are monitored continuously in a joint program by the Tourism Development and Investment Company and the Environmental Agency in Abu Dhabi.
10. Private Island Hatchlings, And Beyond Mnemba, Tanzania: On the private island off the coast of Zanzibar, Green Turtle nesting season is year-round, peaking in February and March. The turtles lay their eggs on the island's beach, and in September and October, baby turtles emerge. With only ten thatched roof bandas on the island, guests can watch the tiny hatchlings make their way down to the water without a crowd for an incredible experience.
You want your experience to be truly turtle friendly. Brad Nahill, director & co-founder of SEEtheWILD & SEE Turtles, gives these tips for truly not disturbing the turtles:
Maintain a respectful distance in the water and on nesting beaches.
Hire local guides; they will best know where and how to spot them and prevent stress to them once found.
Females like their nesting beaches dark and quiet; avoid flash pictures, strong flashlights, fires, loud noises, vehicles and even light-colored clothing.
Do not feed wildlife. It can make them sick and more vulnerable to harm from people.
When boating in the ocean, slow down when wildlife is present and avoid anchoring in sensitive coral reefs and sea grass beds.
--Written by Kerri Fivecoat-Campbell for MainStreet