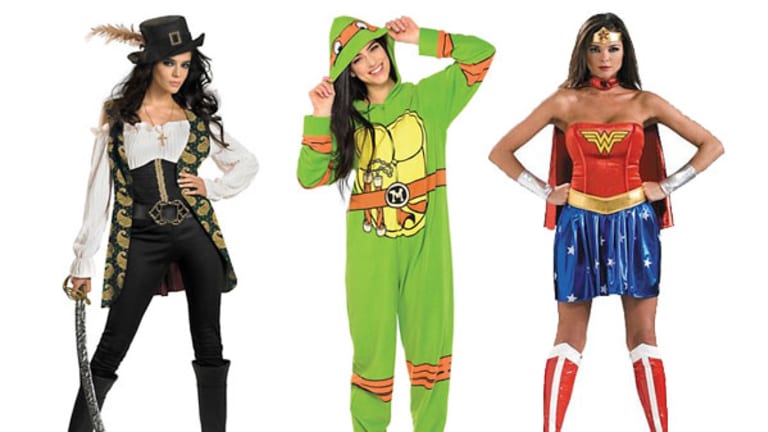 10 Last-Minute, Cheap, DIY Costumes to Up Your Halloween Game
Halloween doesn't always have to break the bank. Think out of the store-bought box.
NEW YORK (MainStreet) — Halloween always brings about excitement for people of all ages. However, with each new year typically comes a flood of newly popular costumes, and while it may be adorable to see little Johnny walking around collecting candy while dressed as the biggest super hero around, it's definitely a lot less cute for Johnny's parents to have to spend upwards of $30, $40, or $50 on the costume alone—not including the candy, bag, and all of the other accessories that come along with being such a popular character.
Recently, the National Retail Federation compiled a list of the top ten most popular Halloween costumes for 2014, and it is clear that Halloween trends fall directly in line with characters and figures that are popular in the movies and on television. Things like Disney's Frozen and the amazing Spider-Man gained their top spots from their movies, and the popularity of the classics —superheroes, witches, pirates, and animals — are just the kinds of characters that appear to never go out of style.
The following is the aforementioned list of 2014's most popular costumes according to the National Retail Federation, along with the typical prices of the store-bought versions. (Note: The store-bought costume prices can be found at HalloweenExpress.com.) With prices like these in stores, it's understandable that a new, store-bought costume may not be in the budget this year. For each popular costume, we also included a bunch of do-it-yourself options that are simple to make, great looking, and work well to minimize spending even last minute.
1. Princess

While the Barbie Princess costume runs for $36.99 in the costume store, this adorably simple homemade costume from DIY Network will come in at a mere fraction of that cost. The only items that the instructions call for are a recycled t-shirt, ribbon, and tulle fabric. Opt to use a T-shirt that's already in your little princess' closet, and you're only spending an extra few dollars at the craft store on materials


2. Animal

This clever cat costume costs $32.99 at the store, but who's to say that you can't easily create one just as great by yourself? The sister, mommy-blogging duo at Do It Yourself Divas created this cute cat costume from wire hangers, fuzzy material, felt, and elastic. You don't need to sew anything for this project unless you want to, but a hot glue gun is necessary. With a bit of extra time and a lot less money, you will wind up with accessories that look like they are straight from the store!
3. & 4. Spider-Man and Batman
Both Spider-Man and Batman took top spots on the costume popularity list. Luckily, while these costumes both cost $36.99 at Halloween Express, this blog proves to be a great source for creating homemade replicas of these two costumes, along with other popular superheroes such as the Green Lantern, Wolverine and Iron Man. While copying fabric patterns can prove to be a bit time-consuming for beginners, these costumes are no-sew, and only call for felt material, elastic, and fabric paint.


5. Frozen Character

Since the movie Frozen hit the big screen, tons of little girls have been dancing around in dresses and ice-blue capes while styling their hair in long braids. Since it was much anticipated that costumes for both the Elsa and Anna characters would come in at $39.99 and above at the store, a ton of DIY-loving people out there realized that many homemade options needed to be created. This Elsa costume calls for a simple t-shirt, various fabrics, elastic, and option snowflake embellishments.

6. Action/Super Hero

While the blog above covered many of the popular superheroes, this doesn't mean we can just forget about the other popular action figure heroes that swarm the imaginations of children. The Power Rangers have been popular for quite some time, and yet the costume for the Blue Power Ranger still taps in at $32.99. This homemade version allows you and your child the freedom to choose which color Ranger he or she wants to be, and all it requires is some fabric and tape.

7. Teenage Mutant Ninja Turtle

Who doesn't love that group of funny, crime-fighting, pizza-eating turtle brothers? Most kids do, which makes the hefty price tag of $39.99 for each costume a bit astronomical on Halloween. This creative blogger came up with a homemade ninja turtle costume that only requires green clothing, felt material in various colors, some spray paint, tape and, of course, an oval-shaped roasting pan to create the "turtle shell" look.

8. Witch

Perhaps the most popular costume for people of all ages, the witch is ubiquitous on the streets - from newborn babies to grown adults. Unfortunately, with such popularity also comes an increased price. For $32.99, a child can wear a store-bought witch costume for Halloween…or, you can pull out an old pillow case and some black fabric and create this DIY costume! Pair it with a witch hat from your local dollar or craft store and you have a cute, inexpensive costume for a quarter of the price!


9. Pirate

Like the witch, the pirate costume is another classic. It is also quite simple to find inexpensive accessories to go with the costume. Conveniently, craft and dollar stores commonly carry hats, swords and pirate eye patches. While a costume in the store runs approximately $28.49, this homemade costume from The Bump is mostly made up of typical clothing items like a t-shirt, black pants, and a bandana, keeping it way below this year's spending mark.

10. Superman

Another costume made mostly from clothing already hanging in the closet, dressing as Superman can come quite easily, especially if a Superman-themed t-shirt or cape is already had. Instead of spending $34.99 for the costume, spend money elsewhere on clothing items, cape material and even some faux Clark Kent eyeglasses that can be reused and recycled!
--Written by Ciara Larkin for MainStreet