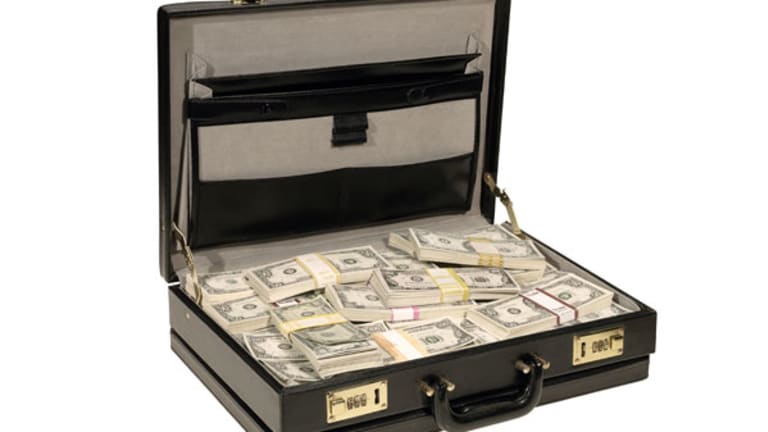 Publish date:
Credit Card Suit's Effect Unclear for Consumers
American Express takes an early hit in a lawsuit that may go on for years -- and that it may win.
American Express takes an early hit in a lawsuit that may go on for years -- and that it may win.
American Express (AXP) - Get American Express Company Report shares were hit Tuesday with a price target cut by analysts at FBR Capital, who told investors they expected a Department of Justice antitrust lawsuit to hurt the company's stock.
The results of the lawsuit, filed two weeks ago, remains to be seen, though. The company has sound reasons for fighting, and some analysts are skeptical the DOJ can win a suit on anticompetitive practices against a company already spurned by many retailers and with less than a quarter of the U.S. market share in spending volume.
In addition, the other companies named in the Justice Department's suit --
Visa
(V) - Get Visa Inc. Class A Report
and
MasterCard
(MA) - Get Mastercard Inc. (MA) Report
-- are already settling.
Meanwhile, an effort aimed at allowing customers to save money is likely to have unintended consequences.
Interchange fee is confusing
The suit is over interchange fees, or swipe fees. They are difficult to understand, in part because credit card processors such as Visa, MasterCard and American Express protect their control and this significant revenue source by providing little information about them.
Interchange fees began in the 1960s to help banks cover the cost of processing credit card transactions. The fee is divided between the merchant's bank, the consumer's bank and the credit card company. The fee covers processing fees, billing statements, fraud protection, innovations and other expenses.
Interchange fees typically range between 1% and 3.5% of every purchase made with a credit card. Few consumers realize how much the merchant pays for the convenience of credit cards. There is no mention about the fee in the credit card terms and conditions, and merchants have been prohibited from mentioning swipe fees to customers. Merchants argue that these fees have inflated the cost of goods, especially for the consumer that pays with cash instead of a credit card.
Interchange fees are not a flat rate for every merchant. They can vary by industry, the method of card acceptance, the merchant's volume, the type of card, transaction size and special deals. For example, many grocery stores and utilities have lower interchange fees as a special incentive from the networks, but interchange fees may be higher for merchants in industries such as travel and entertainment in which customers spend more with their credit cards.
The credit card companies have enforced this system as long as possible because it is a large source of revenue. Last year, the companies and their banks collected $35 billion in swipe fees.
The settlement
Retailers and merchants must accept all cards in the payments network but cannot provide discounts or guide customers to individual cards or alternative payments, even if these cost less to process. The Justice Department ruled that this is anticompetitive.
In the settlement, Visa and MasterCard will no longer prevent merchants from offering immediate discounts or rebates for using a particular card or other form of payment. Merchants can also give preferential treatment to a card or card network, and they can promote particular cards in communication with customers. Merchants can also tell consumers about costs incurred from the use of a specific card -- for the first time, letting them direct customers to the cheapest payment.
The settlement lets merchants accepting only Visa and MasterCard to start immediately, while those also accepting American Express will not be able to take full advantage of the new options. If this drags out in court, it may be years before they can offer the discounts.
Effect on consumers
It will be interesting to see how this is implemented and how consumers respond. Will merchants promote this aggressively? Will customers embrace the discounts or continue to use the same cards to accumulate rewards?
Notices and additional choices can add confusion to checking out, making lines and waiting even worse at the cash register. Shoppers using cash to take advantage of discounts will also take more time as they count out their payment. Shoppers also spend less when they pay with cash.
The verdict will affect all credit card issuers. If consumers switch to cheaper cards or alternative payments, it will not only decrease the amount of interchange fees revenue for banks, but also their interest revenue -- another blow to credit card revenue just as issuers have been slammed with rules and restrictions resulting from the financial crisis. Issuers will likely respond with higher rates and fees on credit cards and other bank services, another possible unintended consequences on consumers.
Analysts are split on how issuers will react. Some feel issuers may increase incentives for using reward cards. Perhaps issuers will tie cash and point bonuses to certain spending levels, as some already do: The
Discover
(DFS) - Get Discover Financial Services Report
More card offers a $100 cashback bonus for $500 in purchases within the first three months; the
Chase
(JPM) - Get JPMorgan Chase & Co. (JPM) Report
Freedom Visa gives a $100 bonus for $799 spent in the first three months.
On the other hand, some analysts believe this will decrease credit card rewards because the rewards system is financed by the interchange fee. Seventy-one percent of credit cardholders held a rewards card in 2008.
American Express' case
In discussing its refusal to settle, American Express says its business model is different from Visa and MasterCard because it issues its own credit cards and negotiates directly with retailers to set swipe fees. Its fees are higher, and it justifies these because they help pay for services and rewards popular with the higher-income clients retailers are anxious to attract.
American Express says the settlement is unfair because it would permit merchants to guide customers away from American Express to Visa and MasterCard, giving the competitors more market power. This would squeeze market share and revenue. According to the Wall Street Journal, merchant fees were 65% of AmEx's noninterest revenue and 55% of all revenue net of interest expense in the second quarter.
Other interchange rulings and legislation
Under the financial reform bill signed in July, merchants will be allowed to require a $10 minimum purchase for credit card purchases.
Merchants can also offer discounts to people who pay with cash, checks or debit cards. The Federal Reserve is surveying issuers and merchants about interchange fees and will issue rules in the spring.
The interchange fee has been a legal battle almost 30 years. The first antitrust challenge to interchange fees was
National Bancard Corp. (NaBanco) v. Visa U.S.A.
The U.S. District court rejected NaBanco's challenge that interchange fees were illegal price fixing.
-- Reported by Bill Hardekopf of LowCards.com.
Bill Hardekopf is chief executive of
, which compares and rates more than 1,000 credit cards. He is the co-author of "The Credit Card Guidebook."