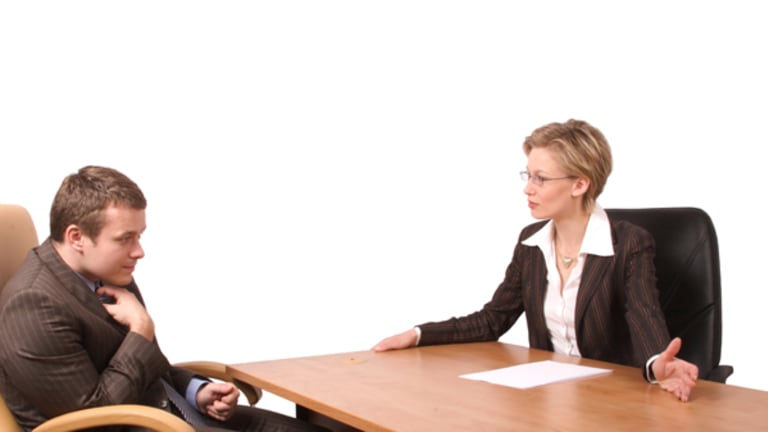 Crazy Job Interview Questions to Expect From U.S.' Greatest Companies
The competition is stiff for good, quality jobs, and some companies think they know how to weed out the worthless.
NEW YORK (
) -- Americans are getting itchy about their career prospects in early 2013.
So much so that one in five employees say they plan on looking for a new job in the next 90 days, according to
Glassdoor
, a Sausalito, Calif.-based career services company.
With that many employees looking for work, the competition should be stiff for good, quality jobs. One challenge job-seekers can expect to face are tough, even tricky, job interview questions from potential employers.
They're in luck: Glassdoor has compiled a list of what it calls
the most "oddball" job interview questions
job-seekers can expect in 2013. They're all real questions and come from some of the biggest, most attractive companies in the U.S.
The entire list can be seen
, but here's a peek at some of the most interesting questions and the companies asking them:
"If you were to get rid of one state in the U.S., which would it be and why?" -- Forrester Research, to research associate candidates.
"How many cows are in Canada?" -- Google (GOOG) - Get Free Report, to local data quality evaluator candidates.
"What song best describes your work ethic?" -- Dell (DELL) - Get Free Report, to consumer sales candidates.
"Jeff Bezos walks into your office and says you have $1 million to launch your best entrepreneurial idea. What is it?" -- Amazon (AMZN) - Get Free Report, to product development job candidates.
"Can you say 'Peter Pepper picked a pickled pepper' and cross-sell a washing machine at the same time?" -- MasterCard (MA) - Get Free Report, to call center job candidates.
"What do you think about when you're alone in your car?" -- Gallup, to associate analyst candidates.
"If we came to your house for dinner, what would you make us?" -- Trader Joe's, to crew candidates.
"How do you make a tuna fish sandwich?" -- Astron Consulting, to office manager candidates.
"You are a head chef at a restaurant and your team has been selected to be on Iron Chef. How do you prepare your team for the competition and how do you leverage the competition for your restaurant?" -- Accenture (ACN) - Get Free Report, to consultant candidates.
"How many windows are there in New York City?" -- Bain & Co., to associate consultants.
"Have you ever stolen a pen from work?" -- Jiffy Software, to software architect candidates.
"Pick two celebrities to be your parents." -- Urban Outfitters (URBN) - Get Free Report, to sales associate candidates.
"What's your favorite song? Sing it for us." -- LivingSocial, to manager candidates.
Glassdoor says job candidates should expect a curveball question in addition to more basic questions such as "What are your strengths and weaknesses?" and "Where do you see yourself in five years?"
Companies like to see job applicants think on their feet, so expect to do just that when you're out interviewing for a job this year.