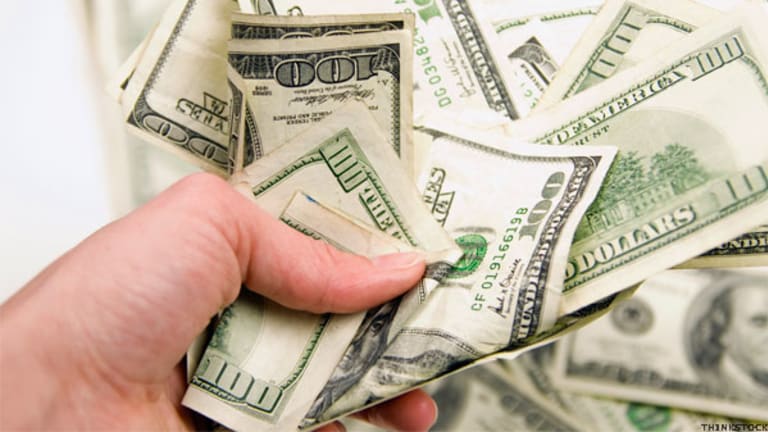 Craft Brew Founder Widmer Savors Results
Rob Widmer helped create a whole sector as Widmer Brothers Brewery co-founder and Craft Beer Alliance stakeholder.
PORTLAND, Ore. (MainStreet) -- Craft beer is still a fairly young concept, but craft beer's old timers are savoring the growth of a sector they helped create.
When Rob Widmer and his brother Kurt founded
Widmer Brothers Brewery
( HOOK) in 1984, craft beer was in its infancy and macros such as
Bud
(BUD) - Get Free Report
and
Coors
(TAP) - Get Free Report
weren't just dominating the market, they
were
the market.
Boston Beer's
(SAM) - Get Free Report
Jim Koch had just brewed his first batches of Samuel Adams Boston Lager in his kitchen. Ken Grossman and Paul Camusi were producing 25 to 30 barrels of Sierra Nevada Pale Ale a week using hand-me-down farm equipment. Fritz Maytag was producing just about 1,000 barrels of his Anchor Steam beer a year.
Rob Widmer helped create a whole sector as Widmer Brothers Brewery co-founder and Craft Beer Alliance stakeholder.
American beer offerings at the time were so limited that when the Widmer brothers brewed a hefeweizen for Portland's Dublin Pub in 1986, it was called the first hefeweizen brewed in the U.S. That same year, the brothers' brewery unwittingly became the first in America to offer seasonal beers when it added a fall Festbier -- somewhat akin to an Oktoberfest beer -- to their lineup of Altbier, Weizenbier filtered wheat beer and hefeweizen.
Two years later, the brothers hooked up with Bridgeport Ales and Portland Brewing to start the Oregon Brewer's Festival. Today it draws more than 80 breweries and 70,000 attendees a year as the largest outdoor brewing festival in the country and the Widmer Brothers produce more than dozen varieties each year, ranging from their original hefeweizen and Okto Festival Ale to a hopped barley wine and a rotating experimental IPA.
Widmer Brothers' production has fermented over the past 27 years to 277,200 barrels in 2010. Their overall business operations have expanded as well after merging with longtime East Coast distribution partner Red Hook Brewery to form the Craft Brewers Alliance in 2007. As part of the deal, Anheuser-Busch InBev took a 32.2% stake in the company in return for help with distribution; the Widmer brothers maintained an 18% stake.
This drove the craft beer geeks out of their hop heads and certainly wasn't helped when former Alliance partner Fulton Street Brewing, makers of the Goose Island brand that is still brewed at some Alliance facilities, outright sold A-B InBev a controlling stake in operations this year. Even before the sale, certain small-brewer organizations considered the Widmers and their Alliance partners tainted by the A-B connection and refused to identify them as "craft."
We had a chance to speak with Rob Widmer about his history in craft beer, the state of the industry he helped create and why he doesn't listen when craft-beer-come-latelies question his credibility:
You served as a judge at the Great American Beer Festival in Denver a few weeks back. What did you see there that impressed you?
Widmer:
This year there were 4,000 beers entered and just walking the hall, there was an incredible variety of beer. There's certainly a lot of beers that are really hot, but I would just walk up to random tables and the quality of the beer is really amazing, and that's one of the things that struck me. I've participated as a judge for 10 years now and way back you'd go through and there might be some clinkers, but now, my god, the level of the beer and the quality of the beer is so incredible.
Kurt and I have always been really focused on the quality of our beer, but it's about trying to do our interpretation of beer style. It started with hefeweizen back in '86 and we continue to work with experimental hops. We've used a lot of unconventional ingredients: prickly pear, rose hips, one of our latest beers uses muscat grape juice. I just see a lot of other brewers doing that.
Looking at beers such as your Rotator IPA and Brew Masters series, the creative spark is still there. How do you maintain it over the decades?
Widmer:
I think it's kind of inherent. Kurt and I started out as homebrewers. We loved beer and brewing, and that's just part of the DNA of someone who picks up that hobby.
You're not quite satisfied with what's available so you go down the path of doing your own thing. The hallmark of craft brewing has been to break the rules and push the envelope, and that's just who we are.
Is it odd to walk around, see other brewers' take on the American hefeweizen and know you and your brother started that variety?
Widmer:
We always talk about the serendipity of our early years, and being born Portlanders was a great thing. Portland was a great place to start a brewery in the mid-'80s, and then doing our interpretation of German-style hefeweizen kind of put us on the map. That was the first cloudy beer that beer drinkers had seen, and it was probably the first cloudy beer in more than 100 years in the U.S. I never forget how special that beer is.
How much does Portland itself help your brewing? Does being in a town that's already a great incubator for craft beer and breweries aid the creative process?
Widmer:
It's fun to just do a little bit of a pub crawl here in Portland and be exposed to all kinds of unusual brewing techniques, styles and ingredients. We
recently had the Fresh Hop Tastival and we're kind of uniquely positioned here where, within eight hours of getting our hops from the field, we are using them and all of our other Portland breweries are doing the same.
You've lived and brewed so close to a source of great hops for so long. Is it difficult to step outside the comfort zone and brew with perhaps not-so-fresh hops from other sources?
Widmer:
We work with a fourth-generation hop grower and others here in the Willamette Valley, but we have no problem working with hop varieties from New Zealand and Europe.
One of the
advantages we have, because we've been doing it so long, is that we're usually first in line when there's a new variety. Something that's not widely known -- and I'll put a plug in for my old alma mater, Oregon State University -- is that a lot of the really famous aroma hops like Cascade came out of OSU, and we work real closely with their ag department and their brewing department. We've had a lot of fun with different projects over the years.
They've made our X-114 and X-369. It's got that Cascady, citrusy character, and I just love the pine and the grapefruit and the tangerine flavor, but there are these interesting hops like the Nelson hops we got out of New Zealand that are melony and berrylike. Hop growers are excited to go down that path after there wasn't demand for those distinctive flavors for a while.
Seasonal beer wasn't a tool for the industry until your brewery came along. Now that we've hit fall and the Oktoberfest and pumpkin beers, what has it been like for you to watch that seasonal approach evolve?
Widmer:
We like to remind people that we were the first U.S. brewery to offer four seasonal beers a year. Some of our beers we won't change, like our Oktoberfest has been basically the same since we started brewing it and that season has been very easy for people to get. You don't have to do too much explaining.
When you say "Oktoberfest," people picture beer halls and boots of beer and pretzels and things. Our winter seasonal has changed a couple of times over the years and that's our most popular season. There's a joke that the winter beers start popping up here in August.
We're actually starting to see that the sessional beers that we try in the spring or summer have a year-round demand. Just for fun we did a Belgian table beer and that was 3.2% alcohol-by-volume. We did it at a Belgian beer fest where everyone used the same yeast and typically the beers were really big, and we thought we would go to the other end of the spectrum. It worked really well because in between those really strong beers, people really appreciated having a glass or two of the table beer we made. I think the pendulum has swung so far toward the super alcoholic, super exaggerated beers and it's kind of swung back.
You've taken one of the more unique approaches to the beer market after merging with Red Hook. What brought that decision about and how much input did you and Kurt have?
Widmer:
It really ended up being about distribution, and it was a long path.
We had a relationship with Anheuser-Busch and we gained access to their very excellent logistics system through that and we'd always been friends with the folks at Red Hook. We started around the same time, they're right here in our backyard and we did some common brewing. We used their brewery in Portsmouth, N.H. One thing led to another, it just started a friendship and I guess you could say we dated and finally got married.
What kind of impact did the distribution deal with Anheuser-Busch have on the Widmer brand and its reach?
Widmer:
We started using distributors not quite immediately, but before our alliance with A-B.
We used wholesalers and back in the day they used to be aligned with Coors or Miller or A-B or that kind of thing. What we saw over time was that the A-B guys were the most professional and when it came to taking care of the beer and beer freshness, everybody talked about it but nobody did it quite like the guys in the A-B system.
It sounds like a simple thing, picking up beer from a brewery and getting it to a dealer, but the wholesalers are kind of the unsung heroes. The A-B guys gave it tender, loving care and they have a nationwide network so communication was very easy. Being aligned with them has been awesome for the quality of our beer.
There are craft beer organizations that, because of Widmer's alignment with A-B, won't consider it craft. Since then, there have been disagreements about what size a brewery needs to be and what its output must be to be considered craft. Does this ever kind of gnaw at you?
Widmer:
Not really. We don't focus on it that much.
Actually, it's interesting to me because we pay attention to it, obviously, and the definition of craft can be confusing. Now there's a really interesting discussion that I've become aware of that says the word "craft" is kind of a historic term and because the evolution of small breweries has created so many beer styles and business models, "craft" was a word that meant something and now doesn't.
If you tell consumers that Kurt and Rob were pioneers of the business and have been involved with brewing for almost 30 years and built our breweries brick by brick but aren't craft brewers, I think a lot of people would be confused by that. There really needs to be another word, or maybe it's just gotten to the point where there's no easy definition of what it is that we do.
After Pete Slosberg sold Pete's Brewing in the late 1990s and Fritz Maytag sold Anchor Brewing last year, the number of brewers that started at the same time as you and Kurt is dwindling. Does the experimentation make it easier to stay?
Widmer:
Absolutely.
Kurt and I share a very small office, and our desks are head to head and, not too long ago, I could see him puzzling over something and he looked up and said "I think I'm the oldest guy in the craft beer biz." We kind of ran through the list and he's older than Ken
Grossman of Sierra Nevada, and Fritz had retired, but I guess you could say we're some of the elders -- which is hard to say, but something we're proud of.
We still enjoy it and I think as long as it's fun -- and I can't imagine brewing beer, drinking beer and the beer biz not being fun -- then we feel kind of privileged to be in the business.
-- Written by Jason Notte in Boston.
>To contact the writer of this article, click here:
Jason Notte
.
>To follow the writer on Twitter, go to
.
>To submit a news tip, send an email to:
.
RELATED STORIES:
>>Why Joe Six-Pack Pays $11 A Beer Bottle
>>5 Reasons To Pick Pumpkin Beer
>>How Home Brewing Beer Beats Buying
Follow TheStreet.com on
and become a fan on
Jason Notte is a reporter for TheStreet. His writing has appeared in The New York Times, The Huffington Post, Esquire.com, Time Out New York, the Boston Herald, the Boston Phoenix, the Metro newspaper and the Colorado Springs Independent. He previously served as the political and global affairs editor for Metro U.S., layout editor for Boston Now, assistant news editor for the Herald News of West Paterson, N.J., editor of Go Out! Magazine in Hoboken, N.J., and copy editor and lifestyle editor at the Jersey Journal in Jersey City, N.J.