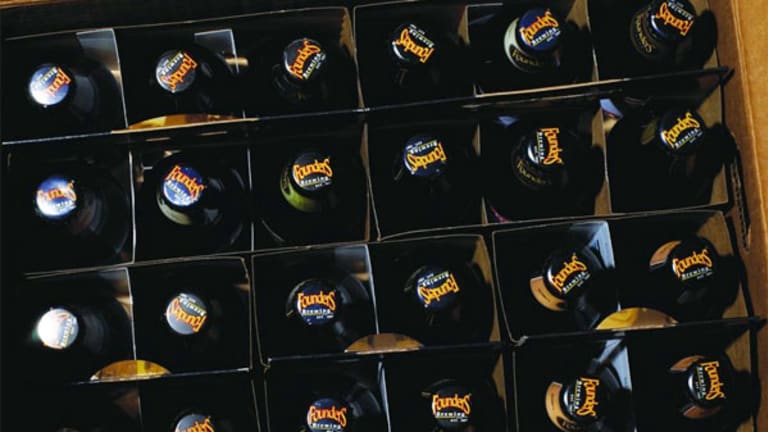 Craft Beer's 10 Best Seasonal Porters and Stouts
You don't need to spice up a beer or put Santa Claus and wreaths on the label to make a great winter beer.
PORTLAND, Ore. (TheStreet) -- You don't need to spice up a beer or put Santa Claus and wreaths on the label to make a great winter beer. Sometimes you just need to darken it up and give it enough kick to warm you.
Though it's a great time to sip the last of the fall's pumpkin ales and sample the first of the holiday season's winter warmers, this is also stout season. Though the folks at
Diageo Guinness
seem more than happy to let mainstream American beer drinkers believe St. Patrick's Day ushers in stout season here in the U.S., American craft brewers use this time of year to introduce their malty holiday porters, creamy sweet stouts and high-octane limited release imperial stouts.
But how do you tell a porter from a stout? Should it even matter to holiday beer drinkers looking for a tall glass of something warm, dark and lovely? Not really. Blame Arthur Guinness for the confusion, as his recipe for Extra Superior Porter eventually became Guinness Stout. True porters didn't return until the initial U.S. craft beer boom of the late 1980s and early 1990s, and to this day judges at beer competitions insist stouts are darker, use roasted barley and use less water than porters.
It gets a bit esoteric after that, and even brewers and beers experts don't believe there's much separating porters and stouts beyond what a brewer decides to call it. Writer Adrienne So summed it up in far greater detail for
back in March, but drinkers shouldn't trifle themselves with such distinctions this winter.
There are a lot better reasons to enjoy these seasonal stouts and porters than their names alone. Here are just 10 examples of stouts and porters that are a perfect fit for the cold months ahead:
Goose Island Bourbon County Coffee Stout and Cherry Rye Bourbon County
Alcohol by volume:
14%
Practically the entire beer-loving Chicagoland area lines up for the bourbon-barrel-aged Bourbon County Stout in September, but the original 15% ABV recipe may not be the best Goose Island has to offer.
Bourbon County Coffee Stout was released in November, made with La Tortuga beans from Chicago's
Intelligentsia Coffee and Tea
. That roasted coffee flavor melds with hints of vanilla and chocolate to dampen the bourbon burn just a bit. The Cherry Rye Bourbon also hit the shelves in November, adding some seasonally appropriate dark cherry tartness to the equation.
Goose Island fans keep waiting for Bourbon County Stout to water down or go year-round after
Anheuser-Busch InBev's
(BUD) - Get Anheuser-Busch InBev SA/NV Report
purchase of Goose Island last year. While that day seems ever closer as Goose Island execs and brewers leave and barrel capacity grows, this year's batch indicates the good times won't end this winter.
Dogfish Head Worldwide Stout
Alcohol by volume:
15% to 20% ABV
This big beast from Delaware debuted back in 1999 and has given folks near Rehoboth Beach a reason to welcome winter that doesn't involve shoveling loud packs of summer tourists out of town.
Once the most potent beer on the planet, Worldwide Stout drinks more like a cordial than a creamy pint of Guinness. It tastes a bit like port and has the slow burn to back that up. The folks at Dogfish Head recommend keeping it in the cellar for a season or so to take the heat off and give it a profile more akin to a roasty stout, but even then it's going to be a bit stronger than most six-packs party guests will stick in the fridge.
Alcohol by volume:
10% ABV
In any other world there'd be lines around the block at New York liquor stores and fanboys wearing wristbands every time Southern Tier released one of the imperial stouts in its Blackwater Series. The Lakewood, N.Y., brewer makes seasonal stouts that taste like coffee, mocha and creme brulee, but perhaps its tastiest treat of all is this chocolate-infused winter offering that appears each November.
Debuting just five years ago and always available in high supply, Chokolat takes two strains of hops and four kinds of malts and ferments them with bittersweet Belgian chocolate. It finishes with a deep chocolate flavor and just a hint of dark cherry and serves as the perfect dessert for holiday dinners where you just can't stomach another cookie or slice of pie.
Alcohol by volume:
8.3% ABV
Founders stouts are kind of a big deal. The Grand Rapids, Mich., brewery had to scold merchants last year for gouging prices on its Canadian Breakfast Stout. Its KBS bourbon stout until recently was a beer trader's best friend.
Original-recipe Breakfast Stout, however, is just damned tasty. Sold in four-packs and still somewhat of a tough find outside of Michigan, Breakfast Stout is smoother, creamier and more pleasant than its alcohol content suggests. The combination of flaked oats, bitter and imported chocolates and Sumatra and Kona coffee mellows it out and gives it a smooth, milkshake taste that just induces cravings. We found a stockpile of four-packs sitting among cases of Corona and Bud Light at a liquor store in Northern New Jersey during Christmas vacation last year and still think local dismissal of it was one of the best presents we got all year.
It comes out in September and reportedly stays around until February, but is known to deplete well before then. Black Friday shopping rules apply: If you see it, grab it.
Alcohol by volume:
10.5% ABV
Know why people who love craft beer don't make jokes about beer in cans anymore? This brewery and this beer specifically have a lot to do with it.
When Oskar Blues started canning in the early 2000s, it did so as a sales gimmick to draw folks to its brewery and brewpub in Lyons, Colo. Since then, it's helped convince the craft beer world that lined cans are a great way to block out the light and keep beer fresh while leaving behind none of the metallic flavor of their trashier aluminum forebears.
It's also a big boomer compared with its Colorado neighbors in the silver, mountain-laden cans. The 10.5% alcohol content is right in the name and masks a whole lot of hop bitterness behind its roasted dark malt and chocolate-covered caramel flavor. Bitterness in mouth-puckering brews such as India pale ale is measured in international bittering units that usually top out at 100. Ten Fidy sits at 98 IBUs.
Midnight Sun Berzerker
Alcohol by volume:
12.7% ABV
We'll just go ahead and get the very NSFW "berzerker" clip from Kevin Smith's Clerks out of the way, as it has nothing to do with this beer but is inextricably tied to the word.
With that out of the way, we move on to Anchorage, Alaska, and one of the baddest imperial stouts in the land. This brew isn't masking its alcohol content but bathing it in the scent of whiskey, red wine, dark fruit and tobacco reminiscent of the smoke-filled basements that hosted holiday parties of yore. Aged in wine and whiskey barrels, Berzerker isn't there to candy coat your insides, but to give them a viking funeral. A crackling yule log puts of less heat than this potent warmer.
Deschutes' The Abyss
Alcohol by volume:
11% ABV
If this is a time of giving and good will, why aren't the folks east of the Mississippi allowed to taste this wondrous little batch of deep, dark stout from Bend, Ore.?
Maybe because it doesn't take itself as seriously as the beer nerd stouts that sit in cellars and are alluded to on message boards while owners troll for suckers willing to make trades. Abyss' bottle says age it, the brewers say you should try to drink it fresh; the pragmatist says get two bottles and try it both ways.
Certainly one of the richest stouts on this list, The Abyss is as dark as its name implies and skips over the niceties of roasted grain and chocolate notes for heavier molasses and licorice flavors. Released in mid-November, it's built for the cold gray days ahead while still warm enough to have its own
chocolate brownie
recipe. Our apologies to folks back East, who'd likely love a bottle once the snow hits.
Surly Darkness
Alcohol by volume:
9.8% ABV
This Minnesota brewery loves itself a 16-ounce tallboy can and an easy drinkin' beer.
That Darkness comes in a wine-style bottle capped with a red wax seal and emblazoned with a vampire face should be a sign that it's not messing around. It's tough to consider this a winter holiday beer, as the October release date and goth labeling clearly vie for Halloween space amid the pumpkin ales, but a potent stout laden with hints of chocolate, cherries, raisins, coffee and toffee fits right in at the Christmas table.
Just be prepared for some holiday bitterness that doesn't stem from getting socks instead of a tablet. Surly says it adds "a touch of hops" to Darkness, but its 85 IBUs are more than beer lovers will find in some brews that deign to call themselves IPAs.
Great Divide Espresso Oak Aged Original Stout
Alcohol by volume:
9.5% ABV
What makes a "breakfast stout," you ask?
Well, the first thing you'll want to add is a bit of coffee. Denver-based Great Divide tweaks its Yeti imperial stout this way by infusing it with a whole lot of Denver's own Pablo's espresso. A little vanilla or milky flavor always helps, and Yeti's strong undercurrent of vanilla from its oak-barrel aging certainly does the trick.
Finally, you'll want to crank up the volume a bit as a wakeup call. All of those sugars help give this coffee-powered Yeti some extra kick, while the coffee and vanilla keep the burn to a minimum. Can you drink it for breakfast? Some people have a thing about not drinking a beer before noon, but last we checked it wasn't illegal.
Bells Expedition Stout
Alcohol by volume:
10.5% ABV
Why did we put another Michigan brewery in here? That's simple: Michigan knows cold, Michigan knows long winter months and lake-effect snow, Michigan knows hard times. As a result of all of that, its large craft beer community knows how to make a stout that will get folks through.
From October until about mid-March, it's Expedition Stout season. Bell's created this malty, fruity, chocolate-laden monster strictly for the winter months, even if it won't be at its best until a winter from now. It's one of the only beers of its kind brewed for the express purpose of aging, yet is still available on tap for much of the season for those who can't wait.
How long you hold off depends on what kind of a stout drinker you are. If you like a powerful, bitter imperial that lets you in on its secret from the first sip, drink Expedition Stout in its early months. If you enjoy a more subtle, malty stout, let this one sit around a while.
-- Written by Jason Notte in Portland, Ore.
>To contact the writer of this article, click here:
Jason Notte
.
>To follow the writer on Twitter, go to
.
>To submit a news tip, send an email to:
.
RELATED STORIES:
>>The Best Brewpubs In All 50 States (and D.C.)
>>10 Best Holiday Beer Buys Of 2012
Jason Notte is a reporter for TheStreet. His writing has appeared in The New York Times, The Huffington Post, Esquire.com, Time Out New York, the Boston Herald, the Boston Phoenix, the Metro newspaper and the Colorado Springs Independent. He previously served as the political and global affairs editor for Metro U.S., layout editor for Boston Now, assistant news editor for the Herald News of West Paterson, N.J., editor of Go Out! Magazine in Hoboken, N.J., and copy editor and lifestyle editor at the Jersey Journal in Jersey City, N.J.