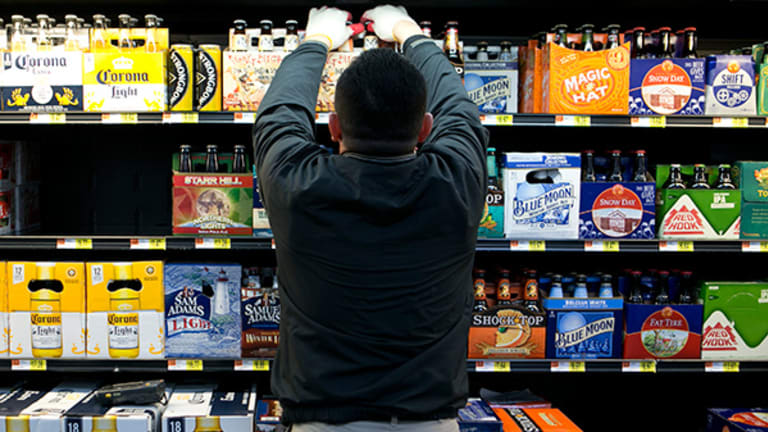 Craft Beer Swaps Can't Be Stopped
Craft beer gets big press from limited edition beer releases, but it's also building a less-than-legal secondary market that's a community of its own.
Craft beer gets big press from limited edition beer releases, but it's also building a less-than-legal secondary market that's a community of its own.
PORTLAND, Ore. (TheStreet) -- As long as "limited release" beers stay in low supply an high demand, craft beer will be swapped or resold.
A few years ago, we put together a story about cellaring, trading and the notion of limited release beer as investment. Beer geeks flipped out, scoffing at the notion that beer was some sort of commodity that had value beyond the taproom or bottle shop. But just last year we heard gripes from Waterbury, Vt., residents about craft beer pilgrims clogging streets to buy finite amounts of The Alchemist brewery's imperial IPA Heady Topper. We read tales about a Vermont woman being accused of illegally selling 120 cans of Heady Topper on Craigslist for $825. They ordinarily sell for $3 a can.
Then there was the near-riot at Cigar City Brewing in Tampa, Fla., when the brewery ran out of its Hunaphu's Imperial Stout after counterfeit tickets ate into supplies. As the Tampa Tribune noted, $20 bottles of that beer have been resold for as much as $250. Combine that with fairly open beer trading on BeerAdvocate, RateBeer, Google Plus, Reddit and elsewhere and you have a robust secondary market regardless of whether money changes hands.
Also see: Beer Apps Like TapHunter Put Data On Tap>>
One point is clear: Selling beer without a license to do so is illegal and will continue to be that way for the foreseeable future. There's just way too much risk for it no to be: taxes, underage sales, liability for drunk driving. Yes, the brewers generally hate it too -- though Alchemist owner Jen Kimmich, after noting that the consumer can get cheated in such exchanges, told The Associated Press that high-priced resale was "a compliment in an odd way" -- but the legal issues should be motivation enough to never take a dollar for a rare beer you're looking to unload.
If you want another beer for it, well that's a different story. With more than 2,700 craft brewers across the country, according to the Brewers Association craft beer industry group, it's getting increasingly tough to sample a little bit of everything. Beer trading is a great way around that little issue, but we can't lie to you and tell you it's legal. Alcohol shipping laws vary from state to state, which creates its own web of issues, but the U.S. Postal Service has steadfastly refused to ship beer or wine since 1909. UPS and FedEx are a little uneasy about shipping beer as well, but they have no problem shipping "collectible glassware," "fruit juice," "lava lamps" or several other tightly packaged, well-concealed products.
Of course, if you wrap anything up, label it and send it through a third-party site, it's also going to get to its intended destination. This is how thousands -- if not millions -- of beer traders make their swaps each day. It's how brewery public relations and marketing departments get samples out. Basically, it's about as legal as going 68 miles per hour in a 65 mph zone, and just about as common an occurrence.
Also see: Craft Beer Needs More Shelf Space, Fewer Crybabies>>
It's also struggling its way into the mainstream. Postmaster General Patrick Donahoe dropped hints that that the beer and wine shipments to help offset billions in USPS losses, but would need Congressional approval to do so. Meanwhile, the folks behind sites such as AleSwap want beer traded as easily as updates on Twitter or photos on Instagram -- but are still working out the logistics.
Beer trades are happening whether purists, brewers or the postmaster general likes it or not. As long as someone in Chicago has a glut of Anheuser-Busch InBev's Goose Island Bourbon County Stout while someone in Boston has a bottle of Boston Beer's Samuel Adams Utopias, the secretive, boozy swap meet is on.
-- Written by Jason Notte in Portland, Ore.
>To contact the writer of this article, click here: Jason Notte.
>To follow the writer on Twitter, go to http://twitter.com/notteham.
>To submit a news tip, send an email to: tips@thestreet.com.
RELATED STORIES:
>>Beer Mailbag: Kona Goes IPA, Woodchuck Cans Cider
>>Widmer Brothers Mark 30 Years Of Craft Beer -- Yes, Craft Beer
>>How Yuengling and Schell's Became Craft Beer
Jason Notte is a reporter for TheStreet. His writing has appeared in The New York Times, The Huffington Post, Esquire.com, Time Out New York, the Boston Herald, the Boston Phoenix, the Metro newspaper and the Colorado Springs Independent. He previously served as the political and global affairs editor for Metro U.S., layout editor for Boston Now, assistant news editor for the Herald News of West Paterson, N.J., editor of Go Out! Magazine in Hoboken, N.J., and copy editor and lifestyle editor at the Jersey Journal in Jersey City, N.J.