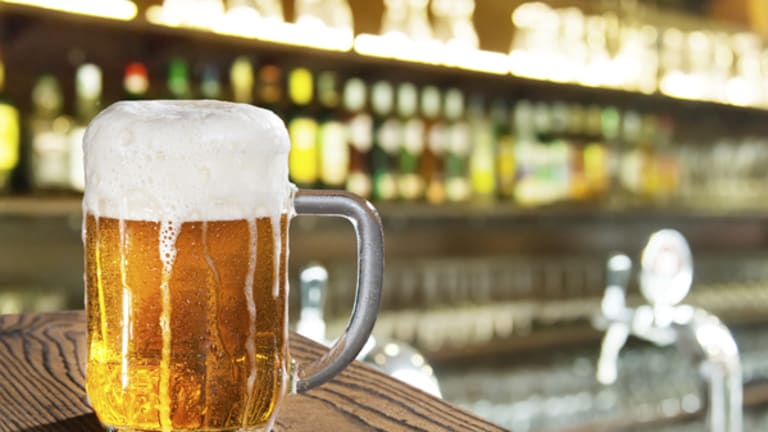 Craft Beer Goes Commercial
New Belgium, Kona, Pyramid and Samuel Adams are among the brands pushing television, online and mobile ads that were once the sole domain of much larger brewers.
PORTLAND, Ore. (TheStreet) -- When you're drawing the line between small beer brewers and their plus-sized counterparts, commercials seem to be a fairly logical line of demarcation.
Anheuser-Busch InBev spent $1.9 billion on marketing expenses in North America alone last year. Its competition at MolsonCoors spent nearly $1.8 billion promoting its brands last year. That combined $2.7 billion would be about 20% of all craft brewers' retail sales in 2013.
It's also more than three times the $739.1 million in net revenue that Boston Beer, the largest publicly traded craft brewer, generated for all of the year. When you're competing against marketing power that's better funded than any brewery you could throw at it, that pretty much takes big-beer tactics such as commercials off the table, doesn't it?
Not necessarily. This year is about to see a slight uptick in craft beer commercials thanks to some strategic spending by some of that community's larger brewers. For the past few weeks, North American Breweries' Seattle-based Pyramid brand has been pushing its IPL variety through commercials embedded in banner ads. Also home to the Magic Hat, Genesee and Portland brewing companies, NAB and its nearly 340,000 barrels of production are just one of the forces driving a big craft commercial push in 2014.
The Craft Brew Alliance -- which produces the Widmer Brothers, Redhook, Kona and Omission beer brands, as well as Square Mile Cider -- is recognizing a hot brand when it sees one and giving Kona a push this year. The Hawaii-based brewer's sales jumped nearly 17% last year after increasing 27% the year before. Since 2011, production of Kona beers has jumped from 173,000 barrels to 257,000 -- surpassing Widmer's 253,000 for the biggest brand in the CBA portfolio.
Not content to sit on its "Liquid Aloha" laurels, Kona is launching a series of Hawaii-based commercials that not only highlight the beer's point of origin, but go right after the sun, surf and sand marketing of competitors such as Corona. Its "Dear Mainland" campaign is fun, but also befitting a brand that's distributed to 39 states and has lots of room to grow:


It's that growth that tends to motivate this kind of spending, which is exactly why New Belgium Brewing out of Fort Collins, Colo., is going into Year 2 of its "Pairs Well With People" commercial campaign that hit YouTube, Hulu and elsewhere in 2013. With three new 30-second spots and a few 15-second ads ready to go int 2014, New Belgium is trying to make people in its growing 37-state territory more aware of its bike-and-brew culture. With New Belgium's production growing from 585,000 barrels in 2010 to 792,000 barrels last year and its reach expanding east with a new Asheville, N.C., brewery next year, a little boost in profile wouldn't hurt.
While craft brewers typically scoff at macro-style commercials, especially the $4 million Super Bowl ads, they haven't exactly been out of the question. Pete Slosberg, founder of now-defunct Pete's Wicked Brewing and brewer of its Pete's Wicked Ale, took to the streets of San Francisco with a camera crew in the mid-'90s just to promote his beer.
Though he eventually upped the production values and made increasingly quirkier, niche commercials for the brand he sold to Gambrinus in 1998, his commercials were just the beginning. Jim Koch, founder of Boston Beer and first brewer of Samuel Adams Boston Lager, brought the ad department and cameras into his own brewery for a multi-chapter craft beer tutorial set to the tune of George Thorogood's cover of Bo Diddley's Who Do You Love:
Now a 3.4 million barrel behemoth, Boston Beer has a $208 million advertising budget that's about 10% of A-B InBev's, but still remarkable in craft beer terms. It churns out commercials not only for its Samuel Adams line -- which has since updated to the Dropkick Murphy's Shipping Up To Boston and more jangly pop tunes for its latest campaign -- but also for its Angry Orchard ciders.
With brewers including Chico, Calif.-based Sierra Nevada and Pottsville, Pa.-based D.G. Yuengling & Sons taking in as much or more revenue that Boston Beer, CBA and New Belgium -- and growing just as rapidly -- there's a chance we could be seeing more craft beer commercials on various screens in the near future. They don't have to be as ubiquitous as Budweiser, Miller, Coors or even Blue Moon ads: They just need to be where their drinkers are.
-- Written by Jason Notte in Portland, Ore.
>To contact the writer of this article, click here: Jason Notte.
>To follow the writer on Twitter, go to http://twitter.com/notteham.
>To submit a news tip, send an email to: tips@thestreet.com.
RELATED STORIES:
>>Beer Apps Like TapHunter Put Data On Tap
>>5 Best Beer Vacations Of 2014
>>Craft Beer Needs More Shelf Space, Fewer Crybabies
Jason Notte is a reporter for TheStreet. His writing has appeared in The New York Times, The Huffington Post, Esquire.com, Time Out New York, the Boston Herald, the Boston Phoenix, the Metro newspaper and the Colorado Springs Independent. He previously served as the political and global affairs editor for Metro U.S., layout editor for Boston Now, assistant news editor for the Herald News of West Paterson, N.J., editor of Go Out! Magazine in Hoboken, N.J., and copy editor and lifestyle editor at the Jersey Journal in Jersey City, N.J.