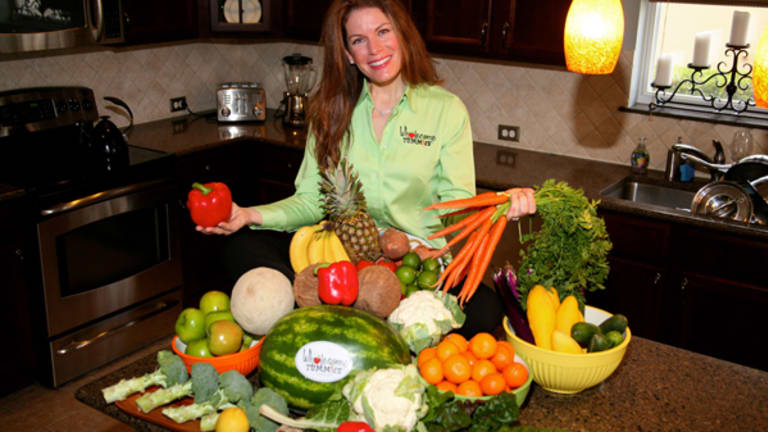 Cracking the School Lunch Problem
Wholesome Tummies, a healthy food delivery service for school-age kids, sees plenty of opportunity in the $42-billion national school foodservice market.
NEW YORK (TheStreet) -- Debbie Blacher, co-founder of Wholesome Tummies has big dreams for her healthy school lunch delivery business.
While she isn't the first person to come up with the idea of breaking into the $42-billion national school foodservice market with healthier offerings, she does see opportunity in franchising the concept, while at the same time creating a national group of like-minded social entrepreneurs.
Childhood obesity rates have skyrocketed over the past 30 years, with one third of American kids either overweight or obese, the former human resources executive says.
First Lady Michelle Obama launched the Let's Move initiative in 2010 to combat the childhood obesity problem at the national level, with one leg of the initiative to provide healthy foods in school.
Even with the recent statistics by the CDC citing small improvements in the childhood obesity rate, healthy eating habits at the school-age level must be reinforced. Blacher says her company and others, like Wholesome Tummies, are working to solve that problem by serving fresh, nutritious offerings to students and faculty.
Started in 2007 by two moms who saw a need for healthier food offerings in their kids' schools, the Orlando-headquartered delivery service started franchising in 2010. Today it has 18 locations, serving close to 100 schools, with plans to reach 25 units by the end of the year.
Sales have doubled every year since its founding. Following the 2013-2014 school year, the company expects system-wide revenue to reach $5 million.
"More often than not, you've got parent frustration with the lack of healthy choices," Blacher says. "It's an opportunity for us to come in and really make a difference at the school level." (Blache's former partner Samantha Gotlib has left the company to pursue other interests.)
Eventually, the goal is for Wholesome Tummies to have 250 franchised locations, 2,000 school contracts and system-wide sales of $200 million.
Right now, Wholesome Tummies primarily works with private schools and is starting to expand its reach to charter schools and some public schools. Franchisees contract with schools, and just like with any outsourced school meal, parents opt in to the service and place orders for their kids through its Web site.
The franchisee receives orders and prepares meals fresh each day in a commercial kitchen. Meals are then delivered to school in time for lunch or served right on campus in schools with on-site kitchens.
But entering the school-lunch market isn't easy. Wholesome Tummies is no doubt a small fish in a competitive industry, where large food services corporations like Aramark, Sodexo North America, a division of the France-based conglomerateSodexoand Chartwells, a division of U.K.-basedCompass Group, have big stakes in the public and private K-12 and higher education food service market.
But even amongst smaller companies, Wholesome Tummies is up against a handful of players that have also seen the dollar-sign potential for providing more nutritious and better quality school food.
The biggest one being
Revolution Foods
of Oakland, Calif. Revolution Foods was also started in 2006 by two moms who saw the same need; Kristin Groos Richmond and Kristen Saenz Tobey.
Not only is the company expanding its offerings across the country, Revolution Foods has started to expand its lunch product into the retail sector, selling at places like
Target (TGT) - Get Target Corporation Report, Safeway (SWY) and Whole Foods (WFM) .
The company has been named the sixth-fastest growing food and beverage company on Inc. 500's 2012 List of Fastest Growing Privately Held Companies, according to itsFacebook (FB) - Get Meta Platforms Inc. Reportpage.

But given the size of the market, Blacher says there is definitely room for multiple players and believes her product and service is superior to others for several reasons.
On the product side, foods are made from scratch every day and do not contain any artificial flavors or ingredients.
Yet Blacher acknowledges that it is a learning process.
"We've learned for example tofu and wild green beans, we've learned that kids don't necessarily go for that in the beginning. You have to meet kids where they are. Our number one focus is to take kids' favorite foods and make them healthier," Blacher says. "We create a relationship and from there we can move into other options."
There's also the problem of rising food costs that almost knocked down the company before it even got its start. Given that the company launched right as the recession started, trying to get reasonable prices on foods and commodities was next to impossible, Blacher says, but as the company grows, she's finding it easier to gain purchasing power. Another problem for Blacher was sourcing food. With so much of the food made from scratch, the company had difficulty finding food sources that were not full of chemicals, she says, while keeping lunch prices at, on average, $5.
Wholesome Tummies as a franchised concept has potential.
Wholesome Tummies provides a 'total healthy school solution,' addressing a variety of aspects of the school food environment from lunch to vending to food fundraisers, on top of which the company also provides a proprietary ordering and payment technology system.
Ironically, a typical franchisee isn't the chef, but a more business-minded individual.
A start-up investment typically ranges from about $77,000 to $115,000, not terrible when compared to the hundreds of thousands needed for other fast-food franchises. The investment includes the $30,000 franchise fee and a $5,000 software license fee. It also includes capital needed to hire a trained chef, kitchen staff and marketing team as well as lease -- at least initially -- a commissary kitchen.
Blacher also wants to create a community of like-minded social entrepreneurs looking to further the company's mission of introducing ways to fight against childhood obesity at a more localized level by encouraging healthy eating at schools. "This concept we're talking about -- it is a deeply personal concept. When you tap into a very grass-roots level it fuels the concept. You can't be in an ivory tower and have that kind of impact," she says. Blacher also hopes that by getting a foot into the school-lunch market, it will eventually open up avenues into the larger commercial foodservice market, such as universities, hospitals and senior centers, in order to help solve America's obesity problem.
"We would love for this brand and concept to be a springboard for us to really evaluate the quality of food for a variety of different industries and markets," Blacher says.
The biggest challenge is likely getting schools on board with a new food system when many use more traditional ways of thinking about their food service (as in the cheapest solution often wins). Private schools are a bit easier to contract with as they are not mandated by federal standards so there's a bit more wiggle room for new programs and perhaps more forward thinking by administrators.
"We have some locations who open their business with one or two accounts, some locations who open their business with five, six or seven schools they deliver to. It really depends on how aggressive they want to grow with their business and how ready the community is for the product," Blacher says.
While the company's initial franchise expansion has focused on individually owned and operated franchises, Blacher anticipates school licensees to quickly become a significant portion of the business.
"Self-operating schools are roughly 40% of all on-site schools while the other 60% choose to outsource to a third party," she says. "This is a huge growth opportunity for us as we seek to provide healthy school solutions to all schools."
Augusta Preparatory Day School in Martinez, Ga., served its first Wholesome Tummies lunch last week.
It is the first school to partner directly with Wholesome Tummies to overhaul its dining program by licensing its food preparation, recipes and processes for self-operation. Augusta Prep already had a working kitchen and foodservice staff but the number of students purchasing meals has been on the decline.
"We thought we could do a better job (of providing nutritional lunches)," says Becky Gilmore, Augusta Prep's head of school.
"So basically we're partners with (Wholesome Tummies). They provide us with training, an assessment of our facilities, the recipes, and helped us locate vendors that would be appropriate," Gilmore says. "We went from opening a can and heating up processed food approach to something completely different."
August Prep's cafeteria serves about 555 students in grades pre-school through 12.
All students still purchase food beforehand -- for younger students, the choice is made by their parents, for upper grades, it's a point-of-service system.
"The food is somewhat more expensive to eat that way but we feel that it is an important step for us to take," acknowledges Gilmore, noting that lunch prices are about 75 cents more than with the school's previous foodservice program.
August Prep is hoping the new program will generate revenue for the school, even though it's not the primary intent, Gilmore says.
Gilmore notes that while it's still early, there has already been positive reaction.
"I believe they are on to something here," Gilmore says.
-- Written by Laurie Kulikowski in New York.
Disclosure: TheStreet's editorial policy prohibits staff editors, reporters and analysts from holding positions in any individual stocks.