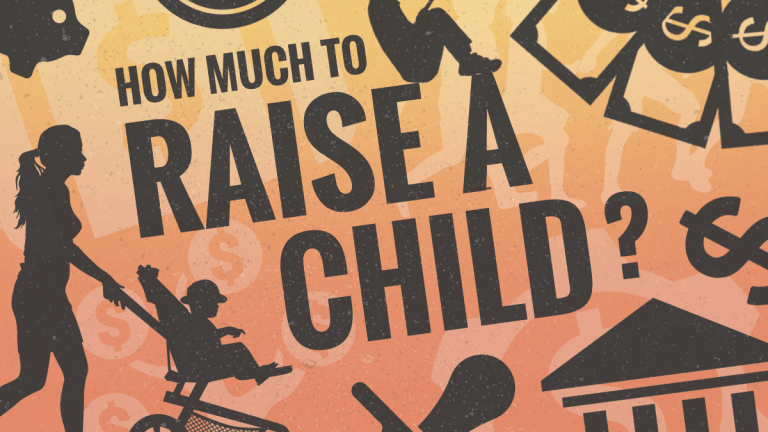 How Much Does It Cost to Raise a Child in the U.S.?
Raising one child from birth to age 17 could cost you over $233,000. Here's how it varies based on your family, finances and location
America is facing a real birthrate decline. The number of births in 2017 was the lowest the country had seen in 30 years, and the fertility rate of women in America declined to numbers that haven't been seen since the CDC began tracking the figure.
What is causing such a pronounced decline in births in the country? There are many theories and potential reasons. Perhaps the most prominent one is that while wages have stagnated for years, costs have continued to rise. And even for people with above-average salaries, raising a child is incredibly costly.
Even raising a single child, over 18 years, costs well into a six-figure dollar amount. And it continues to rise if you're able and willing to help them pay for college. No matter where you are, you're going to have to do a lot of budgeting to prepare for starting a family.
The specifics of the cost may vary depend on where you live in the country, your salary and your primary expenses. But generally, just how much does it cost to raise a child in the U.S.?
Average Cost of Raising a Child in America
The most recent available information says that the average cost of raising a child from birth to age 17 is $233,610 in a married two-parent middle income family with two children. This information comes from a U.S. Department of Agriculture (USDA) report from 2017, using information from 2011-15 and figures in 2015 dollars.
The report breaks up costs into three income ranges, with $233,610 being the average for those qualifying families who make between $59,200-$107,400. Those in the lower income range, making under $59,200, required an average of $174,690 to raise a child. Those in the highest income range, making over $107,400, spent $372,210 on raising a child.
These numbers are for two-parent households. According to the USDA report, single-parent families who made less than $59,200 spent an average of $172,200 on raising their child from birth to 17. Those who make $59,200 and up spent $319,020.
How Much Does It Cost Per Year?
It costs more to raise a child the older they get and the more a family expands. Certain expenses become more necessary while others need to be continually replaced. So as children get older and into different age ranges, the costs steadily increase.
Let's look, for example, at the average $233,610 costs for married families with two children. The USDA breaks this further down into several age ranges; from birth to 2 years old, the average yearly cost is $12,680. From ages 3-5, the yearly cost increases to $12,730. By the time they've reached 9, that number is up to $13,180. By the time they're a teenager age 15-17, yearly the average cost is $13,900.
That steady increase holds firm amongst demographics and income ranges. Those in a higher income range (above $107,400 a year) spend $19,770 a year raising a child when they're an infant, and by 17 that number has gone all the way up to $23,380. Single-parent families making under $59,200 spend $9,090 on average to raise an infant, a number that increases to $10,540 when the child is 15-17.
These are averages, and it's important to remember that numbers can still vary depending on circumstances. Families who need to move to a larger home for their family will incur larger expenses than those who don't.
Most and Least Expensive Places to Raise a Child
Another factor that will play a huge role in child-raising cost is where in America you live. Certain states and the larger areas where those states are clustered have wildly different costs than others.
The the most expensive region of the country to raise a child, according to the USDA, is the urban Northeast, at $264,090 for married two-parent middle income households. The Northeast region of the U.S., per the report, includes Connecticut, Maine, Massachusetts, New Hampshire, New Jersey, New York, Pennsylvania, Rhode Island and Vermont. In metropolitan areas of these states, high-income families require $407,490 to raise a child.
Second is the urban areas of the Western region of the country (Alaska, Arizona, California, Colorado, Hawaii, Idaho, Montana, Nevada, New Mexico, Oregon, Utah, Washington and Wyoming), where middle income two-parent families have an average of $245,460 in expenses to raise a child.
Rural areas, defined by the USDA as places with a population under 2,500 outside a metropolitan area, have the lowest costs - though still incredibly expensive. Middle income married two-parent families in rural areas average $193,020 in costs to raise a child.
What Are the Biggest Expenses of Raising a Child?
The various costs and expenses that go into raising a child can be broken up into several general categories, and how significant or insignificant these categories have become has changed in the past several decades. For example, the USDA compared this study of 2015 data to 1960 data for middle income, two-parent families. In 1960, only 2% of costs for raising a child pertained to child care and education. By 2015, it was 16%. This is in large part due to the growth of the child care industry and labor force in those ensuing years.
The number one expense has remained the same, though, and that is housing at 29%. Food was second at 18%. Transportation was 15%, health care 9%, clothing 6% and miscellaneous other expenses was 7%.
These are for a specific group, though, and both financial and local circumstances may dictate how these percentages can vary. For example, health care is a larger expense than clothing. But for those in the lower income range living in the Northeastern region, it was reversed. Lower income families across the country also spent significantly less on child care/education expenses as they may be unable to afford them. Higher income families, meanwhile, may be putting over 20% of their relevant expenses into it.
What if You're Also Paying for College?
You may, after all of the expenses put into raising a child, be lucky enough to still have the money to help them pay for college. It would be yet another massive financial undertaking, and in a far shorter period.
As most any parent is well aware right now, college tuition costs continue to rise year after year, with barely any signs of slowing down. The average tuition for a student attending a four-year private nonprofit university for the 2017-18 school year was $34,740. Other options are less expensive, but still costly over a four-year period.
And if that's how much it costs these days, imagine what it will cost in 18 years.