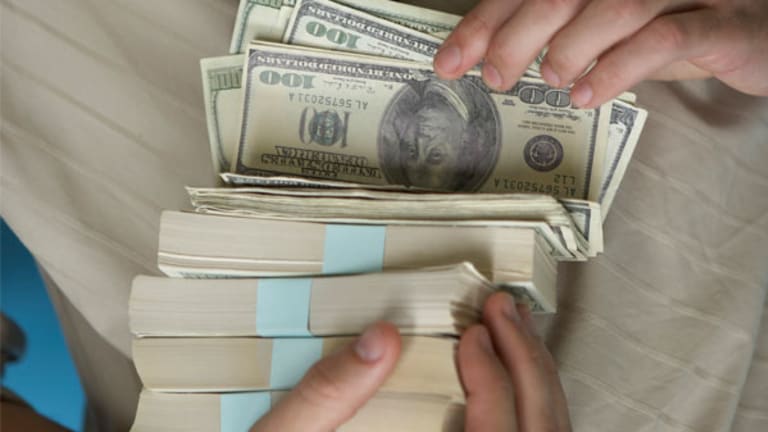 BERKELEY HEIGHTS, N.J. (TheStreet) -- Taxpayers bear the burden of maintaining cost basis records on their investments, but most don't realize it, instead believing their financial firm is required and obligated to provide them with cost basis information.
Starting next year, investment firms
will
be responsible for maintaining cost basis information.
Over the next three years the burden of maintaining cost basis records on investments moves from taxpayers to investment firms.
Keep reading, though, before you fire up your shredder. You may need to keep some older documents.
The rule has been that investment firms are required to provide the IRS and their customers with a 1099-B, which shows only gross proceeds from securities transactions -- not cost basis information. (Many of the larger firms do provide supplementary cost basis documents, but to clients only.) Starting next year there will be a new 1099-B with cost basis reporting requirements. The IRS will get a copy.
Credit the change to the Emergency Economic Stabilization Act of 2008, which marks securities bought after Jan. 1 as "covered" and leaves those bought earlier as "uncovered" and not affected by the new rules. Financial firms are not on the hook for providing cost basis information on uncovered securities.
The rules are being phased in over the next three years as follows: next year, cost basis stocks sold (excluding DRIPs) are affected; in 2012, cost basis mutual funds, ETFs and DRIPs are added; in 2013, all other securities are added.
The cost basis transfer accompanying this change is very good news. It means that when a customer moves an account to another firm, the cost basis is transferred with it. Remember, firms are only on the hook for covered securities or information they already have, not for figuring out the basis of stock you inherited from Uncle Fred in 1964. Another change: Taxpayers will no longer be on the hook for dealing with splits, mergers and wash sales (same account and same CUSIP).
Investors using alternate accounting methods when selling securities will want to call their brokerage firm. The IRS assumes you are using First in First Out when selling securities unless the brokerage has been instructed otherwise. This is not really new -- taxpayers were supposed to make alternate elections in the past -- but remember that the IRS is going to have a 1099-B from the brokerage based on the default methodology unless you say otherwise, and failure to do so could result in a different gain or loss than expected.
The new 1099-B reporting rule is a step in the right direction. Taxpayers and -- more importantly -- tax preparers should be rejoicing. I think the only group unhappy about the change are those taking advantage of the 1099-B honor system and being less than honest about their gains and losses.
>To submit a news tip, email:
.
RELATED STORIES:
>>Converting IRAs Can Cost Relocating Retirees
>>Run the Numbers on Itemized Deductions
>>Entitlements Without Taxes? It Doesn't Add Up
Follow TheStreet.com on
and become a fan on
Michael Maye is the founder and president of MJM Financial Advisors, a registered investment advisory firm in Berkeley Heights, N.J. He is a member of the National Association of Personal Financial Advisors (NAPFA) and has been a speaker covering tax topics at NAPFA's national and regional conferences. Maye has also been a frequent contributor to the Star Ledger of New Jersey's 'Biz Brain' and 'Get With the Plan' articles. In addition to NAPFA, he is a member of Financial Planning Association, American Institute of Certified Public Accountants, New Jersey State Society of CPAs and the Estate Planning Council of Northern New Jersey.