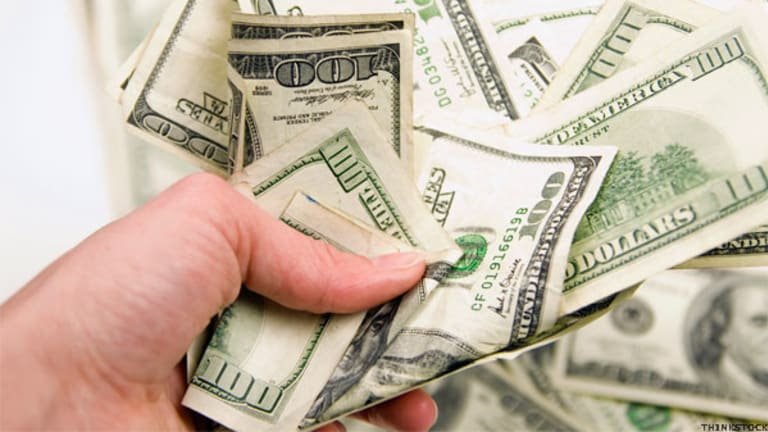 Consumers Targeted With Higher State Taxes
Many states seek to offset falling revenue by boosting taxes on shopping, cigarettes and gas.
BOSTON (TheStreet) -- It may hardly be a news flash, but retail taxes, as well as added levies to such items as gas and cigarettes, are on the rise in many states.
Last week,
CCH
-- a
Wolters Kluwer
business and provider of tax information, software and services -- released its annual survey of consumption taxes (as of July 1). Five states increased their tax on gasoline, five on sales tax and 11 states on cigarettes, it found.
PAIN AT THE PUMP:
Florida was the only state to lower its gas tax, to 16 cents per gallon from 16.1. Minnesota raised its gas tax, but the increase was nearly as tiny, to 27.5 cents per gallon from 27.1 cents.
Gas taxes increased in California, Kentucky, Minnesota, Nebraska and North Dakota, as well as the District of Columbia. Financially troubled California had a pump jump to 35.3 cents per gallon from 18.
Even put-upon Cali drivers aren't the hardest hit. Washington state's grip on the pump handle is 37.5 cents per gallon. Topping off the tank in Georgia, however, will set you back just 7.5 cents per gallon.
SHOPPING CART COLLECTIONS:
While tax-free holidays returned to some states this summer, the need for such buyer incentives are unnecessary in Alaska, Delaware, Montana, New Hampshire and Oregon, none of which has a sales tax.
Of the states that do, Colorado shoppers might seem to get off the cheapest with just 2.9% added to purchases. But local municipalities in some states can add their own sales taxes. Colorado's bargain rate jumps to 8.4% if you buy that HDTV in Steamboat Springs.
In Kansas City, the state sales tax of 6.3% is boosted to as high as 9.9% in its "special taxing districts." Similarly, though Illinois has a 6.25% sales tax, Chicago shoppers get hit with 9.75%.
Twenty-six states and the District of Columbia have a sales tax of at least 6%.
SMOKE 'EM IF YOU CAN AFFORD 'EM:
Increasing taxes on cigarettes proved particularly popular last year, with 10 states upping their take on each pack.
Conventional wisdom has always been that southern states offer cheaper smokes. South Carolina, where cigarette taxes were once the nation's lowest at 7 cents per pack, will now assess 57 cents, though. Smokes in Alabama, Georgia, Louisiana, North Carolina, North Dakota, Virginia and West Virginia are now, for the first time, taxed lower than in South Carolina. (Missouri takes its place for cheap smokes with a tax of just 17 cents.)
Resolutions to quit smoking may be on the rise in New York, where the tax is now $4.35 per pack, up from $2.75 last year. States that raised cigarette taxes to $3 or more per pack last year include Connecticut, Hawaii, Rhode Island and Washington.
OVER THE BORDER:
For years, Massachusetts shoppers have slipped over the border to tax-free New Hampshire when buying a big-ticket item. Do tax disparities make this shopping strategy viable in other parts of the country?
New Jersey's gas tax of just 10.5 cents per gallon may be enough of a savings to lure drivers from Pennsylvania paying 31.2 cents.
New York's nicotine fiends can go just about anywhere to save money. A trip to any neighboring state will save at least $1.35 per pack on cigarettes.
Tennessee residents may consider saving a 3% sales tax by heading into Alabama or Georgia. But those savings may be moot because of the "use tax" their state, like most others, enforces on what residents buy, no matter where the purchase took place.
These taxes are frequently overlooked or ignored by consumers, but that is changing. "State governments are getting more aggressive in collecting these taxes," CCH Senior State Tax Analyst Daniel Schibley says.
"As more states assess higher and higher taxes on cigarettes, the market for cigarette smuggling also may increase, but many states are cracking down on this," Schibley says. Black market cigarettes are typically bought in low-tax states and tax-free Indian reservations and sold in higher-tax states. States are estimated to lose upward of $5 billion a year in lost taxes as a result.
Beyond statewide efforts, the federal government is also cracking down legislatively, through
The Prevent All Cigarette Trafficking Act of 2009
that went into effect June 29, and with ongoing investigations by the
Bureau of Alcohol, Tobacco, Firearms and Explosives
.
In April, a California man, for example, was convicted of smuggling 370,000 cartons of cigarettes from North Carolina. He was sentenced to seven years in prison and ordered to pay $3.2 million to California as restitution for lost tax revenue.
-- Reported by Joe Mont in Boston.
RELATED STORIES:
>>Apple Pushes Discounts This Weekend
>>Philip Morris USA Sues Retailers Across New York City To Combat Counterfeit Cigarette Sales
>>Are Taxes More to Fear Than a Market Decline?
Get more stock ideas and investing advice on our sister site,