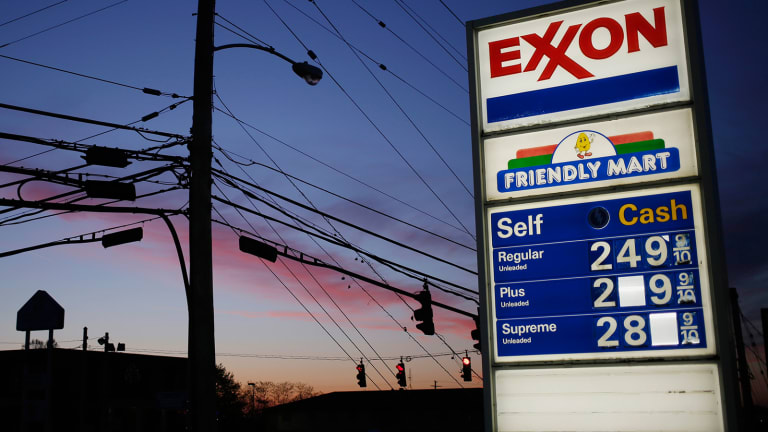 Consumers Are Saving From Low Gas Prices and Paying Bills
Cheaper gasoline prices have been a boon for consumers, who remain saddled with debt amidst stagnant wage growth. Many consumers are paying their bills from the savings.
Cheaper gasoline prices have been a boon for consumers, who remain saddled with debt amidst stagnant wage growth. Many consumers are paying their bills from the savings.
NEW YORK (MainStreet) — Cheaper gasoline prices have been a boon for consumers, who remain saddled with debt amid stagnant wage growth. But where exactly are they spending the unexpected cash savings that's dropped like manna from the low crude-price heaven? 
With the average gas price at $2.81, nearly a dollar less than a year ago, 42% of consumers say they're using this extra savings to pay down bills, according to a June Gallup poll. By contrast, only 24% of respondents said they were spending the money and 28% said they were saving it. All in all, 57% of Americans said the dip in gas prices is making a "noticeable difference in their household finances." 
And though the extra cash in their pockets may be helping them pay down their debt, it's not quite the economic shot in the arm many had hoped for. 
"This suggests that the extra money in Americans' pockets is not bolstering the economy as some predicted in 2014," wrote Art Swift, a Gallup managing editor in the report.
The Gallup poll also found only "modest differences by income, meaning lower gas prices are not disproportionately helping lower- or middle-income Americans more," he said.
Oil prices started their rapid descent last summer partly because of the surplus in inventory and started declining from $3 per gallon. Since last November, prices have been dropping and fell as low as $2 per gallon.
The U.S. average retail price for regular grade gasoline is $2.81 per gallon or $0.89 lower than a year ago at this time. In the third quarter, gasoline prices will decline to $2.52 per gallon and dip even lower to $2.33 by the fourth quarter, said Timothy Hess, a lead analyst for the Energy Information Administration, the independent statistical arm of the Department of Energy based in Washington, D.C. Oil prices should remain in their current range of low to mid $60 per barrel, he added. GasBuddy reports the state with the cheapest gas is South Carolina where gasoline prices are $2.46 a gallon ad most expensive in California where they're $3.48 a gallon.
The average American household is predicted to spend about $700 less on gasoline in 2015 compared with 2014, Hess said.
The majority of drivers are paying 30% less for gasoline today than in 2014, said Bernard Weinstein, associate director of the Maguire Energy Institute at Southern Methodist University's Cox School of Business in Dallas.

"With fuel prices down substantially, Americans will take longer and more frequent trips this summer which, in turn, will help boost the hospitality industry," he said.
While consumers are spending less money on gas as a result of lower prices, recent data has shown that they are purchasing more fuel with the average number of gallons purchased increasing by 6% from January to March 2015 compared to the previous year, "indicating consumers are taking advantage of lower gas prices and driving more," said Sanjay Sidhwani, senior vice president of analytics at Synchrony Financial, a Stamford, Conn. private label credit card issuer.
Many people are allocating their savings to paying bills such as cable, utilities and insurance payments, which rose by 18% while spending at restaurants rose by 13% and 7% on entertainment, the card issuer said.
"We clearly see a shift in consumer spending due to lower gasoline costs reflected in how customers use their credit cards to make purchases and payments in other categories," he said.
Although the economy has strengthened, consumer spending has not followed suit in most sectors. The auto industry has seen a slight increase as consumers are now buying more expensive vehicles such as compact and midsize crossovers, as well as large trucks and losing interest in cheaper, more fuel efficient vehicles such as midsize and compact cars, said Lacey Plache, chief economist for Edmunds.com, the Santa Monica-based auto comparison website.
Instead of using the savings to pay bills, Chris King, a content strategy executive in N.Y., said the cheaper gas prices are making his dinners at home more exciting.
"I live in a town where the wine shop is fortuitously situated between two gas stations continually engaged in a price war," he said. "After filling up on the cheap, I sheepishly admit I often take the pump savings right next door and purchase a bottle of table wine for dinner. It's something I wasn't doing when prices were over $3 a gallon, but it's making dinners with my wife more special."
Scott Kennard, a SEO specialist in Van Nuys, Calif., said the lower cost gasoline allowed him to use higher quality gasoline, which he hopes will clean out the combustion chamber and lend itself to a longer life span for his car.
"It was a win-win for everyone," he said. "I was able to use better fuel, and the gasoline companies profited from my splurging on 91 octane."
Prices for oil are not expected to increase in 2015 and could even "trickle back down before they push up again," said Chris Faulkner, CEO of Breitling Energy, a Dallas oil and gas exploration and production company. During the summer, prices could weaken even further and "soften slightly," he said.

"There's plenty of supply waiting in storage and in the ground, so traders have no incentive to move prices either direction," Faulkner said.
While consumers appear to be driving more, there are no indicators to suggest they will be spending their savings on retail purchases. The impact to the economy is predicted to be minimal and there will not be an uptick in the short-term since projections for the second quarter will be a 2.2% growth, the same amount that has been occurring for several quarters, he said.
"When prices ease like they have, we don't think as much about logging those extra miles," Faulkner said. "That's our best guess, but for drivers it's good news. We don't see any bogeymen in the closet to ratchet prices back up to last year's levels, that's for sure."