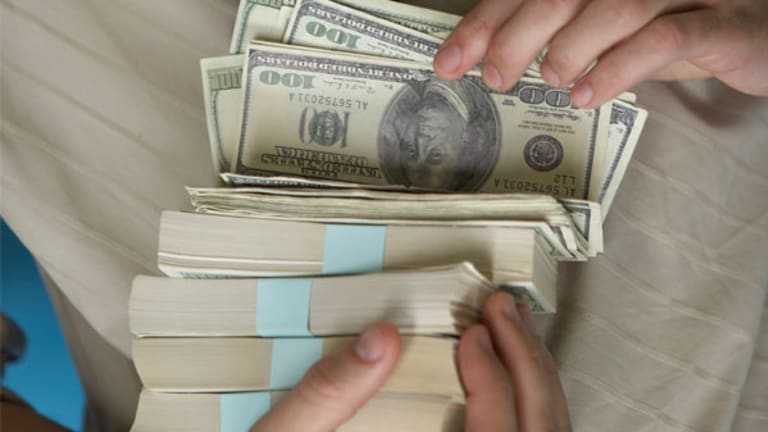 Consumer Frustration Threatens Billions in Revenue at 10 Banks This Year
A survey sees 26% of all U.S. banking customers angry enough to move their money, with a net loss to the institutions.
A survey sees 26% of all U.S. banking customers angry enough to move their money, with a net loss to the institutions.
NEW YORK (
) -- Banks build their reputations on the "trust" factor -- their ability to protect their clients' money and put their interests first.
That reputation took a big hit in 2008, when banking institutions threatened to collapse at the dawn of the Great Recession. Things have improved moderately in the past five years, but if bank customers think they're out of the woods yet, that's just not the case.
A report from
, a management consulting firm, shows that the top 10 banks in the U.S. risk losing a combined $92 billion in deposits and $5 billion in revenue this year and next.
The
study
canvassed 3,662 banking customers to rank the top 10 most "at risk" banks in the nation.
"The
Retail Banking Vulnerability Study
is, in essence, an open report card for the top 10 retail banks where consumers can see the frustrations that real customers are currently experiencing and monitor changes over time," says Stephen Beck, founder of cg42. "With greater understanding of banks' key weaknesses and vulnerabilities, consumers can make informed choices about their long-term financial provider and form realistic expectations about their relationship with their bank."
Also see: The 500% Markup Banks Got Since 'Reform'>>
The index monitors "consumer frustration with their banks," Beck says.
The study reports that bank clients are mostly concerned with "broken promises, being nickeled-and-dimed and getting hit with unexpected bank
charges and fees."
That means banks potentially losing those frustrated customers. The cg42 study says 26% of all U.S. banking customers are "in play," meaning they are so frustrated with their banks they are considering pulling up stakes and moving their money.
That amounts to about $627 billion in bank customer deposit values changing hands among the top 10 banks in the country. The study expects $92 billion in assets to leave customers' current banks in the next year. The firm says
Citibank
(C) - Get Report
is the most "at risk" bank for losing assets, followed by
BB&T
(BBT) - Get Report
and
Bank of America
(BAC) - Get Report
.
Also see: Free Checking Matters, and Other Lessons for Big Banks>>
Here is the top 10 list of banks at risk of losing the most assets, according to the study:
1. Citibank
2. BB&T
3. Bank of America
4.
Capital One
(COF) - Get Report
5.
Chase
(JPM) - Get Report
6.
SunTrust
(STI) - Get Report
7.
Wells Fargo
(WFC) - Get Report
8.
PNC
(PNC) - Get Report
9.
US Bank
(USB) - Get Report
10.
TD Bank
In 2011, the study found $675 billion was at risk and projected losses were even higher than they are now: $185 billion, way over today's $92 billion.
"Customers still feel that their financial institutions aren't serving their best interests, and they're frustrated," Beck says. "Comparing the brand vulnerability of big banks from 2011 to today shows that while the industry suffers from many of the same frustrations, institutions that addressed their customers' concerns significantly improved their competitive position in 2013."
In fact, 55% of consumers surveyed say they are "uncomfortable" with how big banks conduct their business, while 63% say big banks have only their own interests at heart.