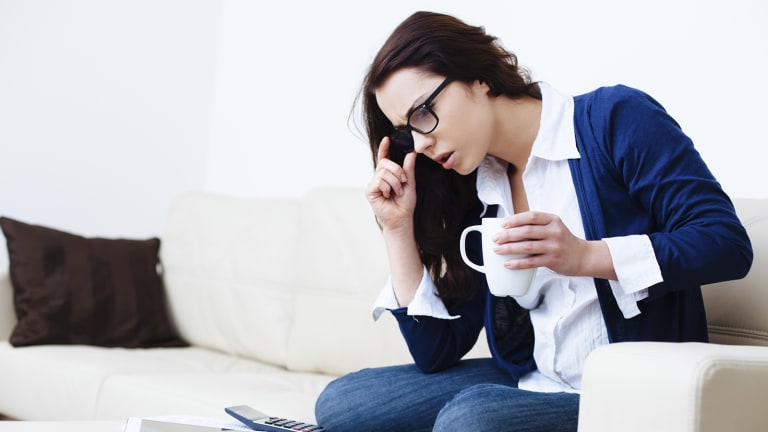 I Suffered a Rough Divorce at 50 and Was Drowning in Massive Debt -- Here's How I Paid It All Off
Americans are once again going all-in on credit cards to fund their expenditures.
A disabled, retired Navy vet, Alesia Butts found herself mired in debt after a divorce. Unexpected costly house repairs sunk the 50-year-old based in Jacksonville, Fla. quickly into $30,000 of credit card debt.
The interest rate on one credit card skyrocketed to 30%, making her monthly payments unaffordable.
"I got divorced and had to consolidate my debt to get my former husband off the mortgage, plus I needed a new roof and air conditioner," she said. "I would pay my bills and give a little extra, but payment was the same each month. That was highway robbery and something had to give."
Credit Card Debt Increasing
Consumers are once again relying on credit cards to fund their expenditures, as the number of people who have a credit card have spiked to their highest level since 2005 during the first quarter of 2017, according to TransUnion, the Chicago-based credit bureau company.
Whether this is a sign that consumer spending is headed towards a crisis again is hard to determine yet, but more people have credit cards now. In the first quarter of 2017, 171 million consumers reported having at least one credit card, including 16 million subprime consumers.
A rise in consumer confidence because of a healthy economy and low unemployment could have led consumer borrowing to rise to $18.4 billion in May, according to the Federal Reserve, which is the largest gain since an increase of $25.1 billion in November.
While consumers who had trouble obtaining access to credit are able to get approved for credit cards now and do not have to rely on alternative lenders such as payday lenders with offering usury, some consumers are starting to accrue more debt once again. Lenders have loosened their lending requirements, giving consumers with lower credit score the ability to borrow at more affordable interest rates.
This Explains Why an iPhone 8 Delay Could Actually Be a Good Sign for Apple
"People who don't have pristine credit now have access to credit, which is a good thing," said Jim Triggs, a senior vice president of counseling and support of Money Management International, a Sugar Land, Texas-based non-profit debt counseling organization. "Consumers with subprime credit scores in the past recently had to rely on payday loans or pawn shop loans to borrow money."
Delinquencies for credit cards remained in the first quarter of 2017, but rose to 1.69% of borrowers who are 90 days overdue on their payments compared to 1.5% in the first quarter of last year.
Access to credit will likely not tighten up unless delinquency rates rise substantially, Triggs said.
A stronger economy has lead to improved consumer confidence and higher credit card originations, said Jeff Golding, chief growth officer at IRH Capital, a Northbrook, Ill.-based financial company. Personal judgements from creditor or tax liens are no longer reported on credit histories, increasing the scores for many consumers.
"There is a change occurring on what is being reported at the bureaus and there is less of an impact," he said. "It can raise people's scores."
The increase in some people using their cards may not emerge into a negative trend, Golding said.
"That remains to be seen," he said. "We will know in six months whether this becomes an issue or if people are utilizing credit as they should be — obtaining the float on the money and paying it off each month."
One caveat is that as interest rates rise, consumers saddled with large amounts of debt will face higher payments. A consumer who has a $10,000 balance with a 15% rate and is only making minimum payments will not pay off that debt for 17 years and will pay nearly $7,000 in interest.
Watch More with TheStreet:
How Butts Paid Off Her Debt
The debt that Butts accrued led her credit score to drop to below 500. After speaking to several profit debt consolidation companies, she wound up choosing to work with a non-profit counselor at Money Management International, which advised her to enter a debt management plan.
"I needed help because I was drowning in debt," Butts said.
Once consumers enter a debt management plan, they can not use any of their existing credit cards. The silver lining is that the credit card companies are no longer allowed to call debtors. The 30% credit card was lowered to 9%, allowing more of the monthly payments to go towards the principle. Before she consolidated her credit card debt, she was paying $2000 a month, but the new payments were $661.
"The counselors took a lot of stress off my shoulders and I am happier now that I can pay my bills now without worrying about it," Butts said. "They explained everything to me and they take away all the worry and the companies calling and bothering you."
Some of Wall Street's Biggest Firms Hate Tesla's Stock, a Lot
Ferrari Might Finally Sell an Expensive SUV in Bid to Double Profits by 2022
After five years, Butts successfully paid off her credit card debt in July and her credit score has risen to nearly 700. The $661 she paid toward her debt every month was allocated to making extra payments for her truck loan, which was paid off last November. Now she distributes the money that would have been used to pay off both her truck and credit cards towards her mortgage. Butts anticipates that she can speed up paying off her 30-year mortgage within the next seven years, saving her 15 years of paying interest.
Now the grandmother of two only has one credit card and pays it off each month, learning to live within her budget.
"If you don't have the money to buy what you want you don't need it," she said. "I didn't miss not having the cards. It made me live better and within my means."
Nowadays, Butts saves up for items she wants to buy, such as a birthday gift for her finance.
"I put them on layaway," she said. "Before I go out and say I have to get something, I know how much money I have coming in. If I can not pay my bills and see what I have leftover, then I don't need it."
The best part about not having credit card payments is that Butts can now save up for emergencies and plans to pay for her impending wedding and honeymoon in 2019 without using credit.
"I don't count on it," she said. "I don't look at it. It's not part of my budget. That money doesn't belong to me. Now it goes straight into savings and I can pay myself."
Options for Consumers
Paying off debt can be arduous for consumers on a tight budget. Making temporary concessions can help people apply any extra money towards their debt.
"Don't change the amount you apply even when you pay something off," Triggs said.
One method is to start with highest interest charged account and then tackle the accounts with lower interest rates.
"Set goals for yourself - short term and long term," he said. "Pay off some account to keep you going, even if it's not your highest interest account. Paying off a few low balance accounts can help keep you on track and reward you for your effort."
Consumers who are facing other adversities such as losing a job and are spending more money on their bills than their income can obtain help from a non-profit credit counseling agency which charges nominal fees.
"They can help you renegotiate your interest rates and payments amount with your creditors in order to help you get out of debt," Triggs said.
Avoid settling your debt with a credit card company or collections agency because you can still be sued by the creditors.
"It can be very detrimental to your credit, a judgement could stay on your credit for 7 years or more and you could have a tax liability," he said.
More of What's Trending on TheStreet:
Editors' pick: Originally published August 1.