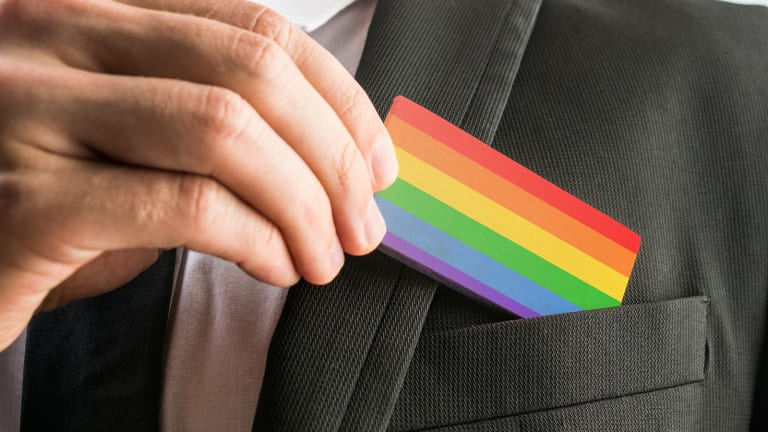 Companies That Support LGBT Talent Fare Better
Openness is a lucrative asset: companies that welcome LGBT workers and executives outperform those that discriminate based on sexual orientation.
Companies that cast a larger net into the talent pool and don't discriminate based on sexual orientation are far more successful than those who do, according to a Credit Suisse survey.
The report focused on 270 companies from a variety of sectors led by open LGBT managers and leaders. As compared to companies that outwardly discriminated or organizations without a specific non-discrimination policy, the companies that embraced LBGT employees outperformed in categories including average return on equity, cash flow return on investment and an increase in profit.
Over the past few decades, employers have increasingly articulated the business case for diversity as they have adopted LGBT-inclusive internal corporate non-discrimination policies, says Christy Mallory, senior counsel for the UCLA School of Law's Williams Institute and an expert on sexual orientation and gender identity non-discrimination protections.
"These policies have a positive impact on the bottom line," Mallory says.  "Academic research supports the business case for LGBT inclusion.  In 2013, the Williams Institute reviewed 36 academic studies examining the effects of LGBT-supportive policies, and concluded that the research supports the existence of many positive links between LGBT-supportive policies or workplace polices and outcomes that will benefit employers.  As a whole, the academic research reviewed in this study found that employees who work in LGBT-supportive climates are more likely to say that they are committed to their jobs, report better physical and health, say they are more satisfied with their jobs, and report better relationships with their co-workers."
Employee retention is low among companies that did not support an open LBGT workplace, with closeted LGBT employees saying they are 73% more likely to leave their job within a year (as compared to LGBT workers who are out and open at work) in the Credit Suisse survey. Approximately 41% of LGBT workers and 72% of LGBT executives report not being out or open at work and many LGBT employees report said they were worried that coming out at work would negatively impact upward trajectory within the company.
"Remaining closeted and/or fearing discrimination can affect every aspect of the employer-employee relationship in a potentially negative way," says Paula Brantner, executive director for Workplace Fairness. "The employee is forced to keep his or her guard up in every conversation for fear that he or she will disclose information that could lead to losing a job, and is unable to naturally share information that other people share about their personal lives in order to build strong working relationships and friendships."
The employee is also unable to participate in networking and social events where it is expected that employees will bring their spouses and families, she adds. "The employee is unable to take advantage of all the company benefits, which accrue to spouses without disclosing a same-sex partner. The employee may be seen as unduly private, unapproachable, or unfriendly by coworkers and supervisors in a way that affects cohesiveness, productivity and potentially higher turnover among members of a workplace team."
Discrimination in the Workplace
Within the U.S., 28 states do not have state-level laws that explicitly protect workers from sexual orientation discrimination, and 30 states do not have state-level laws that explicitly protect workers from gender identity discrimination (Wisconsin and New Hampshire include sexual orientation in their non-discrimination laws but not gender identity), Mallory says.
"There are some explicit federal-level protections from sexual orientation and gender identity discrimination that would reach employees even in states without state-level protections as well, though these laws do not cover the entire workforce," Mallory says. "For example, President Obama's Executive Order 13672 protects employees of federal contractors from discrimination based on sexual orientation and gender identity."
Non-discrimination laws are in place but the topic of sexual orientation continues to be a provocative hot button. "Since 1964, we have a federal law, Title VII of the Civil Rights Act of 1964, which prohibits discrimination on the basis of race, sex, national origin, religion, and color which applies to workplaces of 15 or more employees," Brantner says. "The addition of 'sex' was highly controversial at the time and was added under the expectation that it would kill the bill. The concept of sexual orientation as a protected category was not at all developed then, the Stonewall Riots would not happen until 1969, and so it was not included in Title VII. Age and disability discrimination have their own federal laws, the ADEA and ADA respectively."
Brantner says efforts are underway to pass a federal law prohibiting sexual orientation discrimination -- for many years the Employment Non-Discrimination Act (ENDA) was before Congress, and now the bill is known as the Equality Act.
"However, although support for this federal law has grown over the years, there has not been the convergence of congressional and presidential support that have been sufficient to pass a federal law," Brantner continues. "States and municipalities have picked up the slack to a certain extent by passing laws, which offer more protection than federal law, and also serving as a laboratory for the best language to use to offer the most complete protection."
The U.S. Equal Employment Opportunity Commission (EEOC), the agency which enforces Title VII and other antidiscrimination laws, has taken the position that both sexual orientation discrimination and gender identity discrimination violate Title VII's prohibitions against sex discrimination, Brantner says. "This is not fully settled case law, and will most likely be heavily litigated in the courts until we have either a Supreme Court decision agreeing with this interpretation or a federal law such as the Equality Act," Brantner says.
How to Make the Workplace Better and More Productive
Companies can enact a variety of LGBT-inclusive policies and practices, Mallory suggests.  "Many employers have chosen to add sexual orientation and gender identity to their internal non-discrimination policies, and companies are increasingly moving beyond this practice to make workplace climates even better for LGBT employees," Mallory says. "For example, more and more companies are implementing transgender-inclusive health care policies, adopting clearer policies regarding equal access to restrooms for transgender employees, and providing trainings for employees to ensure organizational competency on LGBT issues."
Also, if you feel as though you are being discriminated against due to sexual orientation bias, Brantner says the most important thing is to talk to someone right away who can help you assess whether you might have a discrimination claim.
There are deadlines by which claims must be filed, otherwise known as statutes of limitation, and you could eliminate your ability to fight back by not promptly filing a claim if it appears that you have one. Brantner says the Workplace Fairness website has information about sexual orientation and gender identity discrimination, and information about how to find an attorney in your area. Many attorneys will consult with you for free or at low cost. "There are also organizations who specifically focus on the legal issues relating to sexual orientation and gender identity discrimination, including Lambda Legal, the Transgender Law Center and others," Brantner says. "These organizations may not be able to take your case individually but can direct you to resources and attorneys in your area who are experienced with these claims and can help."