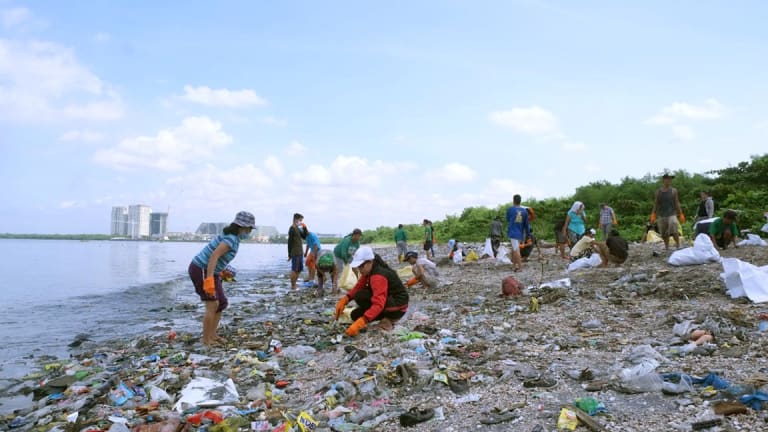 The Companies Whose Products Result in the Most Plastic Trash
An audit of plastic pollution in 42 countries collected more than 187,000 pieces of plastic trash and identified the brands that appeared the most.
It's hard to buy anything these days that isn't made of plastic or packaged in it. Global production of plastic has topped 320 million metric tons per year. Of the 8.3 billion metric tons of plastic that have been produced since the 1950s, only 9% has been recycled, according to a report by Break Free from Plastic. The rest of it ends up in landfills, rivers, oceans or other parts of the environment. We increasingly see images of wildlife suffering the consequences.
Break Free From Plastic is a global movement calling on corporations to reduce their use of single-use plastic, redesign delivery systems to minimize or eliminate packaging, and be accountable for the plastic pollution the organization says is straining waste management systems and the environment.
To find out which companies produce much of the plastic that ends up in the environment, Break Free conducted an audit of plastic pollution in 42 countries, collecting more than 187,000 pieces of plastic trash and identifying thousands of brands whose packaging relies on the single-use plastics.
Participants in the cleanups were trained to define their cleanup area, collect all waste found in that area, count and record the brand, parent manufacturer, product type (food, personal care, or household product), and packaging type for each piece of waste collected. The most common types of trash they found were plastic food wrappers, bottle caps, bottles, plastic bags, straws, lids, utensils and other plastics.
Above, participants cleaned a stretch of beach on Freedom Island along Manila Bay in the Philippines over eight days in 2017. They collected a total of 54,260 pieces of plastic waste.
Based on the October 2018 report by Break Free from Plastic, these are the brands that appeared the most in all 42 countries.
1. Coca Cola
Coca-Cola was the most prolific, found in 40 of 42 countries. More than 75% of all 239 participating cleanups reported finding Coca-Cola branded products along their coasts, shorelines, parks, and streets.
Photo: Trong Nguyen/Shutterstock
2. PepsiCo
Photo: Grzegorz Czapski / Shutterstock
3. Nestle
According to the report, the top three companies, Coca-Cola, PepsiCo, and Nestle, accounted for 14% of the branded plastic pollution found worldwide.
Photo: Karan Bunjean / Shutterstock
4. Danone
The French multinational food-products corporation is based in Paris; brands include Dannon, Activia, Oikos, Silk and Evian.
Photo: Toshio Chan / Shutterstock
5. Mondelez International
Mondelez is an American multinational confectionery, food, and beverage company based in Illinois. Brands include Oreos, Ritz, Halls, Cadbury, Nabisco, Trident, Tang, and Triscuits.
Photo: mohd kamarul hafiz / Shutterstock
6. 7-Eleven
The Japanese-owned American international chain of convenience stores is headquartered in Dallas.
Photo: Sorbis / Shutterstock
7. Procter & Gamble
The Cincinnati-based company makes dozens of well-known American brands, including Bounty, Crest, Tide, Febreze, Dawn and Swiffer.
Photo: ZikG / Shutterstock
8. Unilever
Unilever's products include food and beverages, cleaning agents and beauty and personal care products. It is Europe's seventh most valuable company.
Photo: Faizal Ramli / Shutterstock
9. Perfetti van Melle
The privately-held Dutch company makes candy and gum.
Photo: mohd kamarul hafiz / Shutterstock
10. Mars Inc.
A few of Mars' products include Snickers, Twix, M&Ms, Dove, Altoids, several gum brands, a range of international food brands, and several pet foods, including Iams, Eukanuba and Pedigree.
Photo: Mino Surkala / Shutterstock
11. Colgate-Palmolive
Photo: Ismail Sadiron / Shutterstock
12. McDonald's
Photo: paul rushton / Shutterstock
13. Bimbo
Grupo Bimbo, known as Bimbo, is a Mexican multinational bakery product manufacturing company headquartered in Mexico City.
Photo: Jarretera / Shutterstock
14. Universal Robina
Universal Robina is one of the largest branded consumer food and beverage product companies in the Philippines. Above, trash clogs a river in Manila.
Photo: Aleksandar Todorovic/Shutterstock
15. Indofood
Indofood is major Indonesian food company based in Jakarta. Their beverages division is an exclusive bottler for PepsiCo products, producing carbonated soft drinks and energy drinks under the Pepsi and Sting brands.
Photo: Akhmad Dody Firmansyah / Shutterstock
16. Hershey Company
Photo: Hershey Company
17. Costco
Photo: melissamn / Shutterstock
18. Starbucks
Starbucks was one of the top three brands of plastic trash found during a cleanup of Malibu, Calif. beaches in 2018, according to the report.
Photo: icedmocha / Shutterstock
19. Restaurant Brands International
The Canadian multinational fast food holding company was formed in 2014 by a $12.5 billion merger between Burger King and Canadian coffee shop chain Tim Hortons. The company is the fifth-largest operator of fast food restaurants in the world.
Photo: natthi phaocharoen / Shutterstock
20. Ferrero
Ferrero is an Italian manufacturer of branded chocolate and confectionery products. One comparison found that a 32-piece Ferrero Rocher Collection used the most packaging compared with several other bestselling chocolates, (42.4% of the total weight of the box.)
Photo: Hafiz Johari / Shutterstock
21. Philip Morris
In 2016, a photographer captured this image of a Philip Morris plastic cigarette wrapper inside a jelly fish.
Photo: Jonathan Weiss / Shutterstock
22. Kraft Heinz
Photo: designs by Jack / Shutterstock
23. General Mills
According to the Break Free from Plastic report, General Mills was one of the top three brands of plastic trash found during a cleanup of Malibu, Calif. beaches in 2018. General Mills makes Yoplait; the shape of the Yoplait cups has long been criticized for killing small animals such as squirrels and skunks who tend to get their heads stuck in them and die of thirst or starvation.
Photo: designs by Jack / Shutterstock
24. Mayora Indah
The Indonesian consumer products company makes a variety of food brands, including candy bars, bottled water, bottled coffee drinks and other coffee products, and instant foods.
Photo: Mayora
25. Keurig Dr Pepper
The company owns several coffee brands, including Peet's, Tully's, Newman's Own, Krispy Kreme, and Kahlua, as well as several well-known soft drinks, including Schweppes, Canada Dry, 7-Up, Dr Pepper, A&W, Sunkist and Squirt.
Photo: Dave Nelson / Shutterstock
26. Heineken International
The Dutch company makes several beer and cider brands besides Heineken, including Amstel, Sol, Tecate, and Red Stripe. Above, a seagull is seen caught in a six-pack ring. At least one beer company- Carlsberg - has gotten rid of the plastic six-pack rings in the U.K. and uses a type of glue.
Photo: Shutterstock
27. Solo Cup Co.
The Solo Cup Company of Delaware makes disposable paper and plastic cups, plates and utensils.
Photo: Shutterstock
28. Walmart
Photo: QualityHD / Shutterstock
29. Kellogg Company
Photo: urbanbuzz / Shutterstock
30. Lidl
The German discount supermarket chain operates more than 10,000 stores across Europe and the U.S.
Photo: monticello / Shutterstock