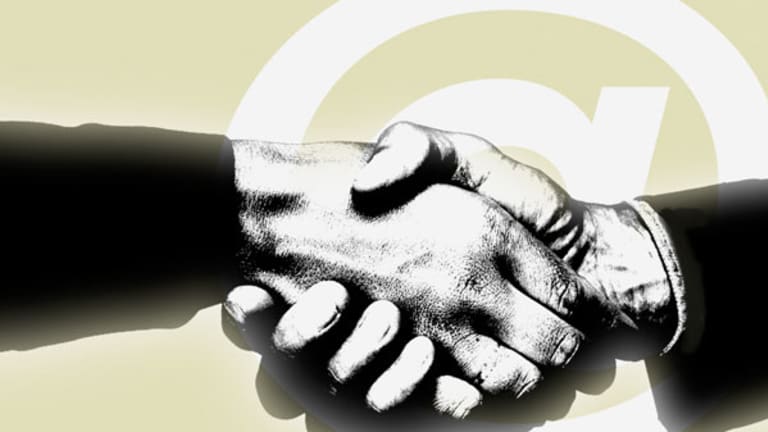 Communities Trend in Small Business Lending, the George Bailey Way
When Clint Carnley's BBQ joint burned to the ground and the bank said no to new financing, his community said yes, part of a growing 'mob' mentality supporting small business.
NEW YORK (
) -- Clint Carnley, owner of
Clint's BBQ & Country Cookin' in Sevierville, Tenn. will never forget October 12, 2010.
"It was a Tuesday morning and all I could do was watch almost everything I own go up in flames," Carnley says of the fire that destroyed the original Clint's BBQ, which opened in 2006.
It wasn't just his restaurant, but a lot of Clint's life that was lost in the fire. The restaurant had an adjoining garage where Carnley kept most of his tools, machinery and equipment - he also had a carpet cleaning business and is a musician -- and a small apartment Carnley frequently stayed in where he could shower and rest between jobs.
But Carnley didn't think of his loss long. His thoughts quickly turned to the 23 employees who were immediately out of a job, and their families.
Thinking of others first wasn't unusual for Carnley, according to Bryan Atchley, mayor of Sevierville, a popular tourist town in the Smoky Mountains typically linked with neighboring Pigeon Forge and Gatlinburg.
"He had a very successful business and was good to a lot of people. He always gave and gave to others, and he never did it for the recognition."
It wasn't long after the fire that Carnley, 61, and his wife, Elaine, who is a real estate agent, realized they were underinsured. They had enough to pay off the loan on the restaurant, but he couldn't secure enough financing to rebuild.
Carnley says he has no idea why the bank decided not to fund a new venture, but it could have been stricter lending practices banks instituted as a result of the recession. "For thirty years, I was never late with a payment and the bank wouldn't refinance our loan," says Carnley.
When the bank failed the small business owner, the community stepped in. In the same spirit of giving that Carnley had always demonstrated, a campaign to raise money for the Carnleys began in Sevierville and neighboring towns. Being a tourist mecca, there are 50 to 60 restaurants in the area, but that didn't lessen the community's desire to help Clint's BBQ & Country Cookin' rebuild.
A proud man who has always worked and who has suffered 11 heart attacks, Carnley admits he was embarrassed to ask anyone for help. "People kept suggesting we have a fundraiser, but I said businesses don't have fundraisers, people have fundraisers if they lose their home, but not for a business," says Carnley.
The community launched Clint's Rebuild Campaign, with an auction to serve as the main fundraiser. Resorts, hotels, and many other individuals and businesses, including Clint's competitors in the restaurant industry, donated money and items to auction, which brought in $13,000 in one day.
A local furniture store, owned by a man Clint had given a job to in the carpet cleaning business as a teen, donated 10% of one day sales to the effort and even the local high school culinary class held a bake sale, raising $1,000.
In all, $17,000 in cash was raised to rebuild Clint's, not counting many donated and discounted building materials and the time the community invested in helping rebuild, refurnish and complete the finishing to the new restaurant, which was recreated on the same piece of land outside of town.
Clint's reopened in September 2011. The previous restaurant seated 168 and it now seats 184 people, employs 25 and offers live music several nights a week. There is a drive-up building for take-out and catering.
Mayor Atchley says the effort wasn't only about "good people helping a good person." Clint's served as a local hangout, billing itself as "where the locals eat."
"Clint is a local owner, he is not part of a big chain. I have a choice of a lot of restaurants. They are typically crowded, and Clint's is also a busy but much more laid back atmosphere, a nice place for the locals," Atchley says.
Community help becoming more common
According to the Small Business Administration, 660,900 small businesses with less than 500 employees closed in 2009, the last year for which complete data is available.
The idea for making a dent in this statistic by helping a local small business owner is not a new one, as epitomized in the 1946 movie "It's a Wonderful Life," in which a community comes together to help a near-bankrupt local son, Jimmy Stewart in one of his most famous roles as George Bailey, save the Bailey Building and Loan, literally handing over their savings to help the family-run bank stay afloat.
In an era of corporate chains, though, especially in the restaurant sector, the concept of community financing may seem new. "The way people came together for Clint's is amazing," says Norm Bour, PR and media manager for
OpisNetwork, a business consulting firm in Newport Beach, Calif. "I think it is a wave of the future and it will take different forms and we will kind of go back to Mayberry RFD
(the fictional southern town on the Andy Griffith Show."
Indeed, there have been other businesses saved through community efforts.
When
Webster's Books in State College, Pa. lost its lease on the building where it had been in business for 11 years, the community came together with both moral and financial assistance to get the locally owned bookstore that also serves locally sourced food at its café, back in business.
Outside of Chicago, at
Nick's Pizza & Pub, owner Nick Sarillo realized last September that he wouldn't be in business much longer due to over-extending the business with loans during the recession.
He wrote a passionate email to his list of customers and within minutes of coming clean about the business's financial woes, orders began pouring in. The community also came together to plea with his bank to refinance existing loans.
Sarillo's two locations are now among the top 10 busiest of independent pizza restaurants in the country and Sarillo just released a book on his business experience, "A Slice of the Pie: How to Build a Big Little Business".
The mob mentality
PR executive Bour has been involved with cash mobs, an idea that found its roots in the popular flash mob craze -- people simultaneously coming together in a surprise group performance.
Instead of singing and dancing, though, cash mobs are a community of people who descend on a business in trouble to spend at least $20. To sweeten the incentive, typically 20% of sales are donated to a local charity.
Cash mobs began about a year ago in Maine and Bour says they have spread across the country. He is involved with a local radio station in the Newport Beach area to help select businesses for cash mobs.
"It's not a solution for a poorly run business," says Bour, who helped a toy store make $9,000 in one day during a cash mob effort.
Bour says the owners had knowledge of the industry, but lacked a skill set to make a successful retail venture work. He consulted with them after the mob. "The owners, who were wiped out of inventory were going to use all of that money to pay their back rent," says Bour. "I told them 'this is your last shot,' you need to renegotiate with your landlord and use the cash infusion for inventory and other things that will help the business keep running."
Bour says in order for businesses that are in trouble to keep running after such support, someone should be first asking why the business got in trouble and will it really make a difference to keep the business afloat in the long term.
As examples, Bour cited two applications he is currently considering for a cash mob: a restaurant that was poorly managed versus a coffee shop in which the owner's son had cancer and the owners had hundreds of thousands of dollars in medical expenses. "The coffee shop has been in business for years and had financial problems really out of their control; they're probably a good candidate for community support that will make a long-term difference."
As for Clint's BBQ since reopening, it has been tough. Carnley says that the small parking lot makes the restaurant appear full to patrons when it is only half full and wholesale food prices have increased 45% while he has tried to keep his menu prices the same for his loyal customer base.
"I don't have a day go by where I don't have a former customer tell me they pass by the restaurant and it looks like it is doing good. Some people just haven't come back like they did before," says Carnley.
To help fight the perception that they're full, he is putting up a neon sign that reads, "Seating now Available," hoping that will signal to the passersby that the restaurant isn't as full as it appears.
"I will feel like I let the community down if we don't keep going," says Carnley. "We aren't going to let anything beat us."
For any business staring defeat in the face, the neon signal has been raised: "The community is now available to help."
More on small business financing options
:
How to get a microloan from a major corporation
Getting a small business loan when the bank says no
Bank of America says "yes," you can get a loan from a big bank
--By Kerri Fivecoat-Campbell
Kerri Fivecoat-Campbell is an Arkansas-based journalist who writes for
TheStreet
and
MainStreet
on personal finance, small business and leisure/travel issues.
Follow
TheStreet
on
and become a fan on