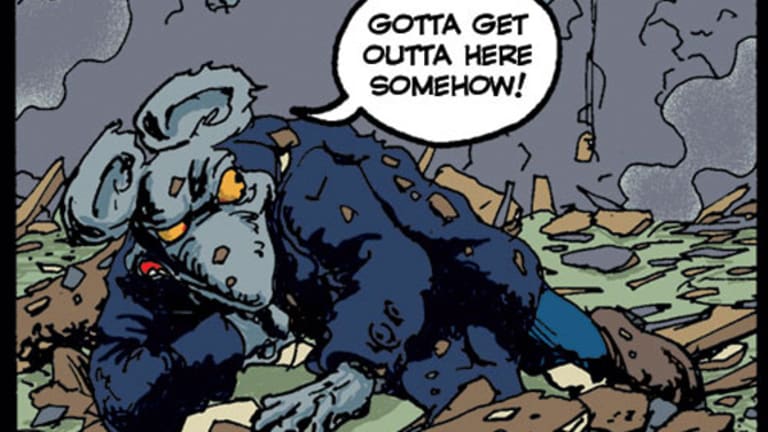 Comics Creators Find Superpowers in Business Alter Ego
Crucial Comics publisher Cliff Galbraith and partner Rob Bruce have turned their passion into a lucrative and growing empire of conventions for comics devotees.
ASBURY PARK, N.J. (TheStreet) -- To hear Cliff Galbraith tell it, he might just be the only guy ever to conceal a business text behind a comic book -- an act that turns a time-worn cliche on its ear, even as it reinforces the fact that the New Jersey-based comics creator keeps up with the latest titles by Gladwell and Ben Horowitz "like they were Game of Thrones."
With two self-published Crucial Comics titles in circulation, and lordship over a pair of buzz-generating commercial Web sites, Galbraith could already be said to have enough on his drawing board. But it's his newly minted status as co-founder of a growing empire of ComiCon events that's got the veteran cartoonist hitting the books over such topics as subcontracted security, guest accommodations and the sweet science of customer service.
Cliff and his partner in the Con game -- fellow Red Bank, NJ resident and "popculturist" authority Rob Bruce -- recently wrapped a successful fourth edition of their Asbury Park ComiCon, a "relatively small" two-day extravaganza that drew some sought-after star talent and thousands of fans to this salty Jersey Shore resort. Just weeks from now, they'll be doing it all again, during a first-ever New York Comic Fest that commandeers the Westchester County Center in White Plains, N.Y. for a single Saturday on June 14.
Sponsored by the pair's online outlets 13th Dimension and Monsters and Robots, the spring 2014 events represent a quantum leap forward from the "microscopic" bowling-alley origins of the first Asbury Park gatherings. At the same time, they remain manageably scaled affairs designed to "promote the people who create comics," in an age when the major conventions have been effectively hijacked by the entertainment conglomerates behind the top titles, publishers and properties.
"The corporate shows are like multiplex blockbusters, and we're like the endearing indie film," says Galbraith. "If you're booking William Shatner, the cast of The Walking Dead or Twilight, that's fine . . . but when the creators don't have top billing, at what's supposed to be a comics convention, then it's something else entirely."
<P
To be sure, there exists a certain degree of star quality attached to the event promoters. Bruce, the consummate collector and liaison to the shows' base of vendors and dealers, has become a nationwide cult celebrity courtesy of his connection to multi-media mogul Kevin Smith, and recurring appearances on the Smith-produced AMC Networks (AMCX) - Get AMC Networks Inc. Class A ReportAMC TV series Comic Book Men. This fall, he spins off into his own, as yet untitled, cable series project. That fame could make him, quite possibly, the only TV star who can still be found on Sunday mornings, in any kind of weather, manning a table at New Jersey's near-legendary Collingwood Flea Market.
>>Read More: The Ninja's Guide to Complete Social Life Restructuring
Galbraith, for his part, is well known as the creator of the book Rat Bastard and its genetically altered private-eye protagonist Rosco Rodent -- a property that was optioned as a prime-time animated series for the former UPN network in 2001, and which made it as far as a completed mini-pilot episode before executive-suite turnovers pulled the plug. Lesser known -- but perhaps even more significant from a business standpoint -- is the fact that back in the 1980s, young Cliff created the Saurus Gang, a collection of instantly familiar dino characters (Partyasaurus, Rockasaurus, Shopasaurus, et al.) that appeared on countless t-shirts and gift items; produced by a Galbraith-owned screen printing concern that at one time employed as many as 40 people.
"My mother taught me art; my father taught me business . . . I can empathize with both sides," says the entrepreneur whose own experiences as an underwhelmed vendor at apparel, gift and comics expos spurred the creation of the Asbury event. "You keep at a problem until you come up with the solution...you get underneath that screen printing machine until it's working again, and I apply that to my other activities in life."
Put into practice, it's an approach that's served Galbraith well as a Con promoter, a breed not always recognized for its people skills or bedside manner. The planning stages of the event can find him making sure to put sufficient floor distance between competing "longbox guy" back issue dealers -- or, conversely, grouping his small independent publishers and creators together in a fan-friendly Indie Room space. The day of the event can find him briefing his corps of volunteers on the ever-present threat of "inappropriate photography;" diplomatically defusing a front-door situation involving a frustrated ticket buyer, or making the rounds of guest vendors that range from (X-Men exponent) Chris Claremont, to the kettle-corn lady at the outdoor food court.
"It's all part of customer service; being accessible to people," says the black-clad Galbraith. "There's so much terrible customer service out there -- and so many clueless promoters, that it doesn't take much to be one of the good guys."
It didn't take long for the fledgling good-guy promoters to outgrow their original host venue Asbury Lanes -- an atom-age bowling alley turned quirky music club and performance space. They first moved the flagship ComiCon to Asbury's venerable but weatherworn Convention Hall complex in 2013. And, when code issues with the landmark building left it unavailable for event use by 2014, the now weekend-long event moved across the street to the Berkeley Hotel, a Whitney Warren-designed throwback once co-owned by Johnny Cash.
>>Read More: 3 Top Secret Weapons Apple Gets by Buying Beats by Dre
By this time the guest list had grown to feature attractions like vintage underground comics publisher Denis Kitchen (recipient of an inaugural Lifetime Achievement Award from 13th Dimension), Ren and Stimpy co-creator Bob Camp, 1960s Marvel icon Jim Steranko - and Claremont, who packed the room for his panel appearance, and who had such a good time that he stuck around for an extra day beyond the single Saturday he'd signed on for. The weekend climaxed with a costume contest judged by cast members from Comic Book Men and other Kevin Smith specialties.
"Everyone I talked to was thrilled with their sales," says Galbraith. "And the kids were happy because we gave them the kind of experience that nobody's putting on anymore."
The warm feelings apparently didn't extend to relations between the promoters and the venue, as Galbraith and Bruce announced at the conclusion of the 2014 Con that they'd be leaving Asbury Park in favor of the Meadowlands Convention Center for a Summer 2015 date to be announced. With the move, the name will change to New Jersey ComiCon.
"The new people at the hotel outright told me they're not interested in conventions, and wouldn't commit to a multi-year arrangement, whereas the Meadowlands people are a delight to deal with," offers Cliff by way of explanation. "It turns out that conventions are held inside convention centers for a reason . . . because that's the business they're in."
The ComiCon partners have plenty to keep them occupied until then, from preparations for Bruce's AMC TV series, to Unbearable -- a comic collaboration between Galbraith and his wife J.C. Luz, and a sequential soap opera drawn from the couple's years in New Brunswick, N.J. The two sister Web sites, 13th Dimension and Monsters and Robots, have also exploded with activity.
The June 14 New York Comic Fest will feature appearances by Steranko, master monster portraitist Basil Gogos (the Norman Rockwell of magazines like Famous Monsters of Filmland), PUNK magazine founder John Holmstrom -- and a "Batman Then and Now" panel pairing the seminal Bat-writer Denny O'Neill with current Caped Crusader chronicler Scott Snyder. 
>>Read More:
Play Call of Duty and Win an X-Games Gold Medal
5 Biggest Ripoffs in Major League Baseball
Tom Chesek is a freelance writer and curator of the Stephen Crane House in Asbury Park, N.J. He also manages the blog site, Upper Wet Side, focusing on culture in the New Jersey Shore area.