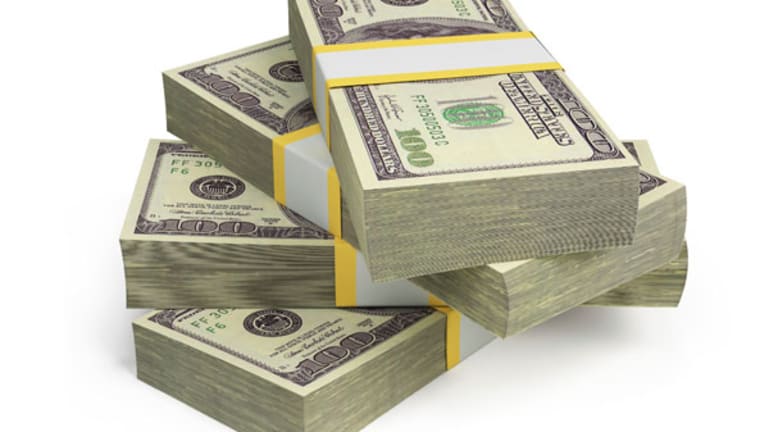 Comic Book Legend Powers Up on New Media
POW! leverages Stan Lee's fanbase to bring superhero content across mediums and direct to consumers.
BOSTON (TheStreet) -- Comic book collectors date and classify their prized possessions as "Golden Age" or "Silver Age," but there's no doubt comics have entered the digital age.
Marvel Comics and D.C. have bet heavily on digital editions of their titles, a new approach to distribution bolstered by the advent of tablets and the continuing box office success of movies and TV shows featuring their characters.
, a media and entertainment company founded by Stan Lee, announced two partnerships Nov. 17 it says will further expand its direct-to-consumer approach to digital content production and distribution.
Lee is a legendary figure to comic book and movie fans. His co-creations include Spider-Man, Incredible Hulk, X-Men, Fantastic Four, Iron Man and Daredevil. In November 2001, he founded POW! -- a multimedia and entertainment company -- and serves as its chairman and chief creative officer. Co-founders include award-winning producer Gill Champion (
Fort Apache the Bronx
,
The Shining
), who serves as president and CEO, and intellectual property specialist Arthur Lieberman.
The company's mission is to create character franchises and develop animation and live-action feature films, television programming, DVDs, multimedia and merchandising.
One joint venture is with
, former
Disney
(DIS) - Get Report
CEO Michael Eisner's digital studio, to produce and distribute "studio-quality films, episodic series and digital content across multiple platforms." The first project from this partnership will be the
Stan Lee's World of Heroes
, a YouTube channel that is to launch with exclusive programming in 2012.
POW! will also look to ramp up online community engagement with the launch of
in partnership with Los Angeles-based media company
. It too is to launch officially early next year.
EQAL handles Web sites and social media accounts for celebrities and brands. Clients include Bethenny Frankel, Tori Spelling,
Jersey Shore
star JWOWW, Randy Jackson and Philadelphia Cream Cheese. Its founders created the infamous "lonelygirl15" faux-reality webcasts once featured on YouTube.
The announcement, according to Champion, POW! president and CEO, is that it heralds the company's move toward a direct-to-consumer business model and building a global multimedia presence. The goal is to open up licensing and revenue opportunities for the company "alongside its franchise developments for its motion pictures in live action and animation, television programming, merchandising and video game divisions."
Champion says that POW! has about 10 Stan Lee-created superhero projects in various stages of development, including the release this month of
Romeo & Juliet: The War
, a coffee table graphic novel that reimagines the famous lovers 200 years into the future.
"The company, up until this year, has focused on more traditional means of publishing, TV, DVDS and developing films," he says. "Now there is a convergence of technology and content that seems to be coming closer together and we realize the importance of the digital space. There's an opportunity to reach consumers and fans whose choice of distribution or viewing has been on some form of digital, whether it is the Internet, streaming or mobile. There's another whole world and we felt it was important to be there. The challenge in the digital space is: How do you grab eyeballs? We think the branding of Stan Lee is certainly something that opens doors."
The rapidly evolving landscape of new media presents challenges and opportunities, Champion says.
"I think three or four years ago it was the Wild, Wild West," he says. "Now, perhaps, it is just the Wild West. It is beginning to mature."
"We understand our consumer and fan base and there is a global opportunity to reach consumers and fans in a relatively short period of time. There is the opportunity to create content at a much lower cost and
leverage interactivity in developing some of these franchises. It is truly an opportunity that I think some of the bigger companies and perhaps the studios are slow to understand. If you get the fans, you have the opportunity to cross over into a more mainstream audience as well."
Champion thinks the nimble approach to content POW! is dedicated to will allow it to find success with properties that thus far have only a fraction of the audience awareness Lee's many other creations have.
"It is a challenge," he says. "Certainly if you are looking to do a movie that has a budget of 100-plus million dollars studios are usually looking for some recognition. What we are able to do is utilize these digital platforms and relationships with the fans to start to build that awareness of a character. Where it took 25 years to have some comics reach mass or critical acclaim in numbers, now you can reach hundreds of thousands, perhaps millions of people almost immediately. There is a lot more opportunity to build brand awareness and franchises for new characters than has ever existed before."
Champion says his hope is that POW! will be able to open doors for fresh talent.
"There is a whole new generation of young people that want to work in this medium and a lot of them can't get jobs unless, maybe, they want to work in the mailroom of a theatrical agency," he says. "Part of our quest is to find talent that wants to work in this medium, and so far there hasn't been any lack of securing young people who want to do this. The constant search to find these people is an important part of what we do ... It all comes down to, 'Can you tell a good story?'"
-- Written by Joe Mont in Boston.
>To contact the writer of this article, click here:
Joe Mont
.
>To follow the writer on Twitter, go to
.
>To submit a news tip, send an email to:
.
RELATED STORIES:
>>5 Reasons You Care About the New Superman
>>If You Can't Be a Superhero, Dress Like One
>>Investors Overlook Risks to Pricey Collectibles
>>10 Bad Guys Offering Money Advice
Follow
TheStreet
on
and become a fan on