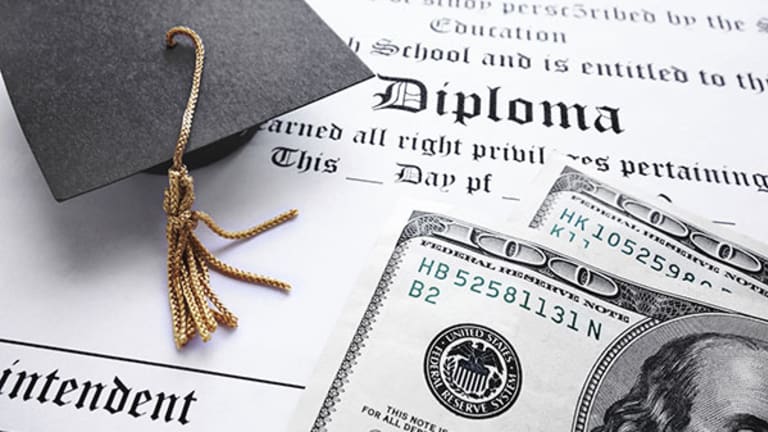 "College for All" Report Goes All In On Plans to Provide Access to College
A streamlined proposal for repayment would scrap FAFSA and link student loan payback to the IRS
NEW YORK (MainStreet) — Income inequality will be a hot button issue as the 2016 election approaches. It could just as easily fade depending on who takes the oath of office two Januaries from now. In the meantime, it's drawing some eyeballs and racking up page views as think tanks churn out research on the topic, particularly the way educational disparity contributes to the problem.
The new Center for American Progress (CAP) study, "College for All," is the first installment of a study that will propose ways to bring people into higher ed that have been shut out—the first step toward income equality.
Written by David Bergeron, CAP's vice president for post-secondary education, and Carmel Martin, CAP's executive vice president for policy, the report wants every high school student to get at least some financial support, up to the cost of tuition and fees at a public four-year college or university.
The type and amount of federal aid students get will depend on their families' long-term economic circumstances--not just on the income reported on their tax return for the calendar year.
In addition, repayment would be income-based, but made in a single payment.
"Students must repay much of the aid provided by the federal government, and that would continue to be true under the College for All plan," the report said. "But repayment would depend on the graduate's income and would be streamlined in that there would be only one payment made through the Internal Revenue Service."
It's not clear whether an annual student loan repayment would be swapped for the borrower's annual tax refund, with borrowers making up the difference, or if there would be a payroll deduction made through the IRS.
The repayment terms would be more generous for low- and moderate-income students than the current 10% or 15% of discretionary income earned each year after college.
The report takes into account the toll that the mere idea of going to college takes on students who jump to the conclusion that they can't afford it and whose families have had no encounters with higher ed.
"When students getting ready to graduate from high school ask how much it will cost to go to college, they will likely hear, 'It depends,'" said Bergeron, the former acting assistant secretary for post-secondary education and the Department of Education. "For many low- and moderate-income students, particularly those from families where the student is the first to attend college, the lack of specific information fails to convey the message that college is for them and that they can afford to go."
CAP spokesperson Allison Preiss declined to link College for All to President Obama's highly touted but problematic plan to make community college free for many high school graduates. But the College For All announcement references a report by the Inclusion Prosperity Commission launched in 2013 by former Treasury Secretary Larry Summers, which goes wants to ensure access to two and four year degrees.
There was also no detail about one of the plan's more intriguing features: students would not have to file the Free Application for Federal Student Aid to receive federal support.
CAP plans to release several more reports in the next few months that will further describe the plan, including its cost.
--Written by John Sandman for MainStreet