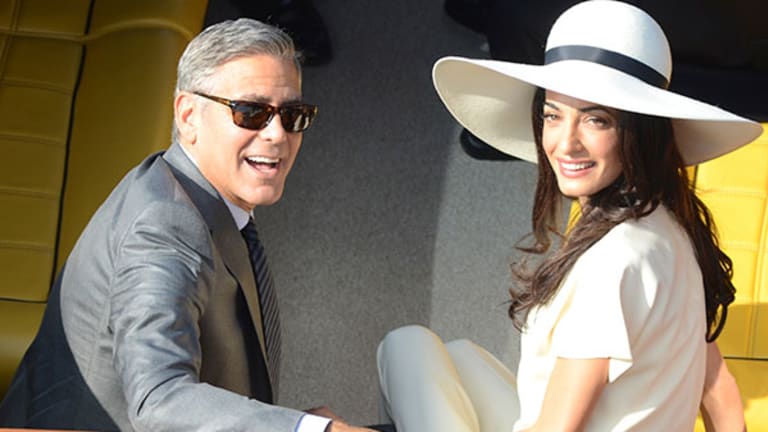 Clooney, Brad and Angelina: Is a $3 Million Wedding Gift Too Much?
The Clooney affair is costly while Brangelina go budget.
NEW YORK (MainStreet) — For Hollywood, love is in the air and money is flying out the window. While beautiful brides have been giving their hand in marriage, it's been costing someone an arm and a leg. The average cost of an American wedding is in the $25,000 to $30,000 range, according to event planning websites, but A-listers spend more than that on water taxis alone. The George Clooney-Amal Alamuddin affair is estimated to have cost some $13 million.
Of course, as high-profile nuptials go, that's about right. Kim Kardashian and Kris Humphries spent $10 million on a wedding ceremony for a marriage that had a shelf life of only 72 days. That included $2 million on flowers and $2.5 million on Kim's diamond-head wedding dress. At least they got a reality TV episode out of the deal, which may have been the plan all along.
View Today's Highest Savings Account Rates
Though not a Hollywood affair, Prince William and Kate Middleton's wedding was a world-wide television event, with production costs of $34 million. Reportedly, $32 million was allocated to security costs alone.
But the grandest Big Day of them all occurred over 30 years ago when Lady Diana Spencer married Prince Charles on July 29, 1981. While the costs by today's standards may seem modest -- Lady Di's dress was just $13,000 – all told the wedding cost nearly $70 million in today's dollars.
But Brad Pitt and Angelina Jolie are happy to swim against the rising tide of wedding expenses. Their vows last month were practically a budget affair, according to E! News, with the ceremony held on the grounds next to their home, while guests were housed in their residence and the flowers were "picked by the kids." A short guest list lowered transportation costs and their personal chef catered the function.
However, that's not to say the couple doesn't value pricey wedding traditions. The Daily Mail reports Jolie presented her new husband a fine wedding gift -- a rare 1952 Patek Philippe platinum Swiss watch, inscribed with "To Roly from Nessa," the names of the characters the two actors are portraying in "By The Sea," a film directed by Jolie.
The renowned timepiece is estimated to be worth more than $3 million.
--Written by Hal M. Bundrick for MainStreet
Save Cash on Payments! Compare Low-Interest Credit Cards Now