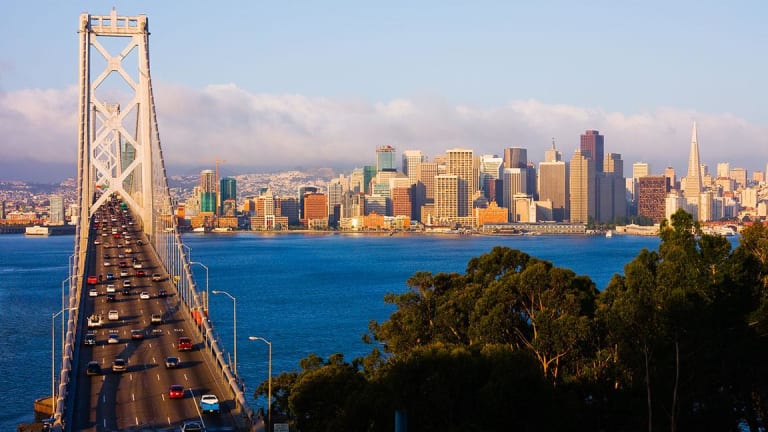 What Cities Have the Largest Percentage of LGBT Residents?
If you are looking for a city with a large LGBT community, you will have lots to pick from. Metro markets with the largest percentage of residents who identify as lesbian, gay, bisexual or transgender range from well-known havens like San Francisco to Austin and Salt Lake City .
For gay, transgender, lesbian or bisexual individuals and families, there has long been comfort in numbers.
And while there are LGBT communities in all metro areas, some are larger than others.
Yes, San Francisco tops the charts, but there are also other cities that have a large and thriving LGBT presence that would not necessarily come first to mind, either. 
Here's a look at metro markets in the U.S. ranked by the size of their LGBT populations. Most are well past the national average of 4.1% of people identifying as gay, transgender, lesbian or bisexual. In comparison, the New York metro area, which includes a swath of New Jersey, stands at 4%. It is actually 23 on the list. Atlanta is No. 19, at 4.2%.
While all have robust numbers, these cities stand out in a number of other ways, from laws ensuring equality of treatment in everything from city jobs to law enforcement to a vibrant gay cultural and business scene.
San Francisco, Oakland and Hayward, Calif.: The San Francisco area has the biggest proportion of LGBT residents in the country, weighing in at 6.2%. It also has some of the nation's strongest local non-discrimination ordinances ensuring equality and fairness in law enforcement and in access to city jobs, benefits and services. San Francisco first became a major destination during WWII when the U.S. Navy discharged gay sailors who were being expelled from the service at Treasure Island. Attracted by a city that already had a reputation for openness, some decided to stay. Today San Francisco is tops when it comes to the annual Human Rights Campaign Municipal Equality Index, earning a score of 116 points, impressive given 100 is a perfect score.
Portland, Vancouver, Hillsboro, Wa. and Ore.: At 5.4%, the Portland area has the second-largest LGBT community in the country. The Portland Pride Festival draws visitors from across the West Coast, with a three-day-long celebration each June at Waterfront Park as well as an annual parade. Portland earns a fairly high score of 88 on the HRCME index. It's not a perfect score, though, with only half credit in terms in the equality index's rating of municipal services and law enforcement.
Austin and Round Rock, Texas: Texas may still be a red state, but Austin is an oasis for the lesbian, gay, bisexual and trans community. The number of people identifying at LGBT is just a shade smaller in university-rich Austin as it is in tech-crazy Portland, at 5.3 percent. The city boasts the Austin Gay & Lesbian International Film Festival as well as a gay and lesbian chamber of commerce. The HRCME index gives Austin a perfect score as well as 12 bonus points, for 112 total, or just 4 points below San Fran.
New Orleans and Metairie, La.: The New Orleans area is a significant national hub for the LGBT community, accounting for 5.1% of the total population. It is also home to Halloween New Orleans, a three-day festival that is a major draw for the LGBT community. Then again, if you love festivals and like to party, there's no lack of options throughout the year in the Big Easy. The cost of renting or buying a house is also far cheaper than in Portland or San Francisco. New Orleans scores an 89 on the HRCME index, plus 14 bonus points.
Seattle, Tacoma and Bellevue, Wash.: Seattle has not one but two annual Pride festivals. The city is also home to the two largest LGBTQ choruses in the world, Seattle Men's Chorus and Seattle Women's Chorus. People identifying as lesbian, gay, bisexual and trans make up 4.8% of the population of the Seattle area. Seattle's hospitals have won recognition for their dedication to equality for LGBT patients as well. Seattle scores a perfect 100 on the Human Rights Campaign Municipal Equality Index, or HRCME index, plus 4 bonus points.
Boston, Cambridge, Newton, Mass., N.H.: The Boston area has arguably the largest and most prestigious collections of universities and colleges in the world. And college towns tend to be more open and friendly than their more run-of-the-mill counterparts. At 4.8%, the Boston area is tied with Seattle as the city with the nation's fifth largest LGBT community. Boston also scores perfectly on the HRCME index, while also earning 10 bonus points, giving it one of the highest ratings in the country.
Salt Lake City, Utah: It may be a hot bed of Mormonism, but Salt Lake City is fast earning a reputation as one of the country's friendliest cities when it comes to LGBT families and individuals. Recently passed Utah legislation bars discrimination in housing and gender in housing and employment. People identifying at lesbian, gay, bisexual or trans make up 4.7% of the population of the Salt Lake City area. Still, more needs to be done, with the metro region earning a total score of 69 on the HRCME index.
Los Angeles, Long Beach and Anaheim, Calif.: L.A. has a long and rich history of LGBT activism. Back in 2012, then Mayor Antonio R. Villaraigosa hosted a reception for an exhibit celebrating 60 years of activism by 40 different LGBT civil rights groups like the L.A. Gay & Lesbian Center. In the Los Angeles area, 4.6 percent of residents identify as lesbian, gay, bisexual or transgender. L.A. comes up short just two points from San Francisco on the HRCME equality index, with a total score of 114.