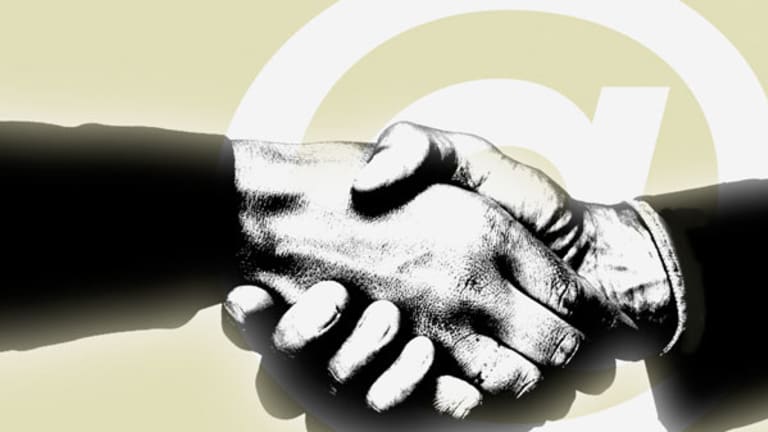 CIT Turmoil Highlights Credit-Scoring Policy
Small businesses ought to reevaluate their source of capital and customer-credit policies in the wake of the CIT Group calamity.
John B. Hayes is the chairman and co-founder of FTRANS, an Atlanta-based provider of accounts receivable and credit management services for small businesses. He is the author of "Use the Credit Crisis to Grow Your B2B Business."
ATLANTA (
) -- The recent financial troubles at
CIT Group
(CIT)
have ignited serious fears among hundreds of thousands of small businesses that have financial relationships with the company.
With the small-business economy already suffering due to limited access to credit and capital, insufficient bank lending, inadequate government stimulus and a decrease in net revenue, the extinction of the nation's largest credit-protection provider would have created another major economic setback. Thankfully, the infusion of cash by CIT's bondholders will likely provide the company with enough equity to avoid filing for bankruptcy at this time.
Although this is fantastic news, not just for the small-business economy, but for the economy as a whole, the near failure has caused some small businesses to reevaluate their source of capital and customer-credit policies. As Victoria Knight of The Wall Street Journal wrote: "The troubles at CIT underscore the importance of developing back-up plans for borrowing." The troubles at CIT also underscore the importance of understanding the credit of your customers.
So what can small businesses do on their own to avoid being caught by bankruptcy or another failure to pay by a customer?
Develop an independent credit-scoring model:
In today's economic environment, it's simply insufficient to ask a potential customer for a credit application up front, check a few references and stick a copy of its financials into the filing cabinet. Whether a business is selling to a small or large company, it's important to stay on top of the creditworthiness of every client, vendor or customer. After all, our economy is littered with thousands of companies that have failed to diligently understand the financial condition of their customers.
It's essential that small businesses make informed decisions on the front end of the selling process to protect themselves on the back end. A small business must be able to limit its liabilities from delayed payments or default invoices due to a customer's financial troubles. Being unable to do so can hamper the conversion of accounts receivables into the cash necessary to maintain the business. One of the easiest and best ways to protect the business is to use a credit-scoring policy in both initially approving customers and on an on-going basis.
Developing a credit-scoring policy is a seamless and inexpensive process for small businesses to implement. Furthermore, the cost of not establishing a sound process can be significant. Small businesses can start the process of creating their own policy by researching commercial credit providers such as Equifax or Dun & Bradstreet and evaluating their offerings for scoring and monitoring their portfolio of customers.
Benefits of a credit-scoring model to a small business:
Implementing a credit-scoring model offers three primary benefits for small businesses. First, in combination with reviewing customer financial statements, credit scores inform sellers as to the creditworthiness of their customers. For example, by reviewing a commercial credit score from Equifax, small businesses can determine the likely delinquency rate (likelihood that a client will be 90-plus days late making payments) of current or potential customers. Based on a customer's credit score and likely delinquency rate, a business may opt to ask for a down payment or other collateral before goods are shipped.
Second, small businesses can set their approval rates based on the credit score of their prospects and their tolerance for risk. This is a little more complicated, but very powerful. For example, according to the Equifax performance projection table for its non-blended commercial-credit score, a business that wanted to approve about 80% of its prospects would then need to approve all applications with a credit score of 457 or higher. If the business has a lower tolerance for risk, it can pick a higher score, but would reject more customers. By being familiar with these performance metrics and monitoring its customers, a small-business owner can manage the losses and delinquencies within its customer portfolio more proactively and make timely adjustments based on changes in a customer's credit score or changes to its individual risk tolerance.
Lastly, credit-scoring models enable a small business to continuously monitor the creditworthiness of its customers. This includes notification within 24 hours of any derogatory credit information that may negatively affect its customer's creditworthiness. Third-party vendors such as
, Rosenthal and Wells Fargo Trade Services provide comprehensive credit and accounts receivable management services to assist in supervising the fluctuation of a customer's creditworthiness.
As the current economic climate has now begun to hurt almost everybody, small businesses must take on the added responsibility of monitoring the creditworthiness of its customer base. While this might seem burdensome at first, it's truly an inexpensive and easy-to-implement process that can save small businesses time, money and resources in the long run.