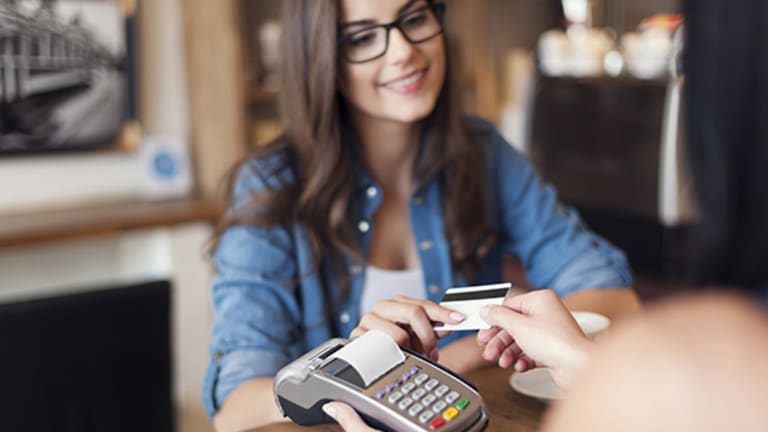 Christmas Spending Can Leave You With a Huge Credit Hangover Come New Year's
Here's how to pay down your holiday debt effectively.
NEW YORK (MainStreet) — How's your holiday spending going? Spent a little more than you wish you had? You're not alone. In fact, it takes some people half the year or more to pay down all their holiday debt. So how are you going to deal with all the money you charged this holiday season without losing your shirt? Want the holiday rush without the new year hangover? It might actual be easier than you think.
Re-evaluating Your Insurance
Ellie Kay, a family financial expert, urges people to look at their budget on an annual basis. When doing so, you might "find" money that you can throw toward your holiday debt without a lot of pain.
"You should be re-evaluating your auto and homeowner's insurance ever year anyway," she says. Barring any accidents or large claims, this will likely result in a reduction of your overall rate. If not, shop around for a new policy, then return to your current insurer with the competitive rate. Once you've done this, you can simply take the money you're saving on your insurance and start throwing it at your holiday debt.

WATCH: More personal finance videos on MainStreet | More videos from Ross Kenneth Urken
View Today's Auto Loan Refi Rates
Paying Your Tax Return Forward
"Most people want to spend their tax refund on going to Disneyland or whatever," says Kay. However, if you file early and get a refund, why not pay that money forward and put it toward paying down your holiday debt? In fact, this will free up money that you would otherwise be spending on paying down your credit cards. Rather than spending money on your debt -- and the attendant interest -- you can take a big chunk out of your holiday debt. With a big enough return, you might be able to pay off all of your debt in one chunk.
Small Sacrifices
In general, telling people to skip Starbucks in the morning is bad advice; it's not that you're not going to save substantial money. It's just that the spending is so small and the subjective rewards are so great that most people just can't do it. However, Kay points out that doing this for the duration of paying off your credit card debt is much more attainable.
"If you sacrifice Starbucks for a month, you can save a couple hundred," she says. Another way to save money without too much pain is to stop eating out until the debt is paid off.
"If you make double batches of casseroles and freeze the second portion, you've got the convenience of eating out without the expense," says Kay. See also: waiting a couple months for new movies to come to your local Redbox and saving the expense on a night out.
Try and find your "Starbucks habit." Cut it out for a month or two and pay the savings forward to your credit card.
Figuring Out the Real Cost of Holiday Debt
Mike Sullivan, director of education with Take Charge America, suggests that people calculate the real cost of their holiday debt. "Let's say you have $3,600 left on your credit cards -- that means you're really dealing with $7,200," he says. Sullivan arrives at this number by assuming that, like most people, you're a creature of habit and will end up with as much credit card debt next year. So rather than waiting to pile up the debt, why not begin saving for it right now?
Adding up your debt in this way also helps to hammer home the real cost of the holidays. Sullivan points out that, in this case, you're effectively paying a $600 monthly bill on top of whatever else your other expenses are just for the holidays.
"For most folks it's very difficult to come up with that kind of money," he says.
At this point you're going to have to sell one of your cars or even move into a smaller home just to pay for Christmas.
"You have two options -- make changes to your lifestyle or keep doing this until you crash," he says.
The Nuclear Option: Balance Transfers
Sullivan also believes it's necessary to discuss balance transfers. While a lot of people move their debt from one card to another to get a lower interest rate, he believes this is best treated with caution. "Credit cards offer these, because most people don't pay them off during the grace period," he says. So the credit card company collects the transfer fee, but also collects interest going forward.
"It is not, very often, the best solution for consumers to simply transfer their debt from one place to another," he says.
One alternative? John Heath, directing attorney at LexingtonLaw, says to get your low-interest credit card house in order. "Try to make purchases without having to spend a lot of interest," he says. He also advises people to keep a running tally in their head so that they're not surprised in January.
"This is a wonderful time of year," he says. "But you need to make sure you're not cutting into your own financial obligations buying gifts for others."
-- Written for MainStreet by Nicholas Pell