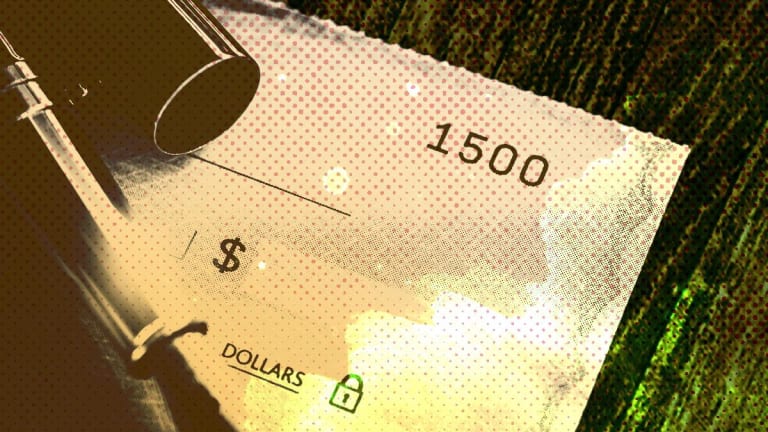 What Is a Check Register and How Can It Work Best for Me?
A check register gives financial consumers a snapshot of the debits and credits rolling through their financial accounts. Here's how they work.
A check register offers important benefits for both individual and business banking consumers, especially in keeping tabs on where the bank account holder's money is going during a specific period of time.
In a word, a check register, also known in financial accounting circles as a cash disbursements journal, is a ledger-type accounting tool that records any payable documents (i.e. checks, cash, and wire transfers) coming in and out of the user's bank account.
Much like an accounting spreadsheet, a check ledger uses columns to list the dates, check number, payer or payee, the names listed on any accounts (which could be an individual or a business, depending on the type of check register), and any resulting debits or credits that need recording after a financial transaction.
Origins and Uses of Check Registers
The actual meaning of the term "check register" goes back centuries, to the days of the green-visored accountant who used a quill pen to record money coming in and money coming out of a business' general ledger (think Tiny Tim's father laboring over financial documents for Ebeneezer Scrooge in Charles Dickens' "A Christmas Carol.")
These days, a check register can operate in a variety of structures and functions:
It can be paper-based, with debits and credits input into a general ledger with a pen or pencil.
It can be in an individual's checkbook, once again input with a pen or pencil.
It can be in a computer document, usually an accounting spreadsheet or Excel-like online file.
It can be from an online accounting ledger software package like Quickbooks Online, Freshbooks, or Sage Intacct.
It can come on a mobile app like Balance My Checkbook or My Check Register.
Benefits of a Check Register
There are many benefits of using a check register, either with an online or offline accounting basis:
Getting financial transaction information fast. No matter in what form you use one, a check register offers an end user the "exhale" factor of knowing a check has hit an account, as a payer or a payee. There is no wondering or waiting involved, the payment is made and locked into a check register, leaving no doubt the transaction will go through.
It includes all types of payment mechanisms. A check register records all types of payments, including cash, checks, wire transfers, debit cards credit cards, online payment services like PayPal and Venmo, and ATM transactions.
It helps you budget better. Whether you're a head of household or owner of a business, a check ledger acts as a financial playbook, recording all the money rolling in and out of a bank or other financial account. That knowledge allows you to make better forward-thinking budgeting decisions, as you have a good rule of them of what is regularly in your credit and debit accounts.
You have a record of payment. Having an official record or payment is another helpful tool to help make sense of your financial standing. It records all of a payment transaction history - who made or is receiving the payment, what date it was made, in what amount, and (usually) in what payment form the transaction was made. This history of payment gives you an even better idea of your financial standing, and again leads to better financial decisions, based on sound credit and debit histories.
A good check register can not only establish incoming and outgoing cash on a regular basis, it can handle other important tasks, as well.
For example, a check register can identify bank or credit card errors, help root out identity theft, and avoid the potential for bounced checks which can add onerous bank fees and damage your credit score.
How to Get Check Registers
Individuals can obtain check register tools in several ways.
You can ask for a check register from your bank. They usually come with your checkbook (inside, kept in the back of the checkbook.) Your bank can also hook you up with their online check register, usually included in the financial institution's online personal banking package.
You can get one online - Google offers a very helpful check register via Google Docs.
From an old checkbook. You can use any physical checkbook, old or new, again found in the back of the checkbook.
Via an online spreadsheet. You can design your own checkbook register online, using any decent accounting spreadsheet tool.
Check Registers for Individuals
For regular Main Street Americans, a check register is a great way to track income and expenses, and in a highly affordable fashion.
A check register that monitors a regular running balance via a banking checkbook is a good example of how easy the process can be for individuals. In general, you have two options - old school and new school:
Old school: When you're using a traditional checkbook, you're not engaged digitally, but you do have total control over the information you jot down in your check register.
New school: If you decide to opt for an online consumer banking software package or mobile app, you still have the control you need but with a technology element that allows credits and debits to be entered into your check register entered automatically.
Check Registers for Small Businesses
Given the complexities of modern commerce, small businesses have even a greater need for a clean general ledger, one where credits and debits are figured to the penny and on a real-time basis.
A check register can do all that and more for small business owners, who need all the help they can get monitoring their company's finances in an up-to-date fashion.
Business owners can use a check register to properly record all of their financial transactions (cash, check, credit or debit card, and bank wire transfers), keep an ongoing and accurate checking account balance, and help company decision makers decide where their business budget needs the most work and attention.
If you're a small business owner and are in the market for a good check register, make sure the one you obtain has room for the following check register items:
A check number and banking category.
The date of the executed transaction.
A brief, at-a-glance description of the transaction.
Whether the transaction is a credit or debit payment.
Whether there was a credit or deposit made in the company's name.
A total general ledger balance after the transaction was recorded.
The best vehicle for using a business-based check register is via a banking business checking account.
Your current bank will likely want your business, even if you're just starting out at the business rollout stage, and will help you open an account, and walk you through the process of opening a check register for your company.
Your financial institution can also help you open a digital check register, so you can keep an ongoing tally of all your company financial transactions at the flick of a keystroke.
It can also help you reconcile your bank statements and give you a crystal-clear outlook on your company's financial rhythm as you build your business going forward, one transaction at a time.
It's never too late - or too early - to plan and invest for the retirement you deserve. Get more information and a free trial subscription toTheStreet's Retirement Dailyto learn more about saving for and living in retirement. Got questions about money, retirement and/or investments? We've got answers.