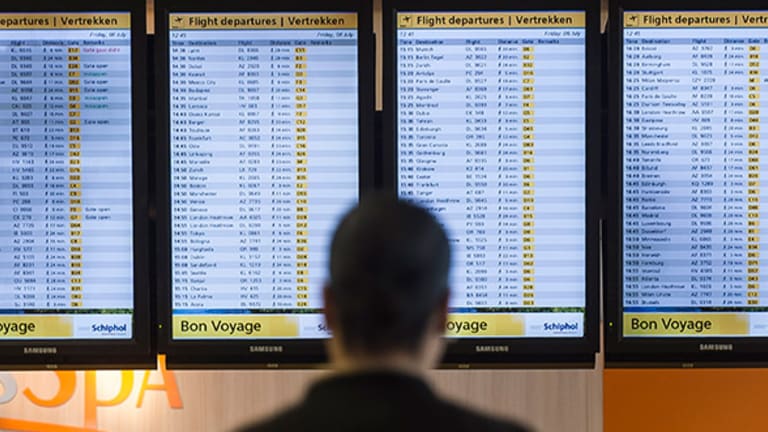 Cheap Travel: Where to Search for Fun Vacations on a Budget!
Check these sites first to ensure a getaway steal!
Check these sites first to ensure a getaway steal!
NEW YORK (MainStreet) — While budget travel is not exactly something new, it has gotten quite popular in recent years. People have started to realize that it is possible to travel affordably, and now there are quite a few travel companies competing for a top spot in the increasingly popular theme. To make choosing easier, each site tends to have its own "hook," attracting travelers based on different interests, needs, conveniences and desires. While one website may attract a person searching for a multi-country European tour, another website may help someone get a last minute flight home for the holidays. Luckily, the accumulations of these Websites makes it easier to find the lowest possible rates on flights and hotels no matter where the destination.
1. Groupon Getaways. Groupon has been helping people save money in various categories since its creation in 2008. With discounts in categories like beauty, health and fitness and technology, Groupon carries items on sale, known as Groupon Goods, as well as offers for electronic gift cards and coupons for local stores, restaurants and other places and services at discounted rates. More recently, Groupon started pairing with different travel agencies to offer travel deals all over the world. Groupon users can easily score a budget-friendly weekend getaway in Atlantic City with room rates discounted up to 50%, or an 8-day trip to Italy complete with airfare, hotel and daily breakfast for only $1,399 per person.
Why it's good: For travelers looking to book quickly, Groupon's timed package deals are perfect for fast steals.
Read More: How to Sustain Retirement Savings While Traveling Abroad
2. Rue La La Travel. A retail website commonly used for purchasing higher-end commodities at discounted prices, Rue La La offers clothing, shoes, and accessories for men, women and children, as well as items for the home. It also offers travel deals for destinations inside and outside the United States. Rue La La's sales are all timed, so new deals are posted every few days. Like Groupon Getaways, Rue's travel deals can consist of simple nightly room rates in popular cities, or they can be complete travel packages with airfare, resort credits and sometimes even welcome bottles of wine or champagne.
Why it's good: Keeping in tandem with the overall appearance and feel of its site, Rue La La is great for luxury and boutique-type vacations without the luxury price.
3. Cheap Caribbean. Self-dubbed as the "beach vacation experts," the team at Cheap Caribbean offers highly-discounted vacations primarily in the following destinations: Mexico, Dominican Republic, Jamaica, the Bahamas, Aruba and the U.S. Virgin Islands. The Website offers convenient search options as well—in addition to searching solely by destination or dates, users can also search potential vacations by interest. Cheap Caribbean will also search flights to go with the trips. Travelers can also leave reviews for the hotels being advertised, so new users can be sure that they're truly getting a great deal.
Why it's good: The name says it all! Beach paradise vacations with prices that are practically slashed in half.
Read More: Traveling Soon? Take These Health Tips Along For the Ride
4. Living Social Escapes. Similar to Groupon's Getaways, Living Social's Escapes offers travel deals for local hotels as well as international locations. One of the best added features to the site is that Living Social posts a stamp with the percentage of savings on each travel deal icon. By doing this, the fun in travel browsing is amplified, and it makes the bargain searchers feel more satisfied by knowing how much money is being saved. Average savings can range from 15% to well over 50% per deal.
Why it's good: Living Social makes it simple to find inexpensive hotel stays in all of the major cities, and the company also offers local deals to increase the social life factor during the trip!

WATCH: More personal finance videos on MainStreet | More videos from Amelia Martyn-Hemphill
View Today's Auto Loan Refi Rates
5. Venere. Specifically geared toward international vacations, Venere helps travelers search for hotels, B&Bs, apartments and resorts around the world. Popular destinations for Venere bookings include Italian cities like Rome, Venice and Florence, as well as other major European cities like Berlin, Paris and London. For those traveling from the United States or other areas who also may be nervous or uneasy with international travel, Venere is a reputable travel site as its specialists are knowledgeable in all of the advertised areas. Conveniently, travel specialists at Venere speak some 11 languages, and the site also offers email alerts and its own downloadable smartphone app.
Why it's good: International stays advertised by an international team. Venere makes it easy to find reputable places with trusted reviews and customer assistance from those who know the spots best.
6. BackBid. According to its website, BackBid empowers the traveler to "find the best possible hotel room, for the best price, with no elaborate or time-consuming searches necessary." The traveler enters his existing refundable hotel reservation into BackBid's site, and then other hotels offer bids for the traveler's business with extra incentives such as monetary discounts, added services, upgrades, or meals. The site does not force the traveler to take any of the bids, either, so if the traveler opts not to take any of the new bids, the Website essentially just ensures that the traveler got the best deal possible for the hotel that he reserved.
Why it's good: BackBid minimizes the hassle of searching across multiple websites for the best room rates. Travelers simply reserve a room somewhere, create a free account with BackBid, and the website does all of the searching.
Read More: Traveling With the Family? Avoid These 7 Mistakes
7. Orbitz. Orbitz, as most know, is a well-rounded travel deal website. Its biggest trademark is the Price Assurance program, through which travelers are guaranteed the lowest flight rates available on Orbitz. For example, if a traveler books a seat on a flight, and then two weeks later another traveler books a seat on the same flight at a lower price, the first traveler will automatically be issued a refund for the price difference. Orbitz also offers real time travel updates to keep travelers aware of any potential changes in flight status.
Why it's good: Refunds! Few things are more frustrating than finding out that an item went on sale after it was already purchased. With Orbitz, the company understands that frustration and will guarantee the best rate at any time, regardless of when the traveler books.
8. Trip Advisor. One of the most trusted travel review sites in existence, Trip Advisor does it all. The company compiles new "Best of" lists every year based off travelers' reviews; has a yearly "Traveler's Choice" location; and also lists top recommended restaurants, destinations, beaches and resorts. Each resort is given a grade percentage based off travelers' reviews, complete with photos and detailed descriptions of each resort's amenities. Once users have decided on their destination, Trip Advisor functions just like other travel sites in that reservations for flights, hotels and car rentals can be booked directly through the company as well.
Why it's good: Trip Advisor is a one-stop booking shop. Customers can investigate resorts, destinations and reviews, and then can book everything they need through the site once they've reached a decision.
--Written by Ciara Larkin for MainStreet