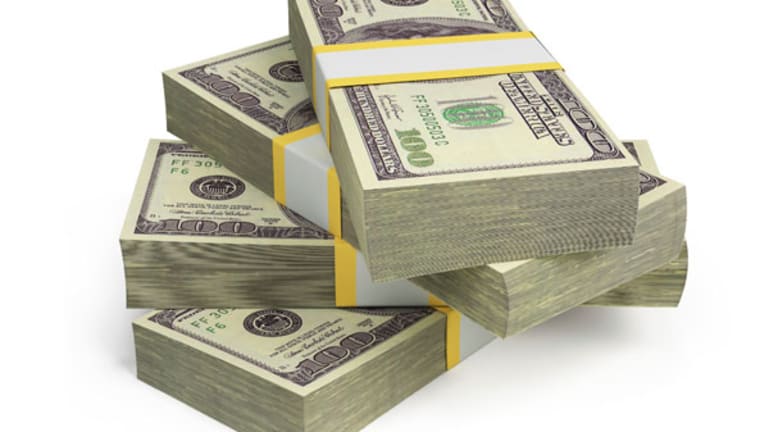 Chains Are Off in Social Security Payout Debate
A 'chained' formula to decide Social Security payment levels can wind up affecting all Americans, the federal deficit and tax code.
BOSTON (TheStreet) -- For the second year in a row, seniors collecting Social Security benefits will not get a cost of living adjustment, a move predicated on low inflation rates.
Beyond the political dogfight once again under way between advocates who feel seniors are being shortchanged and those who feel an increase would be nothing more than an unwarranted giveaway, the issue has also renewed debate over the very calculations that quantify inflation.
Support is growing for Congress to introduce a 'chained' formula to decide if seniors get cost of living increases in annual Social Security payments.
A push is under way at both ends of the political spectrum to change the formula used to determine inflationary changes, something that would reach beyond the entitlement benefit and affect all Americans, the federal deficit and tax code.
There are various ways government economists look at the price of goods and services.
The
Consumer Price Index
measures the average change over time in prices paid by urban consumers for a weighted market basket of goods and services. Calculations are used to adjust Social Security benefits and income eligibility levels for government assistance programs, tax brackets and other income tax provisions and, in many cases, private-sector wage adjustments.
The full market basket is comprehensive. Everything from milk, coffee, wine, oil, furniture, clothing, transportation, airline fares, gasoline, medical costs, sports equipment, electronics and even cigarettes and haircuts is included. The difference defining variations of the CPI -- in use and under consideration -- lie in which of those items are included, how heavily they are weighted, to what degree product substitutions are in place (switching to hamburger from steak, for example) and who is spending how much on items.
The
Consumer Price Index for All Urban Consumers
is a comprehensive measure. It includes spending by the self-employed, unemployed, low-income and retired.
The senior advocacy group
estimates that roughly 87% of the nation falls under the CPI-U's metrics. By comparison, the
Consumer Price Index for Urban Wage Earners and Clerical Workers
, or CPI-W, represents the spending of only 32% of the population and is based only on households that earn more than half of their income from clerical or wage occupations. It does not include anyone over the age of 62 in its calculations.
The U.S. Bureau of Labor Statistics also calculates an "experimental" CPI, the
CPI-E
, that does focus on those older than 62. Medical costs have a higher weighting, for example.
Another index, the
chained CPI-U
, is a monthly price index that accounts for product substitutions in response to price changes.
Back in 1975, Social Security increases were indexed to the CPI as an effort to insulate benefits from the political hazard of having Congress set the cost of living adjustments each year. At that time, the CPI-W was the only price index available.
Over time, as other models were developed, advocates have questioned the wisdom of keeping Social Security tied to the CPI-W.
, an advocacy group, claims seniors have lost 24% of the buying power of their Social Security benefits since 2000. A study it conducted last year says that since 2000, annual cost of living adjustments have increased average Social Security benefits by just 31%, while seniors' typical expenditures have increased almost 63%.
"Right now, the government is using an index that's looking at the market basket of younger workers, the urban wage earners, and it doesn't even cover people who are older than age 62," says Mary Johnson, Social Security policy analyst for the Senior Citizens League. "The big difference in the market basket has to do with the percentages the government assumes a person spends in particular categories."
"The CP-W assumes a higher percentage on things like electronics," she explains. "But when those fluctuate in cost, that's not reflected in what seniors spend. The CPI-W also assumes a much lower percentage of money spent on health care costs, and that's the important thing. Seniors are spending on health care costs, which tend to rise more quickly than other categories."
Johnson says that having even a slight increase in how senior spending is accounted for, if it carried over to the COLA, can have a measurable difference over time.
"It compounds over time and can amount to maybe $15,000 over a 20-year retirement, or maybe even a little bit more than that," she says.
David Certner, legislative policy director for AARP, takes a similar view.
The CPI-E, even including a higher percentage of medical spending, is "only running about two-tenths of a percent higher," he says. "It's a little bit higher,. but it doesn't fundamentally change the whole dynamic."
"Of course two-tenths of a percent in any given year isn't that significant," he adds, "But over a 20-year retirement it adds up. It's a pretty significant deal in terms of impact to beneficiaries over the long term."
Certner says widowers and single elderly women are a growing poverty demographic and "changes to the CPI would have the biggest impact on those individuals."
Johnson describes a "tremendous debate" under way about how to measure inflation. It's a back-and-forth that goes back to a commission former Federal Reserve Chairman Alan Greenspan led in 1996.
"He argued that COLAs really should be adjusted by a cost of living index rather than a consumer price index," she says. "What some economists are still arguing is that we should be looking at the behavior of people, and how they spend their money, rather than the actual change in prices."
Those discussions have led to growing support for the chained CPI as an alternative index and one that would cut government spending.
Johnson remains an advocate of the CPI-E.
"Whatever theoretical discussion you are going to have, it boils down to, 'Is my dollar going to buy a loaf of bread today, or only half a loaf?' You can change the math, you can change the measurement, but the dollar is only going to buy half a loaf. If their $1,000 Social Security benefit could pay their mortgage one year and then the next year only pay half, they are going to lose their house."
"In our view, and the view basically of all economists,
the Social Security COLA freeze is completely justified," says Marc Goldwein, policy director of the
Committee for a Responsible Federal Budget
, as well as a senior policy analyst for the Fiscal Policy Program at the
. "As painful as it may seem from an individual standpoint, the fact of the matter is that prices are still lower than they were two years ago."
He says the freeze has evened out benefits and, in the first year of the COLA freeze, "when many group were complaining that they were getting too little, in fact they were getting too much relative to where inflation should have put them."
"Even if you look at the CPI-E, it tells the same story, that there hasn't been any inflation in the last two years," he adds
Goldwein, who served as associate director of the White House-appointed National Commission on Fiscal Responsibility and Reform, also known as the Bowles-Simpson Commission, agrees that the CPI-W needs to be rethought. Unlike other critics, he says it understates inflation. It is for that reason he says the chained CPI is a more fair and equitable formula for all than the CPI-E.
The problem with the CPI-W, he says, is what's called "upper level substitution bias," a substitution formula that can skew the final result.
"If you are buying apples for $1 and all of a sudden the price goes to $2 so you switch to pears, that's not accounted for," Goldwein explains. "It is assumed you are going to continue to buy those $2 apples instead of switching to those pears that only cost $1.25."
He claims that inflation is overstated by about 0.3% a year as an average because of the formula. The CPI-E, as he sees it, has the same substitution bias problems.
"That has deficit implications," he says. "It means that we are paying out more in Social Security benefits than we otherwise would be, and we are actually raising less revenue. Many provisions in the tax code, like the standard deduction and the placement of the rates, are indexed to inflation."
Goldwein says the Bowles-Simpson Commission has recommended switching to chained CPI "for everything," because it would it be a more accurate measure and could save upward of $230 billion within the next decade.
"It is a technical change that most economists believe is the right change anyway," he says. "There are those on the other side who say that senior costs grow faster than everyone else, so maybe this chained CPI makes sense for the tax code and some other things, but not for Social Security ... but they don't take into account coupons, discounts and other things that the elderly tend to use a lot more."
"Some of this just comes down to a policy question," Goldwein says. "Do we want to give seniors cost of living adjustments based on the overall economy or based on their costs? At some point that is a policy decision -- weighing what you want the Social Security system to do versus how much it is going to cost. I think even those who argue for CPI-E, if they are going to be honest, should be arguing for the chained CPI-E."
Will there be political traction to change to a chained CPI? Goldwein thinks there can be.
"We basically need to find three or four trillion dollars over the next 10 years and, to me, this seems like some of the lower-hanging fruit," he says. "I'm optimistic, though not convinced, that the administration is going to include it in their budget. I think there has been interest in the last three administrations to move to the chained CPI. The question is whether politically it is a place they are ready to go."
-- Reported by Joe Mont in Boston
>To contact the writer of this article, click here:
Joe Mont
.
RELATED STORIES:
>>Retirement Age Boost Part of Deficit Plan
>>Sooner Can Be Better for Social Security
>>7 Ways to Make Social Security Solvent
Get more stock ideas and investing advice on our sister site,
>To follow the writer on Twitter, go to
.
>To submit a news tip, send an email to: