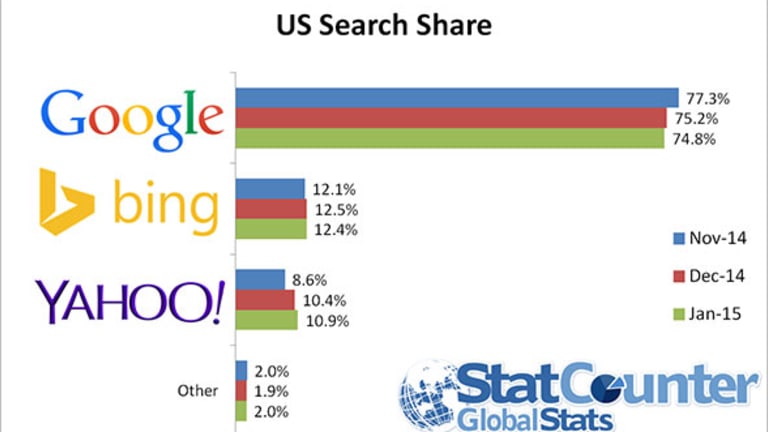 CFPB Says Scammers Hijack Google, Yahoo, Bing to Run Higher Ed Frauds
Search engine-based ads lure broke borrowers looking for relief while Rohit Chopra exists the CFPB.
Search engine-based ads lure broke borrowers looking for relief while Rohit Chopra exists the CFPB.
NEW YORK (MainStreet) — Keeping track of Web-based firms that operate in specific verticals can be daunting. Vendors selling services in the higher ed? Way hard. Identifying scammers? Even harder.
This week, Rohit Chopra, student loan ombudsman at the Consumer Financial Protection Bureau (CFPB) went to the source with letters sent to Google, Yahoo and Bing, warning that search engines built and maintained by these companies may be used by scammers who are selling fraudulent products to people with student loans.
The CFPB's letter was not available, but a message from CFPB spokesperson Moira Vahey noted that fee-charging con artists were working the search space. "The CFPB has seen an increase in the number of companies and websites requiring large upfront fees to help borrowers enroll in a plan that can be done for free [from the Federal government], Vahey said. "While we have warned consumers about these scams, we are concerned that unscrupulous companies may be using aggressive advertising through search products to lure distressed borrowers."
The CFPB's analysis of Google Trends data finds that struggling borrowers are searching for help using keywords such as "student loan default," "student loan forgiveness," and "Obama student loan relief."
"This bears a close resemblance to the (mortgage) foreclosure crisis, where borrowers were given conflicting information about their options and found scammers who made false promises on loan modifications in exchange for upfront fees," the CFPB said. In 2011, through its cooperation with the Office of the Special Inspector General for the Troubled Asset Relief Program (TARP), Google helped prevent mortgage scammers from preying on broke homeowners.

The CFPB is urging these tech companies to work with Federal and state agencies to ensure search products are not being used to prey on student loan borrowers by scammers who imply a non-existent affiliation with the federal government.
But the gap between the CFPB's warning and how the engine vendors respond might be big enough so that the rubber and the road don't meet--at least not yet. Spokespersons for Bing, Google, and Yahoo did not respond to requests for comment.
Chopra wrote another letter last week--one that disclosed his resignation from the CFPB's as student loan ombudsman. His departure was unforeseen and abrupt, and comes at a time when there is a lot of unfinished regulatory business in higher ed, and that Chopra seems to have done his best to keep the Department of Education honest. The disastrous shut down of Corinthian Colleges may only be the beginning for the embattled for-profit college business, as ITT, the University of Phoenix and others are falling on hard times.
What's more, half of Corinthian Colleges were bought by student loan debt collector ECMC Group, which has transitioned them to a non-profit company called Zenith Education. Zenith has said that it will not bring back Corinthian's predatory Genesis Loans, but resurrecting half Corinthian's campuses could mean the old brand's worst attributes--high tuition and loan balances and low job placement rates--will survive.

In his June 17 resignation letter to Treasury Secretary Jacob Lew, which doesn't mention his departure date or future destination, Chopra stated, "With more than eight million Americans in default on student loans and even more in distress, we must act to mitigate the potential consequences for individual families and the entire economy."
This week, Chopra turned up at the Center for American Progress according to a June 24 announcement. On his first day, Chopra was sending more letters, this time about ITT Educational services, the parent of for-profit college ITT Tech. Those letters raised concerns about how the firm was treating its students--and shareholders.