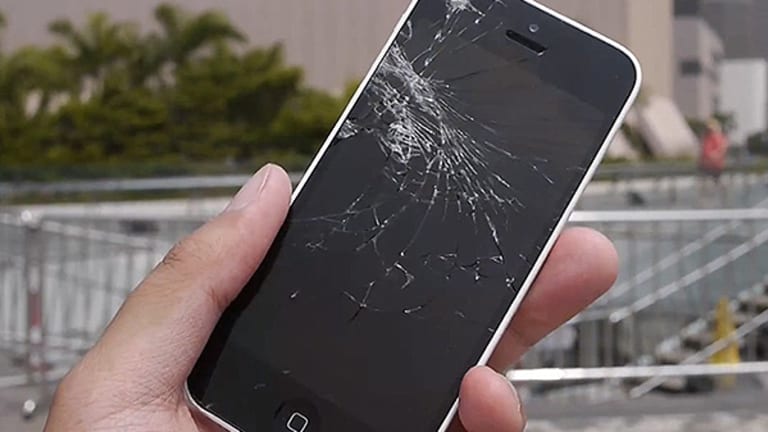 Cellphone Purchase Protection: To Buy or Not to Buy?
Don't forget non-carrier device protection options that sometimes are smarter buys.
Editors' pick: Originally published Nov. 21.
It's a costly question. Do you pop for about $10 more per month for device protection when buying a new cellphone? Or do you just say a prayer to St. Jude, the man for desperate causes, whenever you drop your phone?
Every day tens of thousands of customers face exactly that choice.
Carriers up the pressure because usually it's buy now or forget about it. At T-Mobile, for instance, purchase protection has to be bought within 14 days of device purchase.
"[Carriers] are pushy," sighed Joe Silverman, owner of New York Computer Help, who said that "last night I was on the phone with Sprint and they did push their device protection." Silverman, whose company does a brisk business in iPhone repairs, said he declined to buy the protection on a new phone for his daughter. "It doesn't make good economic sense to buy it."
There is another side to this argument. Understand that.
But know this: there are reasons to be skeptical about buying a carrier's device protection. That T-Mobile plan for instance - at $10 per month - provides this coverage: "Up to two approved claims in a 12-month period for accidental damage, loss, or theft for which a deductible of up to $175 per approved claim may apply."
Other carriers offer similar.
Notice the deductible - up to $175 per incident and, said sources, the usual rate is the full $175. Similar is true at other carriers.
The carriers aren't the only big players involved in phone repair. For instance, Apple offers AppleCare at $129 for the iPhone 7; that gives coverage for two years.
Let's say you break your screen - "95% of our iPhone repairs are cracked screens," said Silverman. Without AppleCare, Apple wants $149 for an iPhone 7 Plus screen replacement. With AppleCare it wants $29.
Google offers device protection on its new Pixel, at $99 for two years. Claims are subject to a $79 deductible. There are no additional charges. Two claims are permitted over two years.
Back at T-Mobile - or other big carriers - the repair is free. Except there is that $175 deductible.
What's it cost on the open market to replace an iPhone screen? At Staymobile, a chain of phone repair shops in 15 states, president Chuck Morrison said he charges $89 to replace the screen of an iPhone 6. (He said they had no data on iPhone 7 yet but pricing probably would be comparable.)
Silverman said that at New York Computer Help iPhone screen replacement runs $59 to $79 depending on model.
Getting the idea that just maybe carrier coverage is not the best buy? The deductibles are higher with them than simply walking in with a trashed device with no coverage to independent repair shops.
Dave Johnson, editor in chief of Techwalla, said, "Insurance for mobile devices is generally a bad deal for most people."
Not so fast, however. Maybe there are times it makes sense. Morrison's Staymobile, for instance, offers a plan that covers an iPhone 6 for 13 months for $59. But here's the kicker: "We have a zero dollar deductible," said Morrison. He said Staymobile was now offering similar for iPhone 7 at $79, no deductible.
The takeaway: shop around. Carrier coverage may lag but just maybe there are alternatives that make better sense.
Now just when you are shutting the door on carrier coverage tune into this from Tiffany Bryant, a San Francisco PR woman. Here's her story: "I've carried phone protection with for all my iPhones over the last 7+ years, but never needed until this last weekend. My iPhone 6S fell out of my back pocket into the toilet at a bar is San Francisco on Friday night. Despite turning it off immediately and keeping it in a bag of rice for two days, my phone was fried.
"With Verizon's Asurion coverage, I pay $11 a month for protection and I had to pay a $199 deductible for a replacement phone. Without protection, I would have to continue financing my broken phone at $32 month and purchase a new phone for $649+tax. Based on my calculations, I saved about $652 by having protection. I'm so glad I had this coverage."
Bryant is right: liquid damage is death to many phones and, in her case, the math shows the wisdom of the carrier protection.
Sort of.
Johnson at TechWalla skeptically opined: "Modern smartphones--like the new iPhone 7 and the Samsung Galaxy S7--are increasingly water resistant by design, and even if you have a phone that isn't as well protected, the fact remains that relatively few people drop their phone in a sink, toilet, or swimming pool. Insurance may give you peace of mind, but the odds that you'll actually trash your phone are so low that it's rarely a smart bet."
Unless you're the unlucky person whose phone takes a plunge. That gives you a stark choice.