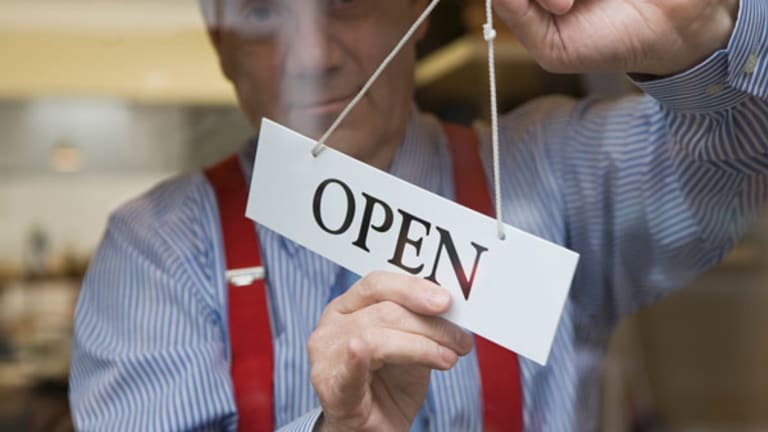 Catchy Hold Messages Keep Callers Engaged
Hold messages and music don't have to be monotonous. Use them as a chance to promote your company.
CLEARWATER, Fla. (TheStreet) -- In a perfect world, customers would never have to wait on hold. Sitting around, waiting for an operator to pick up, is nobody's idea of a good first impression.
On average, 70% of customers are put on hold, according to
Muzak Holdings
, the company best known for creating elevator music, but which also provides music and messaging for
at companies such as
Walt Disney
(DIS) - Get Walt Disney Company Report
and
Daimler
(DAI)
. While some companies inflict monotonous tunes on callers, others view hold music as a chance to engage customers.
"Anytime you have a captive audience, it's an opportunity," says Clayton Burton, chief executive of
Applied Media Technologies
of Clearwater, Fla., which provides background music and messaging services to clients such as
Yum! Brands
(YUM) - Get Yum! Brands, Inc. Report
,
Nationwide Insurance
(NFS)
and
1-800-Flowers.com
(FLWS) - Get 1-800-FLOWERS.COM, Inc. Class A Report
.
After focusing on hold messages for years, Applied Media took on Muzak in 2003 by introducing background music through a partnership with
Sirius XM Radio
(SIRI) - Get Sirius XM Holdings, Inc. Report
. "There are a lot of vertical markets where messaging is a threshold requirement," Burton says. "And if you're going to go after the retail sector, if you can't bundle the messaging with the music, you're not a player."
Here's how to create an appealing, effective hold message.
1. Keep it legal.
Frugal entrepreneurs who are tempted to create their own hold messages should know that small businesses are subject to the royalty fee rules of the music industry. The
Fairness in Music Licensing Act
of 1998 does exempt some small businesses from licensing requirements with regard to playing the radio or TV during business hours. However, these exemptions do not apply to telephone on-hold music. Piping a radio station broadcast through a phone system without a license is verboten, and the same goes for burning hold music onto a CD. Breaking the rules may result in hefty penalty fees.
"The music royalty agencies are really getting aggressive," Burton says. "Everyone knows CD sales have plummeted and the music industry is looking for any way to recoup these revenues."
2. Keep the music light and classy.
Several years ago, James Kellaris, a professor at the University of Cincinnati, observed a group of men and women who were forced to listen to hold music in six-minute blocks, without being told how long they were actually waiting. In general, they all estimated the wait to be longer than it was. But the type of music had an effect on the perceived waiting time,
and it varied by gender
. For men, classical music made time seem to go by faster, while women preferred light jazz. Rock and alternative music didn't fare so well. "Unless you're a rock radio station or selling shredder boards, dude, you're not going to want to play Weezer or whatever," says Frank Pival, managing director of
, a small, Seattle-based hold messaging service company.
3. Keep the message newsy and mellow.
Pival, who has a news radio background, says he follows basic journalism rules when helping clients to write a hold message script. The message should tell customers something they don't already know and focus on basic facts they can remember when they hang up. Hold messages often repeat on a loop, so it's better if the information is conveyed in a series of short messages, punctuated by music, rather than one long message. That makes it easier for a customer who enters a call in the middle of a message to understand.
Regarding the tone of the message, companies should avoid the hard sell, Burton says. Customers annoyed by having to wait will become angrier if they hear a pushy automated sales pitch. "It should be low-key and informative," Burton says. "You're not trying to hammer them with every detail. You just want them to say, 'Wow, I didn't know the company offered that.'"
-- Reported by Carmen Nobel in Boston.