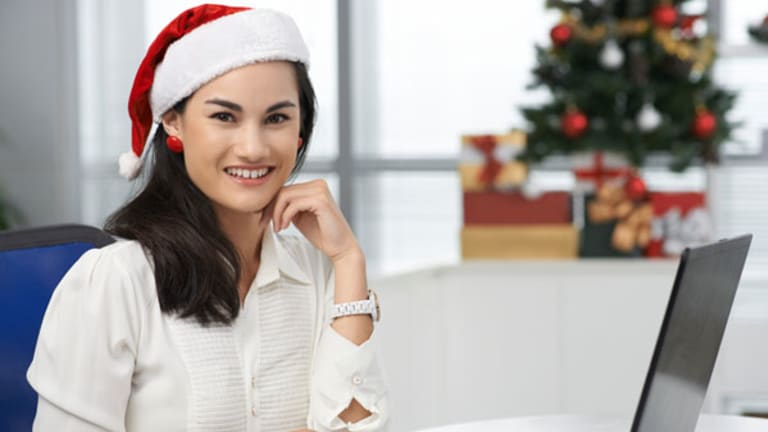 Cash Crunch: How College Kids Can Make Dough While Home on Holiday Break
College students should search out money-making opportunities this time of year.
With college kids home for the holidays, post-Christmas thoughts might lead to cash, or the lack of it.
Notorious for being cash-poor, college students at least have options their parents and grandparents did not - an opportunity to make quick money, especially via online and mobile means. And for the next few weeks, that's exactly what collegians at home should be doing - replenishing their financial coffers for the 2016 spring semester.
"When I was in college, I went door-to-door selling Bluetooth headsets because I wanted to learn sales skills," says Edward Sturm, a New York City-based blogger and sales expert. "Hustling like this gave me a lot of skills that I wasn't getting in college and that I was able to leverage as a graduate. Obviously, it also gave me a good amount of cash as well."
Collegians may or may not know it, but businesses are looking for some on-the-spot help right now, just like Sturm produced, even if it only means hiring someone for a few weeks.
"Christmas time is extremely busy for us, especially the days leading up to it and boxing day sales," says Candice Galek, founder of Bikini Luxe, a Miami Beach-based high-end beachwear retailer. "We often need temporary workers to help us fulfill orders at our warehouse. During this time we put ads out on Craigslist and at some of the local universities."
"We have found that generally speaking college kids are more trustworthy and reliable, for the few days that we need them," she adds. "As an additional bonus we often hire them on after if we are impressed with their work ethic."
There are plenty of other ways college students can earn money during the winter break.
Luvleen Sidhu, co-founder of BankMobile, America's first no-fee mobile banks, advises selling old textbooks to net some quick cash. "Before you go, or when you get back to school, try to sell your text books from last semester and use that extra cash towards the new semester," Sidhu says. "Regarding books you'll need for your courses, be sure to wait until the first day of class to see if the book is actually a requirement-a professor's syllabus may say you need it when really you don't, so be sure to ask around. And lastly, don't rely on the campus bookstore, instead try sites like Bookbyte.com where you can sell, rent or buy your books for the semester."
Sidhu also advises cash-starved collegians to sell old clothes on websites like Plato's Closet and old dorm furniture on Craigslist and eBay. "They're all great places to go to when you need to sell your furniture at the end of the year, or that television that just won't fit in your car, or clothes you're not going to wear," he adds.
If you're into technology, try to make a buck off that, others say.

"College students can make $500 in an hour or two helping companies maximize their social media efforts," says Cody Baker, a 22-year-old college senior based in Pittsburgh, Pa. "Go to local business and offer consulting or revamping to their social media platforms. You can do anything from fix their profile photo and information, to create content or run an entire Facebook or Twitter campaign for them."
"Older companies with a lot of money have social media and want someone who is younger to come and revamp it," he adds. "Ask anything from $50 an hour too $500 for a project."
Or, visit WayUp.com, an online job platform for college students. The company just launched its list of "Winternships" for college kids on school break.
The firm offers four to six week jobs and internships, which allow students to make the most of their time off and even make a little money to replace what was spent over the holidays. WayUp works with big name firms like Google, Uber and Microsoft to fill temporary jobs in customer relations, digital marketing, community engagement, graphic design, content creation, and many more.
Don't forgo the old-fashioned approach, either.
Steve Siebold, author of How Rich People Think and a self-made multi-millionaire who has interviewed more than 1,200 of the world's wealthiest people over the last 30 years, says college students should "look for a problem to solve that people are willing to pay you for," to earn extra money.
That could mean shoveling snow or raking leaves, pet sitting while people are away over the holidays, helping to set up before a holiday party or clean up after the event, washing cars, babysitting or watching kids when parents have to work over winter break or even driving people to the airport when they go out of town for the holidays.
"Look for ways to add value to someone's life," Siebold adds. "Ask yourself: 'How can I help? What problem does someone have that I can assist with?' When it comes to making money, look around. There's tons of opportunities out there."

Like Siebold says, there's no good reason to stay broke when you're a collegian home for winter break. Apply some initiative and start beating the bushes for some much-needed cash for the campus experience next semester.
You'll be glad for the extra cash, and you'll have an interesting story to add to your resume.