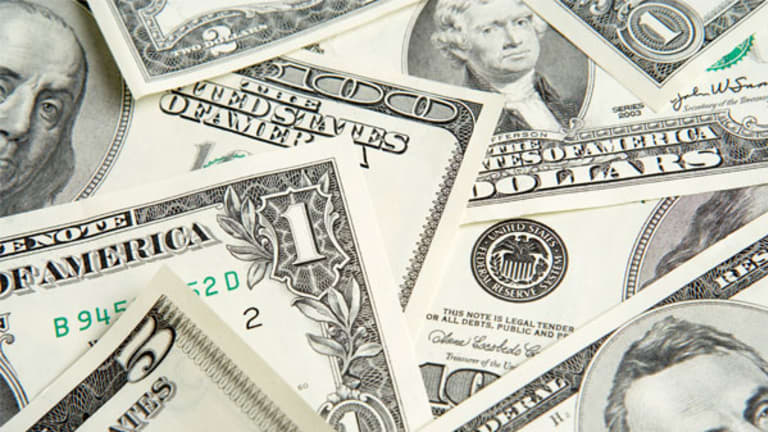 Card Debt, Account Numbers Keep Falling
Some 217 million accounts were closed in a year, and revolving credit dropped for a record 25th month.
Editor's note: Don't miss part five of TheStreet's Small Business Success Webinar Series, featuring tips and insights from successful entrepreneurs, on Thursday, Nov. 18, at 2 p.m. ET. Click here to register.
By Bill Hardekopf for LowCards.com.
A report released last week by the Federal Reserve of New York shows that the number of open credit card accounts continued to decline during the third quarter of this year. The number of open credit card accounts has dropped 24% from its peak in the second quarter of 2008.
The
Quarterly Report on Debt and Credit
shows that approximately 217 million accounts were closed during the four quarters ending Sept. 30. Only 158 million accounts were opened during this same time.
In addition, the Federal Reserve's
on consumer borrowing shows revolving credit -- most of which is credit card debt -- dropped for a record 25th consecutive month, falling by an annual rate of $8.3 billion, or 12.1%.
While these numbers appear ominous for the credit card industry, there are some positive signs for issuers.
The decline in open credit card accounts was much smaller during the third quarter of the year. The total number of open credit card accounts dropped to 378 million from 381 million.
The number of new credit account inquiries increased for the second quarter in a row -- more people are submitting credit card applications. According to The New York Times, there were 160.8 million inquiries in the six months through the end of September, up from 149.7 million in the six months through June 30. Even with the improvement, this is the lowest number of credit inquiries for any 12-month period since the Fed began counting the numbers a decade ago.
Total household delinquency rates may also show signs of recovery. Total household delinquency rates declined for the second consecutive quarter. As of Sept. 30, 11.1% of outstanding debt was in some stage of delinquency. This is down from 11.4% on June 30 and 11.6% a year ago. Approximately $1.3 trillion of consumer debt is delinquent, down 8.2% from a year ago. About $928 billion is seriously delinquent (at least 90 days late or "severely derogatory"), down 4.6% from a year ago.
Over the past two years, credit card issuers and cardholders have aggressively reduced credit card debt. Issuers have lowered limits and closed accounts, while cardholders have reduced their usage, paid down their balances or defaulted on the account. These changes have restored a bit of stability to credit card lending.
>To submit a news tip, email:
.
RELATED STORIES:
>>Shoppers Get Gift of CARD Act Provisions
>>Card Companies Show Significant Q3 Profits
>>Employer Use of Credit Reports Under Fire
Follow TheStreet.com on
and become a fan on
Bill Hardekopf is chief executive of
, which compares and rates more than 1,000 credit cards. He is the co-author of "The Credit Card Guidebook."