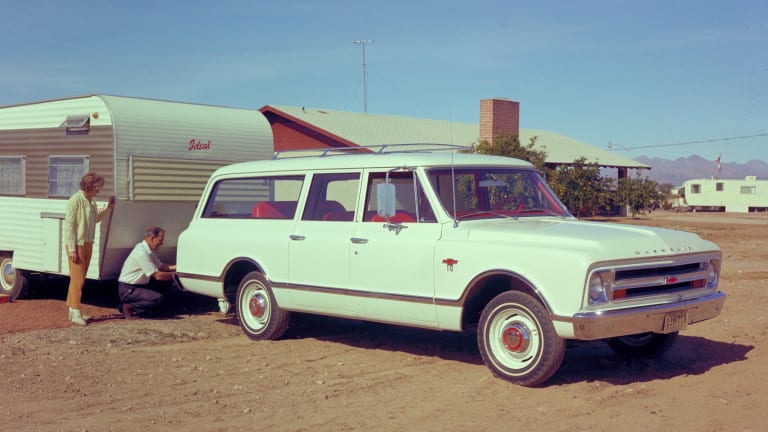 The Car Models That Have Been Around the Longest
Some cars seem like they've been around forever. Here are the longest-running car models of all time.
What do you hope to be at the age of 86? If your answer is to look good in cherry red, tow 7,800 pounds, and seat eight passengers, you have a lot in common with the Chevy Suburban.
The popular SUV has been around continuously since 1935 and has been so successful it's now in its 12th generation and is the longest running car model of all time.
Other cars have had impressive runs but have been discontinued—the VW Beetle was first made in 1938 and lasted 65 years until 2008, with the New Beetle coming out in 1997.
The first Chevy Suburban cost $675; a rear bumper and heater were optional, and it didn't even have four doors until 1973. But it has endeared itself to Americans who love it for its size and practicality, and have given it its long run.
The manufacturers with the longest running models include General Motors  (GM) - Get General Motors Company Report, Toyota  (TM) - Get Toyota Motor Corp. Report, Honda  (HMC) - Get Honda Motor Co. Ltd. Report and Volkslwagen  (VLKAF) . Don't forget Mercedes Benz ad Porsche.
Car enthusiasts over at Alan's Factory Outlet, a carport and garage maker in Luray, Va., dug around several car sites to compile this list of some of the longest-running car models of all time. 
1. Chevrolet Suburban
1935 to present (86 years)
Pictured is a 1937 Chevrolet Carryall Suburban. The first Suburban sold for about $675, according to Car and Driver.
Chevrolet Suburban 
Pictured is a 1961 Chevrolet Apache 10 Suburban. In the first models, a heater and rear bumper were optional.
Chevrolet Suburban
In 2019, the company sold nearly 52,000 of the popular model.
2. Ford F-Series
1947 to present (74 years)
Pictured is a 1956 Ford F-100.
Ford F-Series 
Pictured is a 1965 Ford F-100
Ford F-Series
Today, the F series trucks are the best-selling truck for 40 straight years in the U.S.,  and best-selling vehicle for 35 straight years.
3. Volkswagen Transporter
1950 to present (71 years)
You may know it as a VW bus, but it was a commercial vehicle officially known as The Volkswagen Type 2 Transporter, and also called the Kombi or Microbus.
Volkswagen Transporter 
The Volkswagen Transporter is now in its sixth generation and is marketed worldwide.
4. Toyota Land Cruiser
1951 to present (70 years)
Pictured is a 1985 Toyota FJ45 Land Cruiser pick-up.
Toyota Land Cruiser
After over 60 years of off-road adventures, the Toyota Land Cruiser has been discontinued, making 2021 the vehicle's last model year.
5. Chevrolet Corvette
1953 to present (68 years)
Pictured is a 1960 Chevy Corvette.
Chevrolet Corvette
Starting at $60,900, the Corvette today has a reputation as a fast, powerful sports car at a relative bargain.
 6. Mercedes-Benz S-Class
1954 to present (67 years)
Mercedes-Benz S-Class 
The luxury sedan starts at around $111,350.
7. Toyota Crown
1957 to present (66 years)
Pictured is the first-generation Crown.
Toyota Crown
The luxury sedan is sold in Asian markets.
 8. Nissan Skyline
1957 to present (64 years)
Originally a rather modest 4-door luxury car, the Skyline evolved into a performance-bred sportscar. 
Nissan Skyline
Today the Skyline is most recognized as the influential predecessor to the modern GT-R.
 9. Mini
1959 to 2000 (62 years)
In the late 1950s, Sir Leonard Lord of the Morris Company issued his top engineer a challenge: design and build a small, fuel-efficient car capable of carrying four adults, within economic reach of just about everyone.
Mini
Production of the original Mini ended in 2000, when BMW took over the marque. The new Minis became popular in the U.S. after it was featured in the 2003 remake of the film "The Italian Job."
10. Porsche 911
1963 to present (58 years)
Porsche 911 
 The high performance rear-engined sports car is well-known as a successful race car. The one millionth example was made in May 2017.
11. Ford Mustang
1964 to present (57 years)
12. Chevrolet Camaro
1966 to present (55 years)
13. Toyota Corolla
1966 to present (55 years)
Toyota Corolla
In July, Toyota sold its 50-millionth Corolla, a milestone in automotive history. Now in its 12th generation and over 55 years in production, the Corolla remains one of the world's top-selling vehicles.
14. Jaguar XJ
1968 to present (53 years)
15. Suzuki Jimny
1970 to present (51 years)
You may remember this car in the U.S. as the Samurai. The company no longer sells cars in America.
16. Range Rover
1970 to present (51 years)
17. Toyota Century
1967 to 2018 (50 years)
The Century is a luxury car produced mainly for the Japanese market.
18. Honda Civic
1972 to present (49 years)
19. Volkswagen Passat
1973 to present (48 years)
The Passat will be discontinued in the U,S. after the 2022 model year.
20. Volkswagen Golf
1974 to present (47 years)
21. Volkswagen Polo
1975 to present (46 years)
The VW Polo is produced for the European market.
Check out more of the longest-running cars at Alan's Factory Outlet.