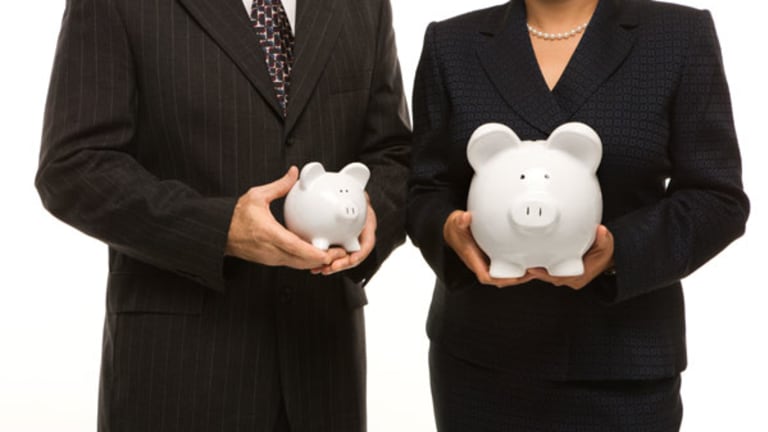 Can You Snag A Checking Account Paying 2% Or More In Interest? You Bet, If You Go High-Yield
There are bank checking accounts that offer decent interest rates - but you've got to dig a little first.
Bank accounts have received a heavy does of bad publicity in the past eight years, as a lower interest policy triggered by the Federal Reserve and implemented by banks has left savers with meager yields on savings accounts, checking accounts and certificates of deposits.
For example, interest checking account yields have really sunk to basement levels, with the average U.S. checking account offering only 0.045% return, according to BankingMyWay.com's weekly bank rate tracker.
But bank savers can do better than the admittedly feeble numbers from the BankingMyWay data. The trick is to target high-yield bank checking accounts, which often offer 2% or more in yields for bank savers, Bankrate reports. In fact, Bankrate lists 21 high-yield bank checking accounts that fit the "2% or more" financial criteria, which constitutes good news for long-neglected banking consumers.
"The reason consumers look to high-yield checking accounts are the yields they pay," says Greg McBride, chief financial analyst at Bankrate. "Even in this low rate environment, consumers can generate hundreds of dollars in interest earnings per year with these accounts."
Bankrate says the average yield of the 56 high-yield checking accounts they studied stood at 1.65% -- significantly higher than traditional bank checking accounts.
Yes, you'll have to meet specific criteria to gain higher checking account yields, including making ten or so debit card transactions (the number varies from bank to bank); getting your bank statements sent to you electronically; signing up for direct deposit, and/or pay bills online and also meeting certain account balance requirements. If you don't meet those obligations, your financial institution can and will slash your yield rate by more than half, Bankrate reports.
Yet consumers are lining up to grab higher rate, high-yield deals no matter what the obstacles. "I've used high-yield rewards checking accounts for several years now," says Louis DeNicola, a banking consumer from Oakland. "You'll often find them offered by credit unions and although there are a few catches, it's a great way to get at least some return on your money."
For example, DeNicola notes, often the interest will only be on part of your deposit, such as 3% on the first 15,000 in your account, or 2% on the first $25,000. DeNicola says he has to complete several tasks each month with his financial institution (Lake Michigan Credit Union), such as making 11 purchases with the debit card, logging into his online account, signing up for e-statements and having two direct deposits.
When you do start looking, he advises, think small. "Look for an account with an FDIC-insured bank, or a good credit union," he adds. "Some credit unions are only available to members of a particular organization, or residents of an area, but others are open to all. Some may require a small donation."

These days, going online is also a great option, as technology has curbed bank operating costs, leading to some great checking account deals. "If you're looking to get the best high-yield checking accounts, make sure you check out online banks," says Devan Goldstein, banking expert at NerdWallet. "We find that they consistently offer the best savings rates out there, with Synchrony and CIT topping our round-up of the best high-yield online savings accounts. Also, take into account factors outside of the savings rates themselves, like technology and customer service. For many, earning a bit less interest won't matter as much as overall satisfaction with the account and financial institution."
Some financial institutions will even go as high as 3% on checking accounts - but only under certain conditions. That's the case with NEFCU, a credit union in Westbury, N.Y. "NEFCU has created a Go Green high-interest-rate checking account where members can earn up to a 3% APY -- that is, three times the next best rate in the marketplace, and five to ten times higher than what is typically offered by commercial banks," says Valerie Garguilo, vice president, marketing and community relations at the credit union.
Most credit unions offer free checking, but the NEFCU GO Green account requires no minimum balance or monthly maintenance fees, Gargullo adds. "Simply by starting an account and agreeing to use e-statements, direct deposit or bill pay and $250 in debit card purchases, members will earn 1% on their money," she says. "The interest rate increases to 3% depending on the level of the banking relationship with NEFCU."
There are good deals on bank checking accounts that offer savings rates of 2% or higher. Sure, you'll have to do some digging, and meet specific requirements, but the reward is some of the highest bank high-yield checking account returns in years.