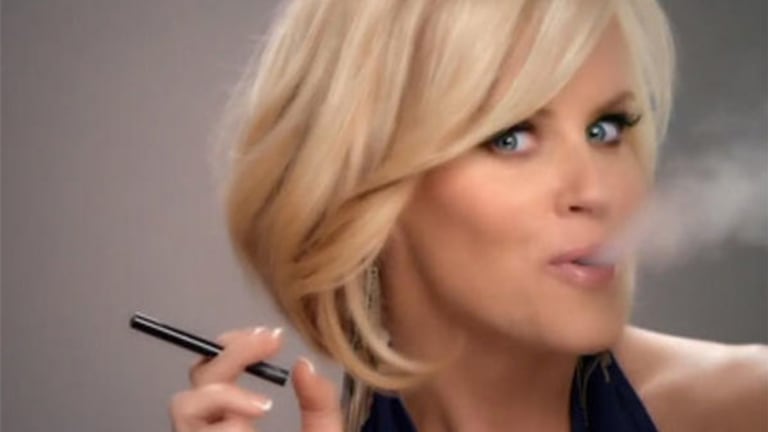 Can You Light Up Your E-Cigarette While Working In a Cubicle?
The burning question for many employees who have switched to vaping their electronic cigarettes is whether their boss will allow them to "light up" while they work in their cubicles.
NEW YORK (MainStreet) — The burning question for many employees who have switched to vaping their electronic cigarettes is whether their boss will allow them to "light up" while they work in their cubicles.
As more people start using e-cigs at work, more employers will be grappling with how to deal with the growing trend of vaping e-cigarettes, whether they should be allowed on the premises and how to address the health concerns of other workers.
While a few smaller employers are more lenient in allowing smoky things at the office, it is still "very rare to be able to smoke at work," said Lawrence Lee, a partner in Denver with Fisher & Phillips, a labor and employment defense law firm. Employers can classify e-cigarettes in the same category as cigarettes.
E-cigarettes don't really "combust" in the way that other tobacco products do, said Dorothy Miraglia, executive vice president of Engage Insurance, a St. Petersburg, Fla.-based professional employer organization providing human resources outsourcing solutions to small and mid-sized businesses.
"The reason behind this is because they consider the water-vapor devices that make up the e-cigarette to be 'tobacco' products," she said. "There is no real evidence today associated with health outcomes related to e-cigarette use."
The industry now generates $2.5 billion in revenue, and sales are estimated to continue to rise as puffing away on an e-cigarette is becoming increasingly popular. Since the battery-powered e-cigarettes only simulate cigarette smoke by creating a smoke-like vapor that contains nicotine and other flavors, but not tobacco, they are not being regulated by the Food and Drug Administration. They also lack other unhealthy ingredients found in cigarettes such as tar and various chemicals. The FDA regulates regular cigarettes and cigars currently and issued a proposed rule that would classify e-cigarettes as tobacco products.
According to the Centers for Disease Control and Prevention, heart disease, cancer and stroke are the three top causes of death in the United States, and the vast majority of these cases are attributable to tobacco use, Miraglia said.

Employers should have a clear and concise policy to address any type of smoking at the workplace, Lee said. Some cities such as Boulder, Colo. have adopted a law which does not allow vaping within offices, bars and restaurants, he said. Each city has taken a different approach, and in Denver, for example, vaping at those public establishments is still permissible. "Really, the only law in Colorado which bans vaping occurs through a prohibition on school grounds," Lee said.
The bottom line is that employers are free to allow these products "as they see fit in the workplace," Lee said.
One emerging trend is that many smokers are encouraging others to switch over to e-cigarettes and are promoting it as a more healthy option and as a way to quit smoking, he said.
"There is a massive and growing industry for e-cigarettes," Lee said. "If you have an owner of a business or a manager who quit smoking a long time ago, they may be more inclined to allow vaping to take place at work."
Using e-cigarettes at the office is obviously not an issue for the 100 employees at VapeWorld, a Boca Raton, Fla.-based vaporizer distributor. Employees there are allowed to vape while they work at their desks and in the common break areas. But vaping at the desk can offers added benefits: VapeWorld Aaron LoCascio says it helps employees be more productive, because they are not constantly headed out the door for smoke breaks.
At this point, none of the employees who don't smoke have complained since e-cigarettes do not produce the same smoke or smell as cigarettes, he said.
While e-cigarettes are not considered smoking cessation devices, many employees at Vape World are also using them to quit smoking, said LoCascio.

"We plan to allow the use of e-cigarettes in our offices as long as it's allowed by law and as long as it's not a nuisance to other co-workers," he said. "The laws and regulations are evolving very quickly on this issue."
While the research on the health effects of e-cigarettes is still in its infancy, there are many concerns regarding these alternatives and "it is too soon to tell just how much they increase risk even without the tar, carbon monoxide or other harmful by-products of burning tobacco," said Josh Stevens, CEO of Keas, a San Francisco-based enterprise health management company.
Some studies do signal that e-cigarettes could be harmful. Researchers found that the vapor from e-cigarettes could include cancer-causing formaldehyde where the levels are up to 15 times higher compared to standard cigarettes, according to a study released from the New England Journal of Medicine in January.