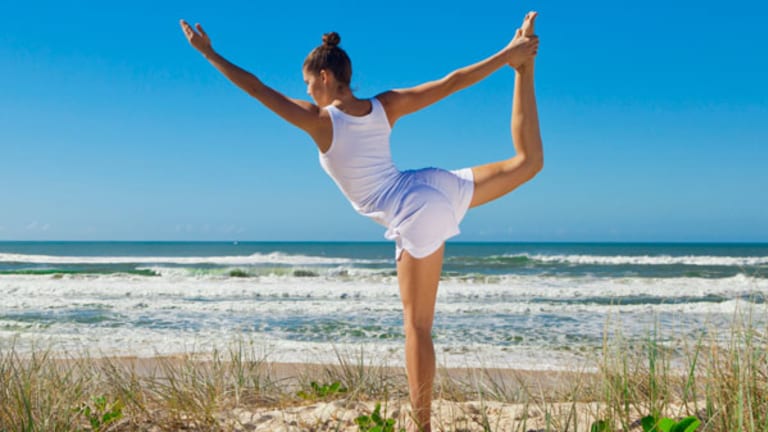 Can you Ditch the Gym Membership Expense and Stay in Shape?
Gym junkies spend more than $500 per year on their athletic club memberships. Is it necessary?
NEW YORK (
) -- At an average cost of $42.55 per month according to the International Health, Racquet & Sportsclub Association, gym memberships don't come cheap. If you belong to a gym but are considering quitting and opting for jogging, cycling or other free fitness activities instead, experts say it can be done.
Although sweltering summers and frigid winters may send you running back to the gym as quickly as you left, thankfully many gyms allow memberships to be "suspended" rather than deactivated completely. We checked in with fitness and medical experts to find out when to walk away from the gym and when to keep riding yours out.
Today, about 50 million Americans are members at a gym facility or health club, according to the IHRSA. Inevitably, some of them start wondering what they could do with an extra $500 a year. When deactivating memberships, 44% of former members cite price as their main reason for leaving, and 49% of non-members say they exercise somewhere else for free or participate in an activity outside of the gym.
"You can absolutely get in a great workout anywhere you are," says Keri Lynn Ford, certified personal trainer and founder of
IgniteGirls
online fitness community. "A beach can provide sand or water resistance workouts, while an outdoor track can provide bleachers, distance or interval-based workouts."
To exercise outdoors frequently, however, often requires that you live in the "right" kind of place, says Dan Collins, spokesman for Mercy Medical Center in Baltimore.
Also see: Summer Friday Envy: What to Do When You're Stuck at Work>>
"I'd say that it is not realistic to trade your gym membership in for the great outdoors unless you live in a place like Colorado because you can get fit riding horses or hiking in the mountains. A lot depends on where you live. Denver, yes. Detroit, maybe not so much," Collins says.
Unfortunately, modern heat indexes mean that working out outdoors is not always as blissful as it may sound, Collins cautions.
"For older folks especially, running on hot, hard asphalt is not as appealing as a nice treadmill in cool indoor temperatures while watching
ESPN
on a flatscreen," Collins says.
If your gym allows the temporary suspension or "freeze" of your membership for a few months, it can be a great way to save money, but it's not always realistic, Ford says. Especially during the summer months, as many people still prefer to workout indoors to escape the heat, UV rays, humidity or rain.
If you're considering suspending your membership, Ford says to make sure you read the fine print.
"Every gym is different in terms of their policies
for freezing and suspending memberships, so it still could cost a monthly fee to maintain your membership even if it is not active," she says.
Also see: 6 Ways to Guarantee Summer Travel Savings>>
Also, be aware that a "suspension" often translates to an "extension," says Joe;l Harper, celebrity personal trainer and founder of
Joel Harper Fitness
in New York.
"For example,
Equinox
allows you
a suspension of up to three months and you pay a nominal fee per month. The amount of time you take off will be added on to your membership. I recommend for my clients to do this as a way to force yourself to make different choices," Harper says, adding that he is a "big believer" in mixing up workouts.
"Variety is key for the body as well as the mind. You want to work every muscle from every angle, so that you have a well-balanced body. Sports and outdoor activities allow you to learn something at the same time as getting a good workout in," he says.
Apart from saving money, taking a break from the gym can be a great way to meet new people and train with experts in different fields, Harper says. Plus, when you return to the gym, it can add renewed excitement to your workouts there.
"When I come back to the gym I am always excited because it is refreshing to return to a routine and see how my body has changed from working it differently," he says.
If you're hesitant to quit or take a vacation from the gym because you love the equipment offered, you might do well to invest in a single piece of equipment that can do many things, Ford explains. Although it may initially cost more than your annual gym membership, you'll have the piece of equipment for life, and it will eventually pay for itself. Some "starter" items that are less expensive include resistance cords and hand weights.
"A TRX Suspension Trainer can be tied to a tree branch to perform an enormous range of exercises, both resistance and cardio-based," Ford says, referring to a type of resistance cord. "You can perform everything from a mountain climber, single-leg squat to a bicep curl," and adding that a simple pair of dumbbells can also be incredibly versatile.
No matter what you do, as long as you get your heart rate up and incorporate a balanced exercise regimen, your body will be sure to reap the benefits "regardless of whether your workout was outside or within the gym walls," Ford says.