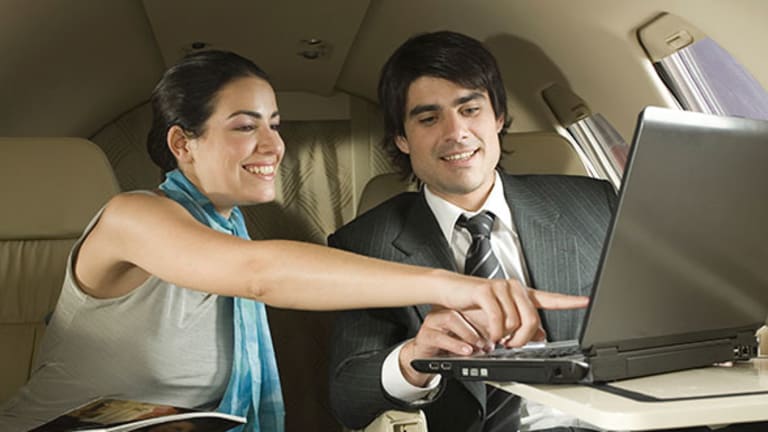 Can You Bring Your Significant Other on a Business Trip?
Half of us already do this. Is that wise or plain dumb? When it comes to etiquette, your job hangs in a balance. Here are the rules of the game.
It's becoming a hot button issue: is it O.K. to take your significant other on a business trip ... or is that career suicide?
Know that we are doing it. When publisher Meredith Corp. surveyed us it found 47% do it most of the time. Surprised? Don't be. While most organizations do not explicitly address bringing along a significant other on a business trip - at your expense, mind you - that also means few prohibit it.
Even so, don't assume travels with family is a smart career move. It may be, but it may not be.
A key is that it should not cost your employer a dime. That means pay for air for the companion out of pocket, also for meals on the ground. Of course, the companion bunks free in the employer-paid hotel room and comes along at no charge on the Uber ride from the airport to the hotel. Those charges already are in the employer's budget, though, so what's the difference if it's for one in the room or two?
In some cases and for some companies it may be career suicide. It's a thoroughly complex issue.
Jordan Hudgens, CTO of DevCamp for website developers, said at one point in his career he frequently brought his wife but no more. "I used to do it regularly; however, I had a few awkward experiences and now I opt to separate business and personal trips to prevent any conflicts," said Hudgens.
He elaborated: "It can lead to awkward situations with colleagues, such as the protocol for going out to dinner and if the partner is invited or not. It also can make for a frustrated partner since I will typically spend most of the time on a business trip working, which is what I am getting paid to do, and my partner may feel ignored."
Katy Payne, managing director of lingerie company Katherine Hamilton Intimates in the United Kingdom, said: "I have and do bring my husband with me on business trips. I introduce him as my business partner and husband. I don't like to travel on my own, especially to new places, and so I strongly value his company and support. It helps significantly that he presents very professionally and as my partner in life, he is well informed of the ins and outs of my business. He is also passionate about the business thriving and so is emotionally -- and financially -- invested in having a positive impact on the business and my reputation."
That's one yes vote, one nay vote, and if you are scratching your head, that's the right response.
Ian Wright, CEO of MoverDB.com, a resource for international movers, said: "Whether or not you can take your partner on a business trip really depends on the type of company you work for." Companies with an informal style - think tech, Silicon Valley - probably will be cool with it. More traditional companies - think insurance, banking - well, maybe not so much.
"If you work for a company where this is not the norm, I could see raising a few eyebrows and could harm career advancement," said Wright.
One other - crucial point - is who are you bringing? Etiquette expert April Masini, who blogs at AskApril, said: "You can take a partner on a business trip if the partner is business-trip ready." Can you - comfortably - picture your Significant Other chitchatting over chablis with your boss and your boss's boss? Or is that a nightmare you never want to see? Even if you don't plan on mixing personal with business on the road, what happens if that turns unavoidable?
Answer that question and you are half way to deciding if in fact it makes sense to bring a companion on a business trip?
The other half: ask your boss, said multiple sources. Just directly ask: is this O.K.?
Steven Rothberg, president of niche job board College Recruiter, said he has often brought his wife and sometimes his kids on trips, and this made the trips "more rewarding," said Rothberg. He's the boss however. What about an employee? Rothberg said, "it would depend if the subordinate received prior approval from her manager" and, he suggested, approval would be given on a case by case basis, depending upon who is asking and what kind of trip is involved.
Rothberg added: "If the subordinate did not receive prior approval then the manager would have every reason to be upset and that could be result in discipline and perhaps even termination."
Go carefully here - that's the smart move. If in doubt, ask your boss. And, probably, you will make the right decision.
This article is commentary by an independent contributor. At the time of publication, the author held TK positions in the stocks mentioned.