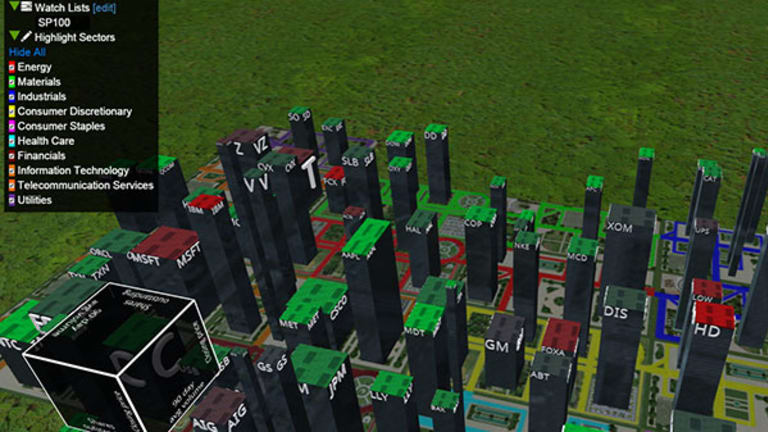 Can Virtual Reality Make You Richer? Fidelity and Oculus Rift Think So
Fidelity Labs, in partnership with Oculus Rift, is bringing your personal finance life to the virtual world.
NEW YORK (MainStreet) — A typical consumer may spend his time trying to avoid the reality of his finances, but would such a person be more inclined to check in on his investment accounts if that reality were presented in an interactive virtual form?
That's what Fidelity is banking on in its new personal finance product StockCity, which uses virtual reality platform Oculus Rift to present stocks as individual buildings in a city and thus visualize investment data. Each "Stock City" is comprised of buildings that represent each individual position you hold and/or search for. The buildings grow in size depending on the performance of the individual stock, their tops capped by a red, green or purple color. As your positions increase, your city's map becomes divided into neighborhoods. Users are offered two options of use and viewing: 1: a free, web based client or 2: a virtual reality view powered by Occulus Rift. Both offer the user a completely navigable view of their city, mimicking the experience of "Google Earth." Put another way, it's Sim City but with stocks.
Developed at Fidelity Labs, the financial services company's hundred-person innovation hub in Boston, StockCity is aimed at making personal finance less a chore and more an interactive experience.
Save on Auto Insurance! Compare Free Quotes
"We're focused on data visualization," said Hadley Stern, vice president of Fidelity Labs. "How could this help you better understand your financial picture?"
In that visual accessibility, Stern and his team are looking to attract a wide swath of users for this product, from the novice investor to the hedge fund trader.
The concept for StockCity - with the goal of conveying financial information in an intuitive manner - was born simply by seeing Boston's Innovation District through the window of Fidelity Labs.
"Visually, when we look out into space, we're very easily, quickly, able to identify certain patterns --this building is brick, this one's glass, height, etc.," Stern said. " [We wondered] how could we can translate that quick ability to the stock market."


WATCH: More personal finance videos on TheStreet TV | More videos from Lauren Lyons Cole
But Will They Use It?
Only in the beta stages, StockCity is attempting to bridge the gap between the stock market experience and everyday technology.
"If [the S&P 500] were laid out as individual buildings as a metaphor, could we...make insights and different understandings more readily available," Stern said.
The software is aimed to "gamify" your stock experience, making it more fun than just looking at tickers. It may be a lot to ask consumers who like to take just a quick peek at their portfolios to commit to a more involved glance at their finances; however, if users feel StockCity does provide a visual facility to seize information while making the process fun, it could take hold. 
"Our goal is for it to power the best experience in financial services, which will lead to the best costumer outcome," Stern said.
--Written by Adam Leverone for MainStreet
Save Cash on Payments! Compare Low-Interest Credit Cards Now