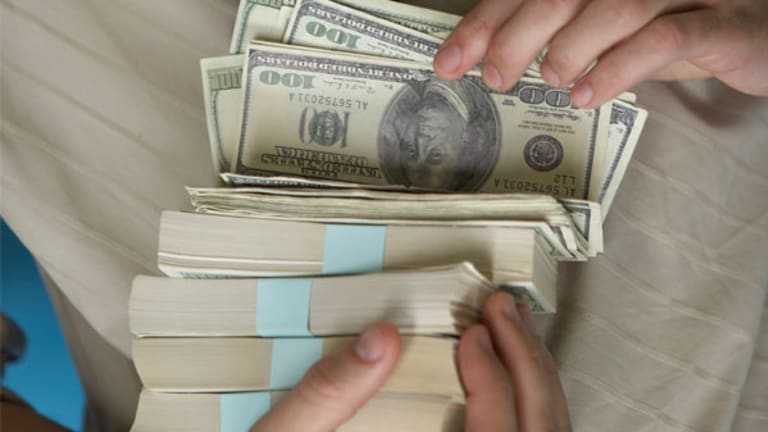 Can a Hot Realtor Get You More Bang for Your Buck?
Can an attractive real estate agent sell your home for more?
NEW YORK (
) --Marie-Charlotte Mahul has a flawlessly symmetrical face featuring crystalline-blue eyes, a button nose and luscious lips. Her body looks great in a two piece--she's a former model, after all--and she has an adorable French accent, to boot. She also just happens to be a a realtor at
Majestic Properties
in Miami.
In a housing market with properties increasingly underwater, some realtors have realized the secret to success may be posing as if they're headed out for a swim--with women scantily-clad in bikinis and men shirtless and muscular. Though Mahul's not convinced "about looks being a huge asset in our industry," it certainly doesn't hurt that photos of her in skimpy skivvies are just a click away, especially as the spring real estate season heats up.
Also see: Cramer Greets the 21st Century: Parkopedia
"I can see an influence with new clients that are coming to your company for advice and help," Mahul admitted. "Those ones will stick with you if you are pretty--this is for sure."
Realtors, of course, are thought of as notoriously put-together--primped, pomaded salesmen and saleswomen. But does that investment in personal attractiveness pay off in home prices?
Apparently so, according to a study published last year in
Applied Financial Economics
by lead writer Sean P. Salter, associate professor of finance at Middle Tennessee State University. The paper, "Broker Beauty and Boon: A Study of Physical Attractiveness and Its Effect on Real Estate Brokers' Income and Productivity," finds that "beauty augments more attractive agents' wages and that more attractive agents use beauty to supplement classic production-related characteristics such as effort, intelligence and organizational skills."
Countless studies show the relationship between a person's physical attractiveness and ability to influence others, and this persuasiveness seems to be the operative factor in home sales.
Also see: 9 Dumb Mortgage Moves
In residential real estate, Salter said, there is a recognized trade-off between the selling price and the time it takes to sell. But with the listing agent in particular, the more beautiful the realtor, the higher the selling price and the longer the house stays on the market. Those market dynamics are consistent with the strategy of listing agents who are willing to be patient for an uptick in price.
With the selling agent, there's an increase in price for the more beautiful ones but no increase in time. Calculated out, the study found that more beautiful agents get paid more per transaction.
"Beauty is one of the many characteristics that a successful real estate agent might have," Salter said. "We know why people go see Megan Fox movies--she's not going to win an Academy Award any time soon."
Physical attractiveness often translates in our minds as indicative of other positive traits.
"There could be a halo effect," Salter said. "You may think this attractive person possesses other characteristics...You hear the phrase, 'he looks presidential.' Looking presidential instill some sort of confidence in the nation, the electorate--whether or not he can do the job. I think it's the same kind of thing here
with realtors. It's like there's a halo around him, and everything he does is going to seem a little better."
Attractiveness and Trust
"The more you trust someone, the more likely you are to be swayed by what they have to say," reads the
"Can Agents Influence Property Perceptions Through Their Appearance and Hyperbolic Rhetoric?" with lead writer Michael J. Seiler, the Robert M. Stanton Chair of Real Estate at Old Dominion University. The confidence buyers have in a realtor, the study currently under review found, was demonstrably influenced by attractiveness.
The study took 1,594 potential homebuyers and manipulated variables such as gender and attractiveness of a a real estate--finding that attractive female realtors who use hyperbole are better able to establish trust from their clients and achieve success. The experiment controls for variables by providing virtual tour of a particular property and alternating the real estate agent and rhetoric used.
Also see: 5 Best Cities for Short Sales
Dan Ariely, a professor of psychology and behavioral economics at Duke, sees two opposing forces at play in our perception of realtors-actual skill and attractiveness.
"It has to do with attribution about skill," he said. "So when you see somebody, you might say, 'Oh, this somebody is good, and this is how they got to where they are.' But if you see somebody very beautiful, you could say to yourself, 'Oh, this is somebody good but also very beautiful.' So how they got here would be a combination of both of those. And if they're very beautiful, they may have to be less good."
The assumption that an attractive real estate agent achieved success based on looks as opposed to intelligence causes a bias: the client may more immediately trust an unattractive realtor.
"People who are not that attractive, you have to say to yourself, 'They must be very good,'" Ariely said. "The information about them has to be accurate, because the only way they could get to where they are is by being very good, and therefore, I trust their quality to a higher degree."
That may be at the heart of explaining why unattractive realtors are more likely to sell homes more quickly. By contrast, attractive realtors tend to sell homes at higher prices-having to take time to earn a client's confidence and thus extending the selling period enough to create a bidding war situation that could boost the price.
But looks alone won't get you the sale.
"Being attractive might help you get a client initially, but only being smart will help you keep the client," said Linda Tempelfelde, a realtor at
Kleier Residential
in New York who is a striking blonde originally from Latvia.
Hot Realtor Self-Confidence
Marina Adshade, an economics professor at the University of British Columbia and author of
Dollars and Sex
(Harper Collins, 2013), suggest two possible theories to way attractive realtors take longer to sell houses and hit higher price thresholds: on the one hand, attractive real estate agents can use their pulchritude to convince people to pay higher price, or on the other hand, they take longer because, knowing full well their looks will allow them to close a deal,they confidently bide their time until they've successfully upped the price.
Adshade recently sold her home in Halifax, Nova Scotia and found her listing agent to be a huge boon.
"My real estate agent is super cute--perfect hair and perfect nails, an adorable Southern accent," Adshade said. That the realtor was put-together encouraged Adshade to trust her when she suggested they wait for a higher price after they received an attractive first offer. The waiting allowed her to get a price bump of $25,000.
"A confidence comes with physical attractiveness," Adshade said.
Explanations for the evolutionary biology of trust abound-dealing with hormones and facial symmetry.
"When it comes down to it, a deal closes fast when the client is 100% sure the property is right for them," Matthew Nuzie, a top real estate agent at
RE/MAX Right Choice
in Fairfield County, Conn. "That said, a little wit and charm doesn't hurt. I've noticed that looking and feeling the part makes the client feel at ease, therefore they're more likely to go into a property viewing with an open, positive mind."
Within the past 5 years, Nuzie has sold over $30 Million in residential real estate and was named top 5% of agents in sales volume in Connecticut.
Janice B. Leis, a realtor at
Prudential Fox & Roach
in Philadelphia, Penn. and Boca Raton, Flor., similarly attributes real estate success and attractiveness to a well-put-together overall appearance.
"By attractiveness, my definition is to always be well dressed, no matter the client or the time of day," Leis said."Therein lies the first part of the 'attractiveness,' because it is all-encompassing. It enhances mutual respect between agents and clients."
Herman Chan, a San Francisco-based realtor, thinks attractive realtors will more easily get people to look at properties. "More people will come to the open house," he said. "They will mull longer at the showing. They will ask more questions, want a private showing. It's all good for the property, because people, subconsciously or not, like being around pretty things and yes, pretty people. It's kind of like the half-naked studs they post out in front of
A&F
. I'm uncertain if the store sells more when they are flexing their pecs at the entrance, but for sure it grabs attention and brings people in."
That might home in on a be a key strategy to sales.
"That is the name of the game-the more eyeballs, the better," Chan said.
Being Beautiful Isn't Always Easy
But beauty comes with its setbacks. "Of course, looks can work against us," Chan said. "Some guy stayed the whole open house acted real interested. So I focused on him mostly."
It turns out that proved a huge waste of time for Chan professionally. "At the end, he told me he was totally interested... not in the house...but in me," Chan said. "I was livid. He said he saw my pic on line and wanted to meet me. Wackadoo!"
For female colleagues, Chan said, dressing too sexy can reduce one's professional cred. "It's a fine line," he said.
Lindsey Kinnsch, a realtor who owns the company BigBottomLine.com, describes herself as a "5'10" curvaceous blonde--think Jessica Rabbit in the flesh." Though her attractive appearance could seem a windfall, it can actually be anathema.
For example, she spent two months driving a man around every weekend under the guise of his interest in buying a condo. In actuality, he just wanted to spend time with her.
"I've been tricked into homemade steak dinners by men over 50," Kinnsch said, "been the victim of relaxing massages by investors who 'were developing a condo complex they needed a realtor to sell,' and have even been told by my current $2 million dollar client that 'when I'm around you I try not to stare.'"
But that can grow burdensome, and it makes her feel as that men are taking advantage of her. "Don't ask for a business card because you 'might want to buy a house one day' and then have the stalker texts start," Kinnsch said.
Buyer, Beware
But though we may be swayed to chose and trust the hot realtor, Salter advocates some degree of caution.
"The take-away is this," he said. "If you had to pick a physician, you wouldn't go into a line-up and say that's the best looking doctor...I think too often, consumers don't realize there is this beauty bias."
That bias is something atavistic about pursuing the attractive real estate agent we see on the bill board or online.
"A lot of that is subconscious, hardwired into us," he said. "We have to be aware that we have this bias. We have to do our homework."