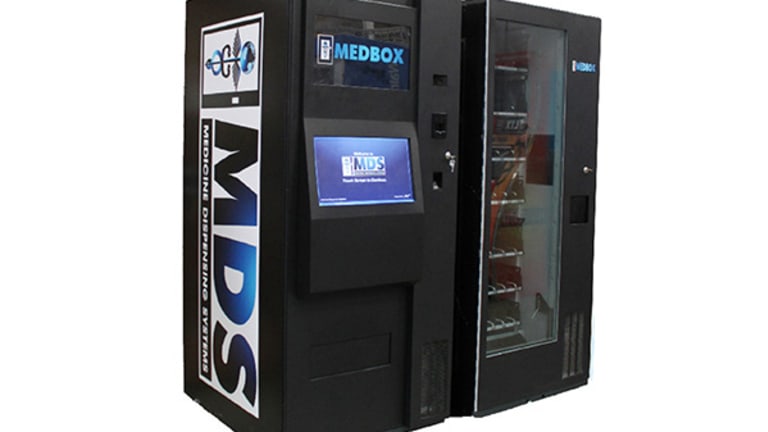 Buying Weed -- At Least Medical Pot -- Just Got As Easy As Buying a Coke
American Green, based in Tempe, Ariz., recently introduced ZaZZZ, the first-ever vending machine to serve the medical marijuana industry.
NEW YORK (MainStreet) — American Green, based in Tempe, Ariz., recently introduced ZaZZZ, the first-ever vending machine to serve the medical marijuana industry.
View Today's Auto Loan Refi Rates
A medical dispensary customer can buy cannabis or edibles from a ZaZZZ machine without having to wait in line at the counter or have personal interaction. The company acquired the rights to the intellectual property for age-controlled vending of medical marijuana products.
"In the medicinal setting, many people need to come in and have a consultation," said Stephen Shearin, president and chief operating officer of American Green, a technology company with a focus on the cannabis industry. "Others have already had their consultation and know what they want. This allows them to not have to wait in line."
When a customer makes a purchase, the ZaZZZ scans his identification and uses real-time verification. If the identification card does not match the person standing in front of the machine, the customer will be directed to a salesperson who will verify the identification. The customer can then pay for his purchase using cash or bitcoin, a software-based payment system.
"We use the same process that you would use in a pharmacy to buy Sudafed," Shearin said. "It ensures the license is valid and that the license and, using biometrics, that the person holding it are the same."
There currently are two machines in use in Colorado: Herbal elements in Avon and Doctors Orders in Denver. ZaZZZ has orders for 20 more machines in five states, including California, Washington and Rhode Island.
"Growth is going to come with the growth of the industry," Shearin said. "As participation grows and the stigma drops, you're going to have busier and busier locations. I think we're just at the tip of the iceberg."
Dispensaries can lease the machines for less than $100 a month without a contract. If ZaZZZ doesn't work out for the dispensary, American Green will remove it.
All products inside ZaZZZ are climate controlled to ensure products are fresh when they are dispensed.
Formerly Altitude Organix, American Green became the first publicly traded medical marijuana dispensary in the world in 2009. In addition to the ZaZZZ machine, American Green has several media properties and a cultivation division, including Jurassic water, which is used by growers to increase their yields in less and energy. The Jurassic system blends the science of increasing oxygenation levels of water used to grow and harvest marijuana plants in combination with a unique lighting system and nutrients. The company also continues to focus on the medicinal benefits of cannabidiol (CBD) and will launch a line of sports-oriented products to be initially distributed through ZaZZZ.
--Written by Margaret Jackson for MainStreet