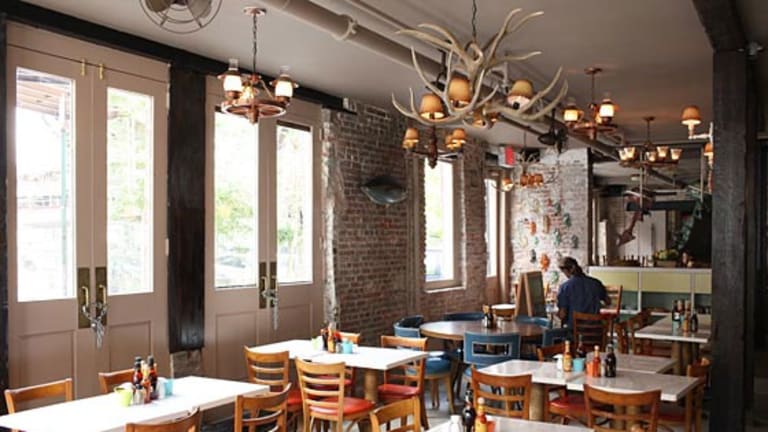 Businesses Hurt by Hurricane Sandy Are Forced to Rebuild on Their Own
They get help from friends and neighbors, while forgoing SBA loans. 'So far we haven't seen a dime from any government relief organization,' says one business owner.
NEW YORK (
) -- Three months after Hurricane Sandy crippled the New York and New Jersey coastlines, businesses from a tailor to a distillery are still trying to get back on their feet.
Yet all are frustrated with the drawn-out insurance process, lengthy and document-heavy requirements for Small Business Administration loans (and their caution about taking on more debt) and why there is little, if any, grant money available to them.
Late Monday, Congress finally passed a $50 billion aid package for Sandy victims, which comes on top of the $10 billion in aid approved earlier this month. Many businesses, unable to wait this long for money, are choosing to rebuild on their own with the help of friends, their communities and whatever savings they have.
Last May, the
launched its first liqueur, Sorel. According to one of the distillery's owners, the "spiced, hibiscus liqueur" was making quite a stir, receiving acclaim from trade publications and strong support at bars, restaurants and retailers.
"We were poised ... to move into a dozen different states and then we got decimated," says co-owner and president Jack Summers.
The distillery, located in the Red Hook section of Brooklyn, N.Y., got six feet of water in its basement and another five feet on its main level. Hurricane Sandy "completely derailed" the budding business, Summers says. "It was amazing how much product we could have moved" if the storm hadn't hit.
Now Summers is dealing with the slow process of getting back to normal, and much to his irritation, an "incredibly arduous" process in getting relief money.
"So far we haven't seen a dime from any government relief organization," says Summers, who estimates that his damage costs are in the six figures, including loss of supplies and equipment, electrical damage, physical infrastructure and lost income.
Instead, it's been the community of Red Hook that has kept the small distillery alive, with help from a community organization called the
. Neighboring
let the distillery use its autoclave, a sterilizing device, to clean and sanitize 10,000 bottles that were deluged in seawater.
"By the time the relief gets here, we won't need it," Summers says. "We will have saved ourselves. I'm not saying the SBA won't come through, but by the time they do, we will be back on our feet."
Even so, Summers says he is still attempting to go through the difficult process of getting a disaster loan, made more difficult by the company's young age. "It's a funny thing when you get asked, 'So what's your credit score?' I put everything I have into my business in the last year and a half. I don't have a credit score," he says.
Two weeks ago, Jack From Brooklyn resumed production for the first time since Sandy struck, but the company is running on bare bones.
"So far, 50% of our rebuild has come from the fact that we have gone out there and sold product," Summers says.
The same is true for small-business owners struggling to get back on track.
Deborah Turhan, whose family owns Michael's Tailoring and Dry Cleaning in Long Beach, N.Y., has created a
for local business owners to address exact needs in their rebuilding processes. She's trying to gather enough information to present to officials for more tailored resources.
So far, two dozen businesses (and a few residents) have filled out the survey. "Businesses are saying their insurances companies aren't paying; that FEMA is not helping them in any way, they're not in a position financially to be taking out a loan because of the recession and that they need grant money," Turhan says.
Turhan notes it's not just government money that's needed -- it's business.
"Our rebuilding of our business -- none of it came from government sources. It was friends and we have another friend that is coming down to rebuild our countertop and put down the floor," Turhan says. "We couldn't wait for the money."
"My husband's business usually brought in anywhere from $9,000 to $10,000 a month" in the winter. He's at 50% of what he is doing. He just opened last week," she says. "Who wants to take out a loan for $160,000 and in an area where the business isn't coming back because the residents aren't back?"
The stories of struggling business owners have encouraged coalitions like
to create ways to help small businesses deal with the rebuilding process.
StartUp New York's main initiatives include marketing programs to attract tourism to affected businesses and encourage investments and economic growth through events, partnerships and crowdsourcing. It also provides struggling businesses with information about available local, state and federal resources.
(StartUp New York is not part of the nationwide
, a nationwide network of startup communities endorsed by President Barack Obama.)
"Months after Sandy, many small businesses, which are vital to our city, are struggling to get back on their feet. In hard hit areas, shops and restaurants are facing massive flood damage, and many lack flood insurance to underwrite critical repairs. For many small businesses we're working with, the loss of a pizza oven or a refrigerator is enough to put them out of business," says coalition founder Reshma Saujani.
"On top of the physical damage, decreased foot traffic has stretched some small-business owners so thin that even if they qualify for low-interest loans, the uncertainty ahead is so daunting that they are afraid to extend themselves further. StartUp New York is a platform to educate small-business owners about available relief resources and engage communities in rebuilding efforts," says Saujani, the former deputy public advocate of New York City and the founder of
.
Back in Long Beach, a local surf organization, residents and business owners have put together
.
Launched earlier this month, the group, a combination of a so-called cash mob and do-gooder services, is aiming to get local businesses the help they need to reopen, while providing a boost in business. At its next event on Feb. 8, the group plans to help Seaside Celebrations, a children's party planning and child care business, finish the remodeling it needs and later in the day, hold a donation event at a restaurant and bar across the street (with free babysitting for parents at Seaside).
The Small Business Administration has approved a total of 16,192 disaster loans worth $1.1 billion to individuals and businesses suffering damage from Sandy in New York, New Jersey, Connecticut, Rhode Island, Maryland, Virginia and North Carolina, according to the latest figures.
To qualify for a disaster loan, the SBA reviews the applicant's repayment ability, credit and overall financial situation to make a decision on the loan approval. Businesses must show repayment ability to qualify for the disaster loan, and the business must be located in the county that was declared a federal disaster area, the SBA says.
But businesses say that's a Catch-22: in order to qualify for a loan, you have to have income, but how do you have income if your business was destroyed?
"The bottom line is to help as many business owners as possible with disaster loans so they can rebuild," spokeswoman Carol Chastang says.
She adds that the agency targets 21 business days from the time they receive a completed application to loan decision. Once the loan has closed, the borrower should get a check in five days. However, factors, including weather, incomplete applications and finding time for an appraiser to visit could lengthen that time frame, she adds.
"This was a massive storm that dealt a devastating blow not only in terms of physical losses, but economic injury as well. The population density of the affected areas is the main factor that made responding to this disaster such a challenge for local, state and federal agencies involved in emergency response and long-term recovery," Chastang says.
The deadline for applying for
Small Business Administration disaster loans
in New York has been extended to Feb. 27. New Jersey businesses have until March 1, while businesses in Connecticut have until Feb. 12.
Small businesses and non-profits in New York and New Jersey have until July 31 to apply for Economic Injury Disaster Loans, the spokeswoman says.
Maura Kilgore, general manager and co-owner of
on New York City's historic Front Street, says the restaurant's insurance company is claiming it's not covered for damage sustained. Not including loss of income, Kilgore estimates damage between $150,000 and $200,000.
"We are fighting that," Kilgore says.
Cowgirl SeaHorse just started serving its full menu again two weeks ago.
Cowgirl SeaHorse opened in 2009 as the little sister of Cowgirl in the West Village. The restaurant, which serves fusion southern coastal and Texas barbecue dishes, took in about eight feet of water during the storm. But Kilgore considers the restaurant, which re-opened in December and just started serving its full menu two weeks ago, very fortunate.
Of the 20 or so restaurants along Front Street that were open before the storm, she estimates that as few as six are open now.
Immediately after the storm, Kilgore and her partners of the S-Corp. knew they needed to take quick action. Several shareholders put up money in the form of loans so the restaurant could do the initial repairs it needed. And while Kilgore was cleaning up the restaurant, another shareholder was applying for all the loans and grants he could find.
So far, Cowgirl SeaHorse received a $20,000 grant from
The Alliance for Downtown New York
and a loan for $25,000 backed by
Goldman Sachs'
(GS)
10,000 Small Businesses initiative
.
Kilgore says that while they applied for an SBA loan in early November, representatives just came to do a walk-through of the restaurant two weeks ago, telling her she would get an answer soon. As of Monday, she still hadn't heard. Still, if they are approved, she and her partners are unsure they want to take on the debt.
"We didn't know. We applied for everything at once and didn't know if we would get any of it," she says. "There's a lot of talk amongst our management that we may not want to take a loan, but we'd like to see what we would qualify for."
Dr. Sean Pastuch, co-owner of
and owner of Thrive Chiropractic of Long Beach, N.Y., says he's frustrated at the lack of streamlined resources available for small businesses to find disaster help and information. He wants definitive guidelines that show business' eligibility for assistance and where to apply.
CrossFit and the chiropractic office shared space in the same storefront, which suffered a "complete loss," between the water, sewage and fuel that rushed into the building. "Even my diplomas smell like gas and they didn't get wet," Pastuch says.
CrossFit has seen its client numbers dwindle because of displaced residents. But the slow process in rebuilding and the lack of space to use as a facility is making the process of getting new clients a challenge.
A third hurdle for Pastuch and his partner, Mike Abgarian, is the red tape they are running up against in opening a second CrossFit location in neighboring -- and storm-damaged -- Island Park. The partners have been waiting since June (and paying rent) for a zoning-variance permit to complete construction on the gym.
For now, the partners are choosing to use their own capital, with help from friends and other gyms (including out-of-state CrossFit locations). They're hoping to reopen the Long Beach location in July.
"We always try to keep six months of working capital in the bank. It was for a rainy day and it poured," he says. "We could use the
SBA loan but we don't want to pay interest. We don't want to dig ourselves into a hole we can't get out of."
Pastuch is doing what he can. He's operating his chiropractic practice remotely and making house calls. And he plans to set up his office permanently once the Island Park gym is open.
-- Written by Laurie Kulikowski in New York
To contact Laurie Kulikowski, send an email to:
Laurie.Kulikowski@thestreet.com
.
>To submit a news tip, email:
.
RELATED STORIES:
>> 5 Best Franchise Opportunities for 2013
>>Nonprofit Helps Low-Income Women Find Entrepreneurial Success
Follow
TheStreet
on
and become a fan on
.
Disclosure: TheStreet's editorial policy prohibits staff editors, reporters and analysts from holding positions in any individual stocks.