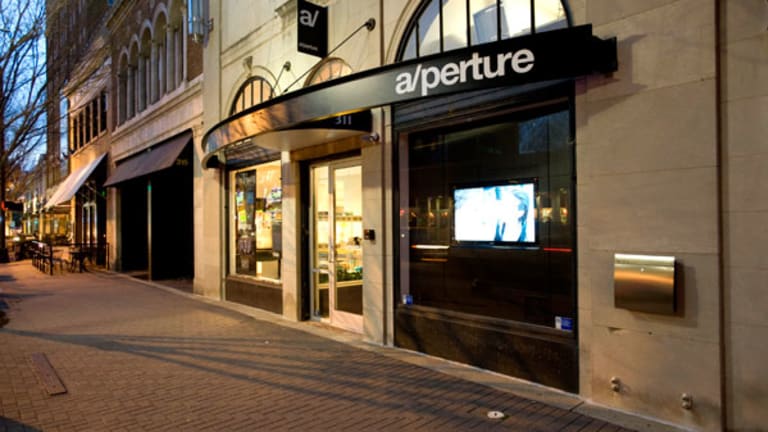 Businesses, Brushed Off by Banks, Look to Customers for Funding
It's called crowdfunding, the newest way for small businesses to get seed capital.
NEW YORK (
) -- Time is tight for
.
The art-house movie theater in Winston-Salem, N.C., needs $50,000 to snag a lease to rent the lower level of the building that will open up space for an additional screening room and larger lobby.
But the owners are tapped out. The business' long-term debt includes a recent bank loan that is funding an expensive film-to-digital conversion.
So a/perture cinema is trying something new to find financing. The art-house is asking its customers, fans, friends and family, and other independent cinema enthusiasts to contribute to a crowdfunding campaign on
Indiegogo
.
"It's kind of now or never, so we need to get the community behind us and those who just want to keep art-house theaters open around the country on board," curator Lawren Desai says.
>>>4 Crowdfunding Cautions for Small Businesses
As more small businesses turn to alternative funding strategies, crowdfunding is growing in appeal.
"Plenty of filmmakers are using crowdfunding as a way to finance their projects," Desai says. "We show some of those films and so we thought, why not? We should try out the model. We have great perks to give away, we are a community-minded business and we have a good story."
So far, U.S. businesses have been able to use only donation-based crowdfunding, in which enthusiasts and do-gooders, in exchange for contributions, are given "rewards" or "tokens," such as a first-edition copy of a product. In the case of a/peture cinema, patrons will get public recognition depending on the pledge amount.
But next year, crowdfunding in the U.S. is expected to take a leap to allow for individuals to make investments -- as opposed to contributions -- in small businesses. Rules to allow accredited investors are far along, but the intention is to eventually make it so that the general public can invest a few hundred or a few thousand dollars into their local businesses.
The Jumpstart Our Business Startups Act (JOBS Act), signed by President Barack Obama in April, included a provision to allow for smaller companies to raise up to $1 million in equity per year through crowdfunding. The rules essentially exempt the companies from certain securities laws that require them to go through Securities and Exchange Commission filing requirements in order to raise the equity.
Congress put the SEC in charge of hammering out equity crowdfunding regulations, primarily related to how crowdfunding portals would be regulated (should they be broker-dealers, for instance) as well as ensuring investor protections against fraud. The rules are supposed to be in place by Dec. 31 (with implementation in 2013), but with last week's resignation of SEC Chairman Mary Schapiro, that could mean the rules will be delayed, according to an article in
.
Still, small businesses are eager to jump on the bandwagon.
Crowdfunding is "really going to lead to a renaissance in all types of business activities," says William Michael Cunningham, author of
The Jobs Act: Crowdfunding for Small Businesses and Startups
and a social policy investing analyst. Besides funding, "the key part of crowdfunding
is that it also serves as a mechanism to validate your product."
"The real exciting part is when you start to see daycare centers and other facilities serving communities that have been locked out or can't get financing" have successful crowdfunding campaigns, Cunningham says.
, a technology author and entrepreneur, says that, while funding is important, the platforms also allow ideas to be vetted to the public before investing in a potentially failed idea.
"
Amazon
(AMZN) - Get Free Report
is great, but I don't know who buys
my books," Simon says. "When people pledge, you can communicate with them. That's incredibly useful."
Simon thought the lag time between book submission and publication for his first two books were too long, especially for the ever-changing technology world. He decided to create his own publishing company, but needed funds to get started.
He raised $4,000 through a Kickstarter campaign and was so satisfied with the experience, he underwent a second campaign to publish his fourth book.
"The money is nice, but you're really trying to raise awareness," he says. "In both instances, I was really pleased. There are a lot of disgruntled writers
who participated. They just thought that it was really neat that an author was taking something into their own hands."
As of April 2012, there were 452 worldwide donation- and equity-based crowdfunding portals (mainly in Western Europe) that collectively raised $1.47 billion and funded more than 1 million campaigns last year, according to
, a website geared toward the crowdfunding industry.
The report estimates total funding from these portals will double in 2012.
, an equity-based crowdfunding platform, has more than 2,200 small businesses waiting for the rules to be in place to begin using the equity-based platform. Of those, over 65% are established companies such as pizzerias, advertising firms and dog walkers as opposed to startups, the company says.
"This is the first time that you have a financial tool that is not industry-specific or that isn't
just for high-growth, high-potential businesses," Maurice Lopes, co-founder and CEO of EarlyShares.com says. "This is more along the lines of filling a gap for the average Main Street
business from $50,000 to $500,000."
"Crowdfunding is a great tool if you own a pizzeria and you want to open location number two. You need $300,000 to $400,000. You ask your customers to be investors. Now they own a piece of the pie. There's the local community in investing
as opposed to simply getting a return. That's what crowdfunding will be about," Lopes says.
Cunningham believes that the two models -- donation-based and equity-based -- will feed off each other.
"The donation model will, of course, continue and will be for certain things that are not appropriate for the equity model," such as medical treatments and artistic endeavors, whereas other campaigns that start out as equity campaigns will fail, try again using the donation model, and be successful, he says.
A drawback to popular crowdfunding sites like Kickstarter and Indiegogo is the all-or-nothing contingency. If a campaign doesn't hit its goal amount, it doesn't get any of the money raised.
, creator of a women's GPS sports watch, decided to take a risk when it looked to raise $400,000 earlier this year through a
.
Bia Sport already had a significant target customer base as well as backers. However, when the company went to raise its seed round of financing, investors wanted to see that there was a market for the product.
"I wish that we could say that we approached Kickstarter as this brilliant market strategy," says Cheryl Kellond, co-founder of Bia Sport. "We went there a little bit as a last resort."
That said, Kickstarter was a good platform to "prove to investors that we were developing a product that not only was there a market for,
but that we could access that market and get them to buy," she says.
What Kellond didn't expect was the amount of education she and her partner had to do about crowdfunding.
"We were very fortunate. Our product appeals to a very defined set of customers -- women who want to swim, bike and run. They're also socially connected in reality and very connected through social media," Kellond says. "The biggest barrier we hit was explaining the crowdfunding model" to key industry bloggers and enthusiast Tweeters.
Although the campaign was successful, Kellond is less interested in the equity-based crowdfunding model.
"For this company, I would not. The kind of money we want to raise for our platform is really more amenable to venture capital," she says, as well as the potential to sell directly.
"We've got a tremendous asset in our 2,000 Kickstarter backers, and 4,000 put their name on the waitlist since the Kickstarter campaign closed," she adds. "
We have a lot of potential to a group of evangelists to do direct sales."
And while an enthusiast backing a campaign is one thing, should they be investors in a company? That's bound to create, at the very least, some control conflicts. But perhaps in some cases it will be more beneficial than overwhelming.
Ryan Payton, founder of
, a small video-game developer located in Bellevue, Wash., was able to garner more than half a million through a
to help fund its creation of mobile game Republique.
A former
Microsoft
(MSFT) - Get Free Report
employee, Payton left the company in 2011 to start the Republique project and now has 15 people under him working toward the launch, expected next summer.
Payton says he couldn't have gotten this far without his Kickstarter campaign. "I shudder to think where we'd be without Kickstarter," he says.
But his campaign almost didn't reach its $500,000 goal.
"While the public respected our daring vision, we frustrated and angered a lot of people in the community who didn't want us to release our game
only for iPhone and iPad. After weeks of angry emails and forum postings, we finally agreed to also bring Republique to the PC platform, which ended up igniting our pledges and giving our very stressful campaign a happy ending," Payton says in an email.
"This was a really fascinating process, as we had to tread the balance between what the public wants and what we want to create. We still believe that our iPhone/iPad approach is innovative and could lead to great rewards once the game is released, but we also need to balance that with what the hardcore gamers want (more PC games)."
Ultimately, the effort was worth it. The company is in a better position to negotiate with other investors, he says.
"Thanks to our backers, we have a good chunk of the game's budget accounted for and an already pre-existing user base excited about our game, proving to investors that our
intellectual property is already strong. Our meetings with outside companies are a lot more fair, thanks to our crowdfunding success," he writes.
A/perture cinema's Desai says she wishes she had the crowdfund investing option before taking out debt.
"I think it is going to be really great for potential small-business owners," she says. "Financing is becoming so difficult, even for existing small businesses. I tried to get an Small Business Administration loan at one point and was turned down and the bank I went to really couldn't explain the reason why. I would definitely consider the option."
A/perture's two-week-old campaign has raised about a quarter of its goal. With 40 days left to go, it's anybody's guess as to whether the campaign will be successful, but Desai is optimistic.
"As long as we can keep up the momentum, maybe we can just pull it off," she says.
-- Written by Laurie Kulikowski in New York.
To contact Laurie Kulikowski, send an email to:
Laurie.Kulikowski@thestreet.com
.
>To submit a news tip, email:
.
RELATED STORIES:
>>Business Owners' Biggest Mistake? Hanging Up on Smartphone Customers
>>Behind the Scenes at a Small Business: Lessons From Sandy
>>'Small Business Saturday' Is Set to Catapult Local Shops
Follow
TheStreet
on
and become a fan on
Disclosure: TheStreet's editorial policy prohibits staff editors, reporters and analysts from holding positions in any individual stocks.