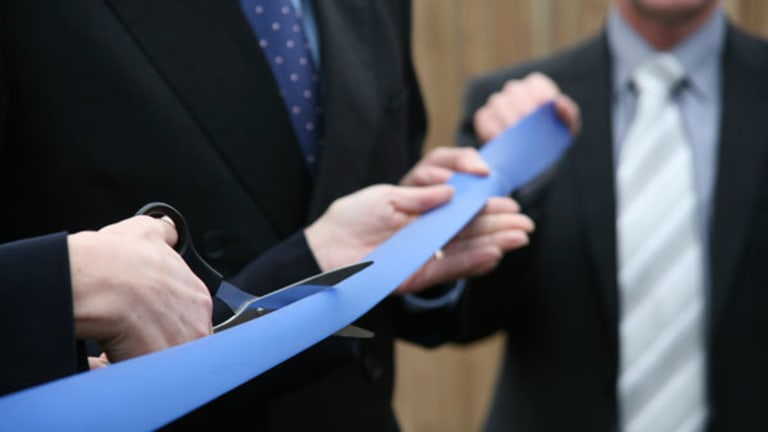 Business-Management Tools for the Beginner
With Action Method Online, you no longer have an excuse to avoid business-management software.
And now for something completely different: project management software for the non-project-management software set.
It was only matter of time, but the development of Web-based project management tools is now officially beyond the purview of the traditional techno-arms merchants. No longer do the likes of
Microsoft
(MSFT) - Get Microsoft Corporation Report
,
Apple
(AAPL) - Get Apple Inc. Report
,
Salesforce.com
(CRM) - Get Salesforce Inc. Report
or even
NetSuite
(N)
offer the only tools needed to organize your business.
Now relatively modest, targeted organizations can offer powerful project management tools at reasonable prices. Today, New York-based Behance announced the official launch of its online project management tool aimed at creative professionals:
. Perfectly useful introductory plans are free. Premium services start at $12 a month, per seat. Longer plans run $99 a year per seat. And bulk discounts are available.
I have spent the past few days testing this product, and for those of you who have just washed up on these sole-proprietor shores, this tool just may be for you.
What you get
Put simply, you get a dead easy way to organize that miserable excuse of a business life of yours.
For the average train wreck of a small shop, Action Method Online offers an easy onramp to the Web-based organizational super highway. The system easily and gently gets you started with the -- let's be honest here -- torturous process of defining the tricky concepts you need to make sense of your new business. What tasks really define themselves as operations? What is an in-progress job? How about pending jobs? Or bids? Or new leads? Who is responsible for them? How long will they take? And when are they due?
Action Method's concepts should be familiar to the creative world, as they come directly from a paper-based management tool branded as the Action Method and are part of a larger creative community including
,
and several others.
And there is lots to like here.
Behance does a nice job of laying out easy-to-use Web-based forms for entering data, like action steps, reference material and other information. The code also gets credit for nudging you down the logistical path of defining how you enter that data. Action steps, for example, are defined as always to be entered as verbs, such as "call," or "follow up with," etc. There are nice definitional concepts like backburners, which are all those brilliant ideas you have. And there are discussion features, basic calendaring and some customer support. And I liked a few other Web-based collaboration touches. There is a neat chat feature branded as a "Nag." And another chat function branded as "Appreciate." Both critical parts of the small-business life. And the project-view mode does a decent job of rationally laying out what is ahead in your business.
The best part is you should be able to be up and running for at least the active gigs in your small business in just a few hours. And that, in and of itself, is a major step forward.
So props to Action Method Online.
What you don't get
The package doesn't offer truly powerful project management software. Action Method is, to be blunt, relatively primitive by modern project management standards. It does not readily support centuries-old management concepts like Gantt charts, dependencies and waterfalling. Nor is it anywhere near the cutting edge of business management tools like, say, LiquidPlanner.com or RationalPlan. It's also not meant to be used with billing software, time management tools or other modern business applications.
There is limited Excel support, which is really a cardinal sin for the serious business. Invoices, for example, are not integral to the package. And don't expect strong support with organizational tools like Outlook or Google Apps. There is almost no automation that I could find. Everything had to be upgraded by hand as situations changed, which is an instant bore. And with its relative youth and small market size, you cannot expect the base of third-party applications that you would find with Basecamp or other more popular packages.
Action Method Online is pretty much an entry-level organizational tool. As you grow, this is not the software to use.
Bottom line
Action Method Online is the end of excuses for not using project management software.
Yes, it's not perfect. And more sophisticated enterprises definitely should stay away. But for the small business astronaut who has just found him or herself crash landed here on Planet Small Biz, it is a very important first step.
If you are struggling with the basics of the strange new world of sole proprietorship, by all means spend this afternoon getting organized with Action Method Online. It may not improve your actual situation. But at least you will get a clear picture of the challenges ahead. And trust me, that's where success begins.
Put another way: I wish I had these tools 10 years ago when I first struggled through getting the hang of independent business life. I would have much less gray hair.
Jonathan Blum is an independent technology writer and analyst living in Westchester, N.Y. He has written for The Associated Press and Popular Science and appeared on FoxNews and The WB.